Time Name's 'The Silence Breakers' Of The #MeToo Movement Person Of The Year
A fitting honor for women who have brought to light an issue that was swept under the rug for far too long.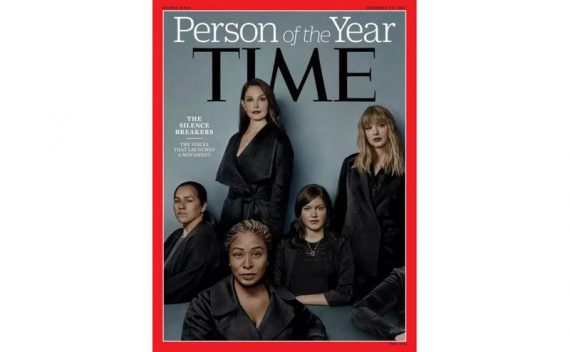 Time Magazine has selected "The Silence Breakers" as its Person Of The Year for 2017:
First it was a story. Then a moment. Now, two months after women began to come forward in droves to accuse powerful men of sexual harassment and assault, it is a movement.

Time magazine has named "the silence breakers" its person of the year for 2017, referring to those women, and the global conversation they have started.

The magazine's editor in chief, Edward Felsenthal, said in an interview on the "Today" show on Wednesday that the #MeToo movement represented the "fastest-moving social change we've seen in decades, and it began with individual acts of courage by women and some men too."

Investigations published in October by The New York Times and The New Yorker, both of them detailing multiple allegations of sexual harassment and assault against the movie producer Harvey Weinstein, sparked the sudden rush of women coming forward.

In a joint interview after the choice was announced, Tarana Burke, who created the Me Too mantra years ago, and the actress Alyssa Milano, who helped promote it more recently, focused on what was still left to do.

"I've been saying from the beginning that it's not just a moment, it's a movement," Ms. Burke said. "I think now the work really begins. The hashtag is a declaration. But now we're poised to really stand up and do the work."

Ms. Milano agreed, laying out her aspirations for the movement.

"I want companies to take on a code of conduct, I want companies to hire more women, I want to teach our children better," she said. "These are all things that we have to set in motion, and as women we have to support each other and stand together and say that's it, we're done, no more."

It is a testament to the size of the movement that the set of "Today" itself, where the announcement was made, had recently been the site of such a reckoning. Matt Lauer, one of NBC's most well-known personalities for decades, was fired only last week after an allegation of sexual harassment from a subordinate. Other complaints soon followed.

And of course, Time's 2017 runner-up for person of the year, Donald J. Trump, was accused during his presidential campaign by more than 10 women of sexual misconduct, from unwanted touching to sexual assault.

And of course, Time's 2017 runner-up for person of the year, Donald J. Trump, was accused during his presidential campaign by more than 10 women of sexual misconduct, from unwanted touching to sexual assault.

Those accusations did not stop Mr. Trump from being named person of the year in 2016. And Mr. Trump inadvertently promoted this year's announcement, tweeting that he had been told he would "probably" be chosen again and claiming to have turned down the honor. Time quickly released a statement saying that the president was incorrect.

Time has been using the title for more than nine decades to drum up interest in one of its tentpole issues. The magazine chose its first group, as opposed to a single "man of the year" (and back then it was a man), in 1950, when it selected "the American Fighting-man." The title was changed to the neutral "person of the year" in 1999.
You can read the cover article at the link, as well as an explanation of how Time's Editors reached their decision and profiles of several runners-up, including President Trump, special counsel Robert Mueller, and North Korean dictator Kim Jong Un. Any of these runners-up would have been good choices in and of themselves due to the impact that each of them have had on the news this year, but I agree with the decision to single out the women who have come forward to speak truth to power in the hope that it will become easier for other women, both in prominent fields like entertainment, the news media, and politics and in lesser positions, to come forward with their stories, hold men who have behaved badly and even illegally accountable for their actions, and to send the message that behavior that was previously considered acceptable, dismissed with the excuse that "boys will be boys" will no longer be accepted. One thing that has been notable about many of these reports is that they have been accompanied by acknowledgments that it was indeed well known that such things were going on but that people either looked the other way because the men involved were in positions of power or because people were afraid to cross paths with men who could potentially destroy their careers. Based on that, it's clear that the "cleaning house" that has unfolded so quickly this year is long overdue and that behavior like this will not be accepted or tolerated anymore.
While this kind of behavior has been swept under the rug for decades, the last several years have seen a marked changed in how this behavior is treated and how the women who make these allegations are treated when they do come forward The trend actually began last year with the revelations coming out of Fox News Channel regarding people such as Roger Ailes and Bill O'Reilly, both of whom were ultimately removed from their seemingly untouchable positions. The trend began to pick up steam, though, in the wake of a round of revelations that began last month. It started, not surprisingly, in the entertainment industry with allegations against people such as Bill Cosby,  Harvey Weinstein, Kevin Spacey, filmmaker Bruce Ratner, George Takei, Charlie Rose, political pundit Mark Halperin and Matt Lauer. In the political world, it has led to accusations about men such as Roy Moore, Al Franken, John Conyers. and Texas Congressman Blake Farenthold is under pressure to resign after it was reported that he had used $84,000 in taxpayer dollars to settle a sexual harassment claim by a former female staffer.
As for the way forward, that seems to be very simple to me.
First of all, ever since the #MeToo movement started to gather force in the wake of the Weinstein allegations, the number of women I follow Twitter and Facebook who have shared their stories of sexual assault or harassment, in some cases apparently for the first time, has been alarming and eye-opening. Since graduating law school, I've worked alongside women who were subordinates, opposing counsel and other fellow attorneys, bosses, Judges, and in a wide variety of other roles. I also have many female friends on social media and in the real world who I'm able to get along with quite well without acting like a jerk who didn't grow out of being a frat boy in college. I was always aware that behavior like what has been described in many of these posts occurred, but I've never witnessed it (as far as I know) nor did I realize how widespread it is. I'm betting many other men didn't either. For that reason alone, these revelations are a good and positive thing.
Second, it's always seemed very simple to me. Sexual assault of any kind is always wrong, and excuses for harassing behavior like "I was drunk," "She was drunk," or "No means yes" are never acceptable. As far as sexual harassment goes, no means no, and there is no justification for someone to make those kinds of advances in a professional setting, especially when one is in a position of power over another person such as in the employment situation. There's also no excuse for such unwanted behavior outside the office whether it's at a college party or in a bar on Ladies Night or during Happy Hour.  It's important that women in all aspects of society are being given the opportunity to expose what used to be a dirty little secret, and I have little sympathy for the men who have paid the price for their egregious and disgusting behavior over the years. Hopefully, things like this will encourage other women to come forward and speak the truth, whether we're talking about a starlet in Hollywood who was subjected to the so-called "casting couch" or a woman who works as a cashier, a secretary, or whatever who is being taken advantage of by men in a position of power over them.
Finally, I've seen several men commenting or posting in response to dismissive tones regarding these disclosures, and that is just as disturbing as the reports themselves. "Boys will be boys" is not an excuse for acting like a boorish jerk, and the fact that a woman isn't interested in you isn't a reason to treat her like crap. Additionally, dismissing the reports that are being posted as some kind of social media fad is, well, kind of pathetic, as is the excuse that the campaign is somehow an attack on all men, which it clearly isn't. Stop acting like jerks, guys. It's as simple as that. In other words. if you don't want to be accused to sexual harassment then there's an easy answer — DON'T SEXUALLY HARASS WOMEN. It's really as simple as that.