Biden Would Roll Back New Protections for College Students Accused of Sex Crimes
He's doubling down on hypocrisy.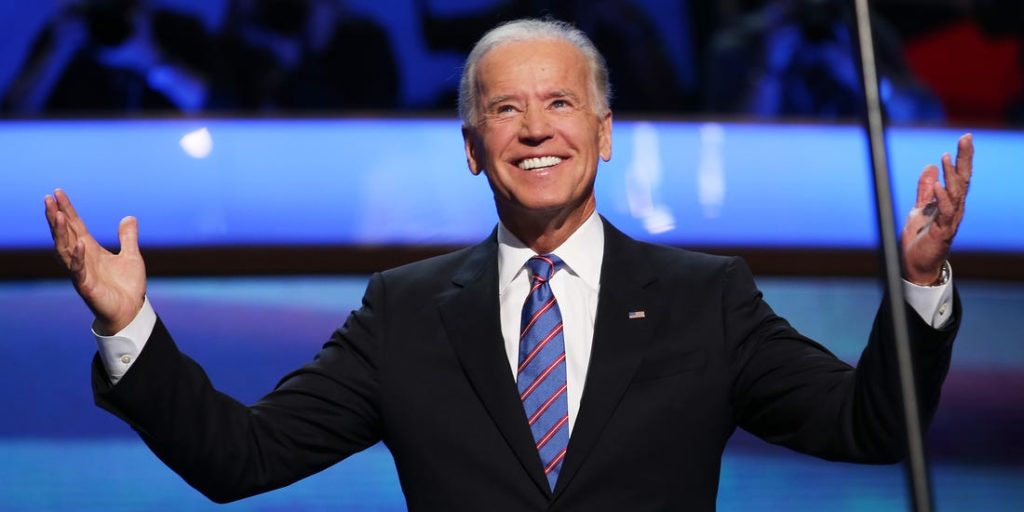 The presumptive Democratic nominee for President says he'll reverse new rules providing due process rights for college students accused of sexual misconduct.
The Hill ("Biden says he'll reverse DeVos rule bolstering protections for those accused of campus sexual assault"):
Former Vice President Joe Biden said Wednesday that if he's elected president, he will reverse a rule issued by Education Secretary Betsy DeVos aimed at bolstering protections for students who are accused of sexual assault on university campuses.

In a statement, Biden said the new rule was an effort by the Trump administration to "shame and silence" survivors of sexual assault.

"It's wrong," Biden said. "And, it will be put to a quick end in January 2021, because as president, I'll be right where I always have been throughout my career — on the side of survivors, who deserve to have their voices heard, their claims taken seriously and investigated, and their rights upheld."

The new rule issued Wednesday narrows the definition of sexual harassment and requires schools to produce evidence and allow for the cross-examination of students who say they were assaulted.

The rule is meant to ensure that those accused of sexual assault receive due process.

"Too many students have lost access to their education because their school inadequately responded when a student filed a complaint of sexual harassment or sexual assault," DeVos said in a statement. "This new regulation requires schools to act in meaningful ways to support survivors of sexual misconduct, without sacrificing important safeguards to ensure a fair and transparent process. We can and must continue to fight sexual misconduct in our nation's schools, and this rule makes certain that fight continues."

The Trump administration and many conservatives believe that the Title IX rule changes implemented under the Obama-Biden administration robbed students of due process through unregulated campus tribunals that resulted in scores of lawsuits from the accused.

Critics of the Obama administration rule said the accused operated under an assumption of guilt and were denied basic rights, such as the ability to question the evidence against them or question their accusers.

The Trump campaign gathered a roundup of criticism of Biden's support for strengthening Title IX regulations in favor of survivors from prominent public intellectuals, such as Andrew Sullivan, Emily Yoffe and Bret Stephens.

The Trump campaign said that Biden is trying to hold students to a different standard than himself. Biden last week denied allegations of sexual assault made by Tara Reade, a former staffer in his Senate office in the early 1990s.

"Biden should cut the malarkey and provide an honest answer to Americans – why shouldn't he be held to the same standards he spent years imposing on everyone else?" said Trump campaign spokesman Andrew Clark.
As regular readers know, I supported Biden in the primaries and intend to vote for him in November. He's a good and decent man and there's no question in my mind that he'll be a far, far better President than Donald Trump. And, while I haven't written much about it, I think DeVos has been a disaster at Education.
But Biden is wrong here and Trump and DeVos are right. The Obama-Biden rule simply went too far, all but removing due process rights of those accused of sexual misconduct.
Unlike so many administrative changes under this administration, these were thoroughly vetted by professionals. Greta Anderson for Inside Higher Ed ("U.S. Publishes New Regulations on Campus Sexual Assault"):
It took nearly a year and a half for the department's Office for Civil Rights, or OCR, to review more than 124,000 public comments on the issue and finalize the proposed regulations, which were published in November 2018. The regulations will be the first Title IX guidance published by OCR to go through a formal notice-and-comment process since 1997, and unlike guidance issued by the Obama administration in 2011 and 2014, they will have the force of law behind them. Colleges and universities will be required to comply with the regulations by Aug. 14.

[…]

The Obama guidance stated college officials should use a "preponderance of the evidence" standard to determine guilt in sexual misconduct complaints, basing decisions on the most convincing evidence presented. It was followed by an explosion of civil lawsuits filed mostly by male students accused of sexual misconduct, who alleged their rights were violated by unfair Title IX procedures at their colleges. The 2020 regulations will instead allow Title IX officials at colleges to use either a preponderance of the evidence or "clear and convincing" standard, which sets a higher burden of proof.

The new evidence and cross-examination standards have been points of contention for advocates for survivors of campus sexual assault, who say live questioning could retraumatize and prevent victims from coming forward to report sexual misconduct. Statements made by parties and not cross-examined as part of a Title IX investigation may not be used as evidence, a summary of the new regulations said.

The regulations also explicitly define the scope of colleges' responsibility to respond to complaints of sexual misconduct. Colleges must act upon complaints of misconduct that occurs within an education program, such as in off-campus housing for recognized Greek life organizations or at events that are part of a university program. But a college "may address sexual harassment affecting its students or employees that falls outside Title IX's jurisdiction in any manner the school chooses," the regulations say.

[…]

The rule is focused on protecting students on both sides of Title IX complaints, Kenneth Marcus, assistant secretary of OCR, said in a statement from the department.

"It marks the end of the false dichotomy of either protecting survivors, while ignoring due process, or protecting the accused, while disregarding sexual misconduct," Marcus said. "There is no reason why educators cannot protect all of their students — and under this regulation there will be no excuses for failing to do so."
A sidebar highlights the most significant changes:
Colleges and universities will now be required to allow cross-examination of the complaining and responding parties, as well as any witnesses, during a live hearing led by institution officials. Cross-examination will be conducted by advisers for parties, including legal counsel, but not the parties themselves.
Colleges are only obligated to respond to reports of sexual harassment that occurred off-campus if the location is in use by an officially recognized student or institution organization, such as recognized fraternity or sorority housing or athletic housing.
Colleges will be able to determine whether to use a "preponderance of the evidence" or "clear and convincing" standard as a burden of proof and must use the same standard for all complaints, no matter if they involve student or faculty misconduct.
Stalking, domestic violence and dating violence are now officially considered examples of sexual harassment under Title IX.
The definition of sexual harassment is more narrow than previous guidance. It is defined as "any unwelcome conduct that a reasonable person would find so severe, pervasive and objectively offensive that it denies a person equal educational access." Reports of sexual assault, dating violence, domestic violence and stalking do not need to meet the description of "severe, pervasive and objectively offensive."
Colleges are not obligated to handle complaints of sexual harassment that occurs outside the United States. This means any harassment or assault that happens in American education programs abroad would not be covered by Title IX, but the new regulations say institutions "remain free" to apply misconduct policies for programs abroad if they so choose.
If a Title IX coordinator receives multiple informal complaints of harassment against a single respondent, they will not be required to begin a formal complaint process. The department changed this requirement from the proposed rule, which sought to obligate Title IX coordinators to take action after receiving multiple informal reports against the same person.
Colleges can no longer use a "single investigator model," which has one official tasked with investigating, adjudicating and issuing disciplinary sanctions against respondents. The regulations instead require three separate officials to work through separate pieces of a single Title IX complaint process: a Title IX coordinator, who receives reports of sexual misconduct; an investigator, to gather facts and interview parties and witnesses; and a decision maker, to determine sanctions and remedies for parties.
Colleges must train all personnel involved in the Title IX process and publish training materials on their websites. Training must involve review of the new rule's definition of sexual harassment and the scope of the application of Title IX to college programs and activities, how to conduct a formal or informal process, and how to "serve impartially," including avoidance of "prejudgment of the facts at issue, conflicts of interest, and bias."
Title IX processes may be conducted virtually, and staff must be trained on relevant technology to conduct remote investigations and hearings. Live hearings will be recorded, by transcript or audiovisually, and will be made available to parties and maintained in college records for at least seven years.
Colleges must provide evidence related to allegations to parties and advisers at least 10 days prior to requiring a response, and parties will not be prohibited from speaking about the allegations. This means doing away with "gag orders."
Colleges are not obligated to follow a specific time frame for responding to reports of sexual misconduct. They are instead required to have "reasonably prompt" periods for carrying out each step in the Title IX complaint process.
This seems to me exactly right. First, it goes a long way to solving the issue I recently noted in my weekend post "The Language of Sexual Violence" of lumping violent acts and those which merely cause discomfort into the same category. Second, it restores due process for those accused of misconduct.
The main complaint, which isn't unreasonable, is that these new rules make it less likely that victims will come forward, as the requirement to risk cross-examination could potentially add to their trauma. But our criminal justice system is an adversarial process. And, while ensuring justice for victims is a major goal of the enterprise it has never been the primary one; the due process rights of those accused of misdeeds and facing punishment must always come first.
A secondary complaint is that the timing is just awful. With most of the nation's colleges and universities all but closed by a pandemic, issuing major rules changes that will require them to jump through major hoops to get into compliance by August is the last thing they need.
That's fair but I don't know what the alternative is. DeVos and her team have been working on this for years and they potentially only have another few months to implement the policy. The Department should certainly give leeway to institutions under the circumstances but delay was not really a viable option.
As to Biden, one would think having been falsely accused* of sexual assault himself, he would have changed his position on this. As it is, he's doubling down on the hypocrisy, simultaneously asking us to #BelieveWomen, presume college-aged boys are guilty the moment they're accused, and to believe him when he tells us he's innocent.
__________________________
*Biden has flatly and unequivocally denied the allegations and there are good reasons to question the accuser. At this juncture, I believe he deserves the presumption of innocence.