The Language of Sexual Violence
We need a better vocabulary for treating the spectrum between rude and horrific.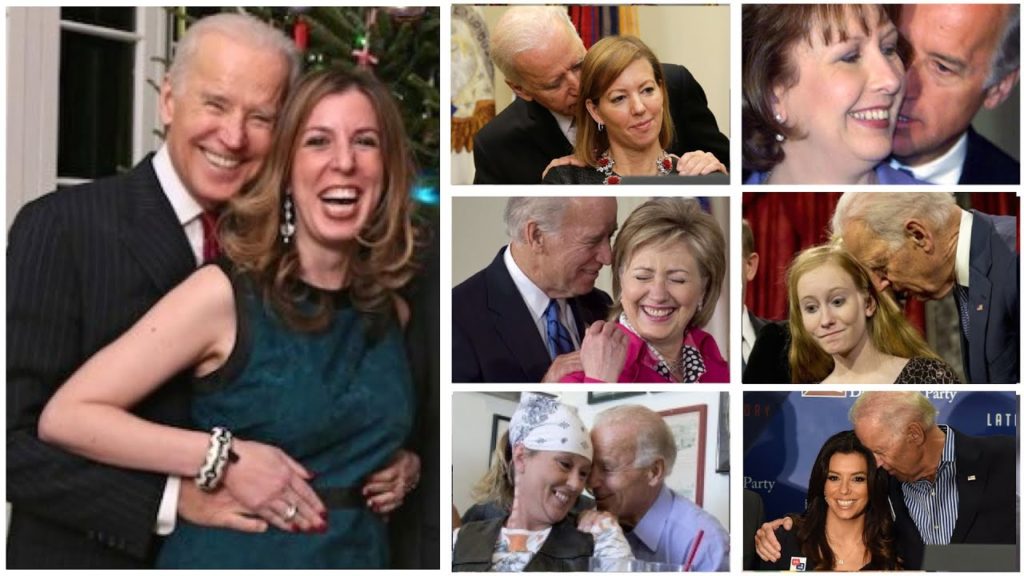 Eva Murray, the now-26-year-old niece of one-time Republican Senate candidate Christine O'Donnell, claims that, in 2008, Joe Biden complimented the then-14-year-old on the size of her breasts. She says she considers this "verbal sexual harassment." The website Law & Crime, which is affiliated with CNN's chief legal correspondent Dan Abrams, has verified that she told numerous people about the incident contemporaneously.
If true, this is another brick in the Creepy Uncle Joe persona that threatened to derail his latest presidential bid before it even launched. I don't know whether it happened. It's certainly plausible.
Regardless, it's not sexual harassment. Inappropriate? Certainly. But Biden was just a United States Senator who would, five months later, be selected as Barack Obama's running mate. Murray was not his employee or otherwise in a position where a Delaware Senator was in a position of power over her.
This latest accusation is a useful entree into a larger discussion of the limited vocabulary we have for talking about these things.
I don't believe I had ever heard the phrase "sexual harassment" until Anita Hill's accusations against then-Supreme Court nominee Clarence Thomas back in 1991. Biden, of course, played a key role in that spectacle that he's come to regret.
We've come a long way in the intervening period. Indeed, with the advent of the #MeToo movement and the related #BelieveWomen rallying cry, some argue the pendulum has swung too far in the other direction.
In our discussion yesterday of Biden's denial of Tara Reade's allegations, I received pushback for my assertion that, "There have been all manner of lesser sexual assualt allegations against him." But the unwanted touching, hugging, nuzzling, etc. that Biden has been serially accused of is sexual assault under most current definitions.
That is, I would suggest, less than useful.
To be clear: Biden's longstanding pattern of touching, fondling, and smelling women in the workplace was inappropriate. His Irish ebullience doesn't give him a pass. And, as has been noted repeatedly, he doesn't treat men in that manner.
But to use the same language to describe that and the actions Reade is accusing him of makes no sense. Even the most ardent feminist should agree that there's a category error.
In his essay "By Biden's Own Standards, He Is Guilty As Charged," Andrew Sullivan takes some joy in pointing out that the presumptive Democratic nominee contributed to this confusion.
Perhaps in part to atone for his shabby treatment of Anita Hill, Biden was especially prominent in the Obama administration's overhaul of Title IX treatment of claims of sexual discrimination and harassment on campus. You can listen to Biden's strident speeches and rhetoric on this question and find not a single smidgen of concern with the rights of the accused. Men in college were to be regarded as guilty before being proven innocent, and stripped of basic rights in their self-defense.

Harvard Law professor Jeannie Suk Gersen noted the consequences of Biden's crusade in The New Yorkerlast year. "In recent years," she wrote, "it has become commonplace to deny accused students access to the complaint, the evidence, the identities of witnesses, or the investigative report, and to forbid them from questioning complainants or witnesses … According to K.C. Johnson, a professor at Brooklyn College and an expert on Title IX lawsuits, more than four hundred students accused of sexual misconduct since 2011 have sued their schools under federal or state laws — in many cases, for sex discrimination under Title IX. While many of the lawsuits are still ongoing, nearly half of the students who have sued have won favorable court rulings or have settled with the schools."

On Friday's Morning Joe, Biden laid out a simple process for judging him: Listen respectfully to Tara Reade, and then check for facts that prove or disprove her specific claim. The objective truth, Biden argued, is what matters. I agree with him. But this was emphatically not the standard Biden favored when judging men in college. If Biden were a student, under Biden rules, Reade could file a claim of assault, and Biden would have no right to know the specifics, the evidence provided, who was charging him, who was a witness, and no right to question the accuser. Apply the Biden standard for Biden, have woke college administrators decide the issue in private, and he's toast.

Under Biden, Title IX actually became a force for sex discrimination — as long as it was against men. Emily Yoffe has done extraordinary work exposing the injustices of the Obama-Biden sexual-harassment regime on campus, which have mercifully been pared back since. But she has also highlighted Biden's own zeal in the cause. He brushed aside most legal defenses against sexual harassment. In a speech at the University of Pittsburgh in 2016, for example, Biden righteously claimed that it was an outrage that any woman claiming sexual assault should have to answer questions like "Were you drinking?" or "What did you say?" "These are questions that angered me then and anger me now." He went on: "No one, particularly a court of law, has a right to ask any of those questions."

[…]

In 2014, the Obama administration issued another guidance for colleges which expanded what "sexual violence" could include, citing "a range of behaviors that are unwanted by the recipient and include remarks about physical appearance; persistent sexual advances that are undesired by the recipient; unwanted touching; and unwanted oral, anal, or vaginal penetration or attempted penetration." By that standard, ignoring the Reade allegation entirely, Joe Biden has been practicing "sexual violence" for decades: constantly touching women without their prior consent, ruffling and smelling their hair, making comments about their attractiveness, coming up from behind to touch their back or neck. You can see him do it on tape, on countless occasions. He did not stop in 2014, to abide by the standards he was all too willing to impose on college kids. A vice-president could do these things with impunity; a college sophomore could have his life ruined for an inept remark.
Let's concede at the outset that the criticism of how sexual violence allegations on college campuses are handled is somewhat overblown. (Although see Ezra Klein's 2014 defense of California's affirmative consent law, cited by Sullivan, which argues that convicting innocent men is a necessary price to pay. ) By including things like "unwanted touching" and—to circle back for a moment to Murry's charges—"remarks about physical appearance" in the same category as "unwanted oral, anal, or vaginal penetration" Biden is indeed being judged by an absurd standard he himself helped set.
By Biden's own standards, he's guilty as charged. Reade claims Biden never got affirmative consent from her, and she feels and believes he assaulted her. He never got affirmative consent for countless handsy moves over the decades that unsettled some of the recipients of such affection. End of story. By Biden's own logic, it is irrelevant that he didn't mean to harm or discomfit anyone, that Reade's story may have changed over time, that she might have mixed motives, that she has a record of erratic behavior, a bizarre love for Vladimir Putin, and a stated preference for Bernie Sanders, who was Biden's chief rival. It's irrelevant that she appeared to tweet that she would wait to launch her accusations against Biden until the timing was right. And her cause has been championed by the Bernie brigade. The many red flags and question marks in her case are largely irrelevant under Biden's own campus standards.
Indeed, I'd argue that "Who did you support in the Democratic primary?" is a less relevant question than "Were you drinking?" or "What did you say?"
Sullivan is right here, intellectually if not politically:
It seems to me that Biden has a simple choice here. He can either renounce his previous astonishingly broad and illiberal view of "sexual violence" and argue for more nuance and due process so that a case like Reade versus Biden isn't a slam dunk in advance; or he should follow his own rules and withdraw from the presidential race. He will, of course, do neither.
And, certainly, we're aligned on this:
I'll vote for him anyway, because Trump. If you're using sexual assault as a way to judge a candidacy, Trump's open record of boasting about it, and the long, long list of women he's abused and assaulted is surely dispositive. But supporting Biden does mean I'll be voting for a hypocrite who wants to ruin others' young lives for what he has routinely and with impunity done. I can live with that, I suppose. And it won't, of course, be the first time. Or, in all likelihood, the last.
I think, as I presume does Sullivan, that Obama and Biden were on the right side of the fight to expand protection for women on college campuses. Rape and narrowly-defined sexual assault were, and likely still are, far too common.
But as their efforts and those such as the affirmative consent laws demonstrate, legislating something as complex as human sexuality is incredibly difficult.
We have, for most of human history, made rape as most understand it—a stranger forcing himself onto another sexually through violent means—a heinous crime. But I'm old enough to remember a time when many considered it absurd that a husband forcing himself on his wife could be rape. And I was in adulthood when "date rape" was considered "not really rape." (Or, as Whoopi Goldberg infamously put it, "rape-rape.")
I can't imagine many left who consider what Reade is accusing Biden of having done appropriate. Most, I suspect, would in fact be comfortable with calling it "sexual assault" and treating it as a crime.
At the same time, while I think his smelling Lucy Flores' hair was wildly inappropriate and deserving of an apology, I don't think we should treat it as a crime. Indeed, while I thought at the time that the broader pattern could doom his candidacy in a party that was carrying the #MeToo banner, I don't think it by any means disqualifies him from the presidency.
The Obama-Biden team and the authors of affirmative consent laws are presumably trying to deal with the middle between those extremes. We've rightly moved past the presumption that a woman wearing provocative clothing or who consumes too many drinks has only herself to blame if she's raped or assaulted. But we've gone too far in removing the presumption of innocence for those accused.
I'm less sure of whether we've gone too far in moving from trying to keep women safe to making them feel comfortable. The line between the two is fuzzy and almost certainly perceived differently by men and women.
Still, while the goal of allowing people to go to work and school without being objectified, let alone fondled and sniffed, is laudable, lumping it in the same category as rape and forcible penetration is unhelpful. Some conduct should be criminal. Others should be grounds for firing or expulsion. Others should be teaching moments. Others, still, ought be dealt with by the parties involved as though they both have agency.