Democratic Senator Says Bill Clinton Should Have Resigned Over Lewinsky Affair
New York Senator Kristen Gillibrand says Bill Clinton should have resigned over his affair with Monica Lewinsky. Raising the question of just how stringently we should apply the standards of today to the events of the past.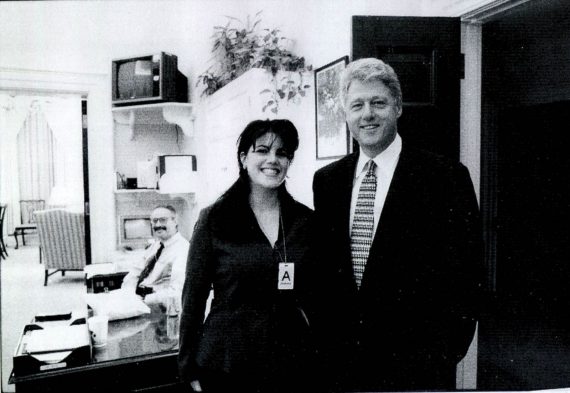 New York Senator Kristen Gillibrand, who has been at the forefront of efforts on Capitol Hill to address sexual harassment in the military and elsewhere, suggested in an interview this week in The New York Times that former President Bill Clinton should have resigned in the wake of the Monica Lewinsky scandal:
WASHINGTON — Senator Kirsten Gillibrand, Democrat of New York, who holds Hillary Clinton's former seat, said on Thursday that Bill Clinton should have resigned the presidency after his inappropriate relationship with an intern came to light nearly 20 years ago.

Asked directly if she believed Mr. Clinton should have stepped down at the time, Ms. Gillibrand took a long pause and said, "Yes, I think that is the appropriate response."

But she also appeared to signal that what is currently considered a fireable offense may have been more often overlooked during the Clinton era.

"Things have changed today, and I think under those circumstances there should be a very different reaction," Ms. Gillibrand said. "And I think in light of this conversation, we should have a very different conversation about President Trump, and a very different conversation about allegations against him."

A spokesman later said that Ms. Gillibrand was trying to underscore that Mr. Clinton's actions, had they happened in the current era, should have compelled him to resign.

Still, it was a remarkable statement from a senator who enthusiastically backed Mrs. Clinton's presidential bid last year but has been deeply involved in legislative efforts to curb sexual abuse and harassment in the military and on college campuses.

Ms. Gillibrand, who has longstanding ties to the Clintons, is the highest-profile elected Democratic official to say that Mr. Clinton should have stepped down as a result of his affair.

Ms. Gillibrand's remarks came during an interview for a New York Times podcast, "The New Washington," which will air on Saturday. They came hours after Senator Al Franken, Democrat of Minnesota, apologized for groping and kissing a radio host without her consent during a U.S.O. tour in 2006, two years before he was elected. Mr. Franken is now facing demands for an ethics investigation into his conduct.

"It's very disturbing," Ms. Gillibrand said of Mr. Franken. "I was very disappointed. But it's important that survivors are coming out and speaking truth to power and telling their stories."

(…)

Her criticism of the former president's affair with Monica S. Lewinsky between 1995 and 1997 comes as the nation grapples with charges of sexual misconduct and harassment by celebrities, politicians and journalists that have often involved men exerting their professional power over younger women.
Gillibrand's comments come in the wake of a what has become a nationwide phenomenon of women coming forward regarding past incidents of sexual harassment or sexual assault that began with the revelations about Hollywood producer Harvey Weinstein from a number of women who allege that he forced himself on them or used his power over their careers to force them into sexual relationships over a period going back decades. As a result of these allegations, Weinstein lost his position at the head of his production company, was booted out of several top Hollywood associations, and has since entered what's described as a rehabilitation facility. These were followed by accusations against others in Hollywood, such as actor Kevin Spacey, who has been accused of unwanted sexual advances by a number of men This has resulted in production on the Netflix show House of Cards being halted and the future of the show in doubt as the streaming service has ended its relationship with Spacey himself. Similar accusations have also been made against filmmaker Bruce Ratner and actor George Takei, among others. It also spawned a social media movement using the hashtag #MeToo which women have used to share their own stories of harassment and abuse at work and other locations, usually for the first time.
The movement has also moved into the political world with recent reports of sexual harassment, unwanted advances, and unwanted physical/sexual actions on Capitol Hill. Two days ago, California Congresswoman Jackie Spier, who recently shared her own story of having been sexually harassed in the past, stated that she is aware of at least two currently serving Members of Congress, one from each party, who have been accused of sexually inappropriate contact toward female staffers or other women with whom they have interacted. The past several weeks have also seen a number of women come forward to say that former President George H.W. Bush had groped them during photo opportunities or other situations, including at least one such event that occurred while he was President. Most recently, of course, there have been the allegations against Alabama Senate candidate Roy Moore, which include serious allegations regarding sexual assault against minors when he was 30 years old, and allegations and Minnesota Senator Al Franken. All of this has occurred over a period of just over a month, and there seems to be no end to the extent to which it is likely to reach as more women come forward to tell their stories.
Given this current movement, there has unsurprisingly been some harkening back to the 42nd President of the United States and the allegations of improper behavior toward women that his part that stretch back decades to his time as Arizona Governor. The charges began, of course, with the revelations about an affair with Gennifer Flowers that nearly brought Clinton's campaign for President to an end before it had really started to catch fire. While Clinton was able to get beyond those charges thanks in no small part to the support of his wife Hillary Clinton, especially during a now legendary appearance that the two made on 60 Minutes just before the New Hampshire primary. That interview is now widely seen as having saved Clinton's campaign and, of course, he went on to become President. That didn't bring the accusations about Clinton making advances on other women, of course, Over the years, women such as Juanita Broderick and Paula Jones claimed that they too had been the subject of sexual advances and even sexual assault by Clinton while he was Arkansas Governor. Indeed, it was during a deposition connected to the Paula Jones matter that Clinton was first asked on the record about his relationship with a young White House intern named Monica Lewinsky. The rest, as they say, is history. The Lewinsky affair became public and it quickly became apparent that Clinton had lied under oath about the relationship during a deposition by Jones's attorneys and that, of course, led to impeachment proceedings and a trial in the Senate which ended when the Senate failed to convict the President by the required two-thirds majority. In the end, Clinton left office with popularity ratings nearly as high as those Ronald Reagan had in January 1989, and he remains among the most popular of the living former Presidents.
The question before us now, of course, isn't about history, but about judging something that happened nearly twenty years ago by the standards that exist today, standards that are themselves changing drastically and rapidly thanks to women who are choosing to come forward. When Republicans pursued their impeachment charges against President Clinton, they insisted that they weren't impeaching him because he had an affair while he was President but because he violated the law by committing perjury in his deposition. Whether or not one believes that, it seems fairly clear in retrospect that it would have been politically difficult for even a Republican-held Congress to pursue impeachment charges against Clinton based on solely on the charge that he behaved inappropriately toward women while serving in office. Additionally, the American people seemed to dismiss that fact in their evaluation of Clinton even at the time the scandal was going on. Perhaps the outcome would have been different were we somehow able to apply today's societal standards to what happened two decades ago, but that was then and this is now and it's impossible to go back and change how things turned out or to change the way that people reacted to the reports of Clinton's conduct back then as opposed to the way that they might react today if similar things were revealed about a sitting President.
All of this is a long way of saying that I'm not sure at all how I feel about Gillibrand's comments. Certainly, if the allegations against Clinton were coming to light today they would be judged differently than he was in the mid-1990s. Society and the way we view relationships between men and women, especially in the workplace, have changed significantly and largely for the better. Under today's standards, Clinton's behavior toward Lewinsky would clearly have fallen into the same category of workplace sexual harassment that many women have come forward to talk about over the past month, and his behavior when serving as Governor would also be seen in a different light. That being said, resignation for having an affair, absent evidence that there was force of any kind involved, does seem like a bit of an over-reaction. Additionally, it's worth noting that Clinton's affair was not unique and that there are countless men who served as President who we now know were carrying on extramarital affairs while in office, this includes Presidents such as Grover Cleveland, Warren B. Harding, Franklin D. Roosevelt, and, of course, John F. Kennedy. Should all these Presidents have been forced to resign as well? How far back do we go in applying contemporary standards to the events of the past? Or should we just accept the fact that standards have changed and that behavior that was once acceptable is now considered unacceptable? I'll leave that for others to decide.
At the very least, though, it is clear that the current movement to encourage women to come forward is a good thing. In the process, we're seeing charges made against people who probably thought they were going to get away with improper behavior, and that's not happening. That's a good thing for several reasons. First of all, the women who were victimized deserve to have their stories heard and their charges are taken seriously. They shouldn't have been intimidated into being kept silent, and the fact that they are speaking up will hopefully lead to changes in the way people behave toward each other in public and in private. Second, to the extent that anything illegal happened, it ought to be brought to light even if the applicable statute(s) of limitation bar the bringing of charges. This is especially true with respect to women. Sexual assault or harassment of any kind is always wrong, and excuses for harassing behavior like "I was drunk," "She was drunk," or "No means yes" are never acceptable. As far as sexual harassment goes, no means no, and there is no justification for someone to make those kinds of advances in a professional setting, especially when one is in a position of power over another person such as in the employment situation. There's also no excuse for such unwanted behavior outside the office. Finally, I've seen several men commenting or posting in response in dismissive tones regarding these disclosures, and that is just as disturbing as the reports themselves. "Boys will be boys" is not an excuse for acting like a boorish jerk, and the fact that a woman isn't interested in you isn't a reason to treat her like crap. Additionally, dismissing the reports that are being posted as some kind of social media fad is, well, kind of pathetic, as is the excuse that the campaign is somehow an attack on all men, which it clearly isn't. Stop acting like jerks, guys. It's as simple as that.