More Than 130 White House Employees Lack Final Security Clearances
More security clearance problems for the White House.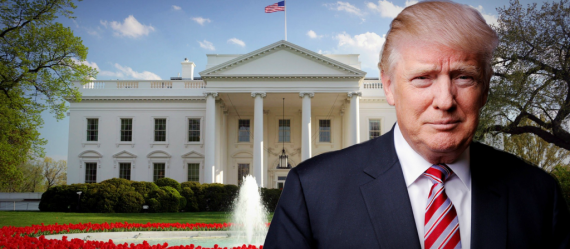 NBC News is reporting that, as of November, more than 130 White House employees lacked final security clearances:
More than 130 political appointees working in the Executive Office of the President did not have permanent security clearances as of November 2017, including the president's daughter, son-in-law and his top legal counsel, according to internal White House documents obtained by NBC News.

Of those appointees working with interim clearances, 47 of them are in positions that report directly to President Donald Trump. About a quarter of all political appointees in the executive office are working with some form of interim security clearance.

White House officials said Wednesday they would not comment, as is their policy, on the nature of security clearances. CNN also reported on the clearances earlier Wednesday evening. It is unclear whether some employees have had their clearance levels changed since mid-November

The documents also show that 10 months into Trump's administration, at least 85 political appointees in the White House, vice president's office and National Security Council were working without permanent security clearances. About 50 appointees were operating with interim security clearances while serving in offices closely linked to the West Wing, such as the National Economic Council, the Office of Management and Budget, the U.S. Trade Representative and the White House executive residence.

White House officials who are listed as not having permanent security clearances as recently as this past November include Ivanka Trump, the president's daughter and senior adviser; Jared Kushner, the president's son-in-law and senior adviser; Dan Scavino, the president's director of social media; and Christopher Liddell, assistant to the president for strategic initiatives, according to the documents.

All four are listed as operating with interim clearances only for information classified as "top secret" and "TS/SCI," which is shorthand for "top secret, sensitive compartmented information."

A total of 34 people who started their government service on Jan. 20, 2017, the first day of the Trump presidency, were still on interim clearances in November.

Among them are White House counsel Don McGahn, White House press secretary Sarah Huckabee Sanders and White House deputy press secretary Raj Shah, who had only interim clearances to access the most sensitive government information, according to the documents. Each of them had obtained permanent clearances to access top-secret materials, a lower clearance that would prevent access to information, for example, in the president's daily intelligence brief.

On the National Security Council, 10 of 24 officials listed in the documents — about 42 percent — had only interim security clearances as of November. Those officials listed as working without permanent security clearances include Dina Powell, a deputy national security adviser for strategy who left her post in January. Powell's clearance process did not begin until March 2017. Her replacement, Nadia Schadlow, joined the Trump White House in March 2017 and was still on an interim clearance in mid-November.

(…)

Dan Coats, the Director of National Intelligence, said during congressional testimony earlier this week that he would recommend minimal access to classified documents to anyone without a permanent security clearance.

"But if you do that, it has to be a specific interim with controlled access and limited access, and that has to be clear right from the beginning," Coats said. "You can't just say an interim allows me to do anything."

The levels of clearance listed in the documents for the political appointees varied from secret to top secret to SCI.
All of this flows, of course, from the controversy that has enveloped the White House in the wake of the eruption of the Rob Porter story, which came to light primarily due to the fact that the background investigation conducted by the Federal Bureau of Investigation uncovered the allegations from his two ex-wives about verbal, emotional, and physical abuse during their respective marriages. Several days after that story became public, we learned that Porter, who served in a position that meant he had access to nearly every piece of paper that crossed the President's desk, was operating under an interim security clearance and that his final clearance likely would not have been granted due to his past. It was also reported at the time that several dozen White House employees were working in positions close to the President without final security clearances. Included among that group of people was Jared Kushner, who has held the title of Senior Adviser to the President since the beginning of the Administration and also holds the title of Director of the Office of American Innovation, a White House Office created by the President early last years. In addition to those positions, Kushner has also been designated by the President as a point man on several issues including, most prominently, the development of a Middle East peace plan, a task normally designated to either the Secretary of State or the National Security Adviser. Also on the list are people such as the President's daughter Ivanka Trump, who holds the title Adviser to the President, and even the White House Press Secretary Sarah Huckabee Sander sand White House Counsel Donald McGahn.
As I said last week, there could be several reasons why an individual security clearance application has been delayed that could range from the innocuous to the most serious. In Kushner's case, for example, the process appears to have been complicated by the fact that there have apparently been several revisions to his application due to the fact that he left certain information off the initial application. In other cases, the fact that many Trump Administration employees are people who have never been through the security clearance process before means that authorities are required to start from scratch when conducting their investigation rather than relying on the results of a previous investigation and merely needing to update what has already been done. Additionally, people such as Kushner who have an extensive business background that includes dealings with foreign companies and even foreign governments means that their applications are more complicated than might otherwise might be the case More seriously, though, there could be situations where people with access to classified material have issues in their background that are making final approval difficult.
Even taking all of those possible explanations into account, though, the fact that there are so many people working at the highest level of government without a full security clearance is something that raises serious red flags. Such people could end up being serious security risks for one reason or another, and granting them access to classified information at such a high level seems like an unnecessary risk. As DNI Dan Coats said on Wednesday, it seems reasonable that people who don't have a final security clearance should at the very least have limited access to classified information, assuming that they are even in a position where they ought to have that access at all. This will likely make it harder for certain people to do their jobs in the short run, but it seems like a small price to pay given the risks involved.