Obama's Big ISIS Speech Was A Big Nothing
For an Oval Office address delivered on a Sunday night, President Obama's speech last night sounded more like a statement read from the podium in the press room.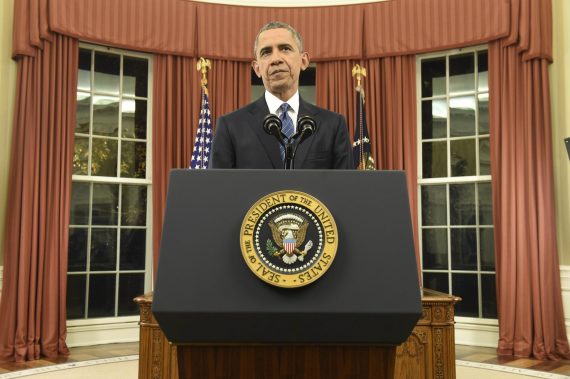 Last night, for only the third time since he took office, President Obama delivered a speech from the Oval Office largely prompted by both the terrorist attack and what is now seemingly confirmed to the have been an attack inspired by ISIS in San Bernardino, California that was, well, rather underwhelming given both the venue for the speech and the hype that had preceded it:
WASHINGTON — President Obama sought on Sunday to calm jittery Americans after the terrorist attack last week in California, delivering a prime-time address designed to underscore the government's campaign against an evolving threat.

Speaking from a lectern in the Oval Office, Mr. Obama acknowledged the heightened fears that followed an attack by a married couple last week in San Bernardino, Calif., which he called an act of terrorism that appeared to be inspired, but not directed, by members of the Islamic State in Iraq and Syria.

"It is clear that the two of them had gone down the dark path of radicalization," Mr. Obama said, referring to Syed Rizwan Farook and his wife, Tashfeen Malik. "So this was an act of terrorism designed to kill innocent people."

Mr. Obama promised an intensification of airstrikes against the Islamic State, also known as ISIS or ISIL, and said that a growing coalition of nations and an increasingly sophisticated effort to capture and kill the group's leaders would yield significant results.

But the president's speech was not intended to announce a dramatic shift in strategy or new policies to combat the terrorist threat at home and overseas. Instead it was meant to inform Americans of the administration's efforts against the Islamic State and to urge people not to give in to fear or language that casts suspicion on all Muslims and mosques.

"We cannot turn against one another by letting this fight be defined as a war between America and Islam," Mr. Obama said, adding, "That does not mean denying the fact that an extremist ideology has spread within some Muslim communities. This is a real problem that Muslims must confront, without excuse."

It was only the third speech Mr. Obama has delivered from the Oval Office, a setting meant to highlight the gravity of a subject.

Mr. Obama's demeanor was serious but not grim or angry as he outlined a series of steps at home aimed at keeping the country safe.

He called for tougher screening of travelers who come to the United States without visas and asked Congress to ban gun sales to people on the government's no-fly list, and for limits on assault weapons.

"I know there are some who reject any gun safety measures," Mr. Obama said. "But the fact is that our intelligence and law enforcement agencies — no matter how effective they are — cannot identify every would-be mass shooter, whether that individual is motivated by ISIL or some other hateful ideology. What we can do — and must do — is make it harder for them to kill."

The rampage last week, which killed 14 people, was the first time that terrorists inspired by the Islamic State have successfully struck in the United States. It came shortly after the Paris attacks; assaults in Beirut, Lebanon; and the takedown of a Russian airliner over Egypt, all attributed to elements of the Islamic State.

"And I know that after so much war, many Americans are asking whether we are confronted by a cancer that has no immediate cure," Mr. Obama said

He added, "The threat from terrorism is real, but we will overcome it."

(…)

"It is our responsibility to reject religious tests on who we admit into this country," Mr. Obama said. "It's our responsibility to reject proposals that Muslim-Americans should somehow be treated differently. Because when we travel down that road, we lose. That kind of divisiveness, that betrayal of our values plays into the hands of groups like ISIL."

Mr. Obama also repeated his insistence that he would not send large numbers of ground troops to the Middle East.

"We should not be drawn once more into a long and costly ground war in Iraq or Syria," Mr. Obama said. "That's what groups like ISIL want." He added: "But they also know that if we occupy foreign lands, they can maintain insurgencies for years, killing thousands of our troops, draining our resources, and using our presence to draw new recruits."
For what initially seemed like it was being billed as a major speech about American policy toward ISIS in general and the threat of terrorist attacks in the American homeland specifically, President Obama's speech seems to me to have fallen completely flat. For one thing, the imagery was somewhat odd to say the least. Ordinarily, when one thinks of a speech from the Oval Office, one envisions the President sitting at the Resolute Desk, with the background of either the scenary outside the Oval Office or the manner in which that President has chosen to decorate the area behind his desk. In this, we get the President standing in front of a podium that was oddly placed in front of the Resolute Desk for some reason that I still don't quite understand. There is an obvious power given to an address to the nation that is given from the Oval Office. Countless numbers of Presidents who have been in office during the television era including Nixon, Ford, Carter, Reagan, and all of those who have followed have used that venue well. For reasons that we may not learn until the biographies of those who worked for him have been written, Barack Obama has used the venue sparingly, and this time he used it in a very odd way for a speech that, well, didn't say very much. And perhaps that explains everything.
Beyond the imagery,  there wasn't much about the President's speech that we haven't heard before, nor was there any indication of  a change in policy regarding either the military action against ISIS or domestic anti-terror policy. We heard the same platitudes about how we are fighting ISIS on the battlefields in Syria and Iraq, the same arguments about the lack of evidence that there are active ISIS operations inside the United States, and the same reassurances that we've heard from the government before. Even assuming all of that is true, and I tend to believe that it is, in the wake of the attacks in Paris and San Bernardino It strikes me that President Obama's attempts at reassurance are more likely to fall on deaf ears than they are to create confidence that the Federal Government is actively engaged in addressing threatening situations.
George Condon at National Journal is especially critical of the speech:
It was a speech that had to be giv­en and prob­ably should have been giv­en days earli­er, rather than let the fear and doubts grow. Most Amer­ic­ans—and the in­vest­ig­at­ors—had con­cluded by Fri­day that the San Bern­ardino blood­bath was an act of ter­ror done by two ter­ror­ists who plot­ted to strike in the middle of a hol­i­day party. But they needed to hear this from the com­mand­er in chief and they needed to hear how he was go­ing to give them a sense of se­cur­ity as they go about their hol­i­day fest­iv­it­ies and oth­er nor­mal daily routines.

A seni­or ad­min­is­tra­tion of­fi­cial told re­port­ers Sunday that it was Fri­day when Obama de­cided he needed to speak. "We re­cog­nized that there are very real and le­git­im­ate fears in the United States and around the world about the nature of this ter­ror­ist threat," said the of­fi­cial, adding, "Giv­en those fears and giv­en peoples' con­cerns about this threat, and giv­en the San Bern­ardino at­tack, the pres­id­ent made a de­term­in­a­tion at the end of the work week on Fri­day that he would go out and ad­dress broadly the threat that we are fa­cing and provide the Amer­ic­an people with a clear sense of how we need to deal with this threat as a coun­try."

(…)

Earli­er in the day, former Sec­ret­ary of State Hil­lary Clin­ton, the lead­ing Demo­crat­ic pres­id­en­tial con­tender, told George Stephan­o­poulos on ABC's This Week that she hoped the pres­id­ent would lay out "an in­tens­i­fic­a­tion of the ex­ist­ing strategy." That turned out to be ac­cur­ate. Clin­ton also ad­ded pres­sure be­fore the speech, flatly de­clar­ing, "We're not win­ning."

It was Obama's job to counter that, to de­clare that vic­tory will come someday. He ac­know­ledged that "many Amer­ic­ans are ask­ing wheth­er we are con­fron­ted by a can­cer that has no im­me­di­ate cure." His re­sponse was one of the best mo­ments of the speech. In­stead of his usu­al rhet­or­ic about "de­grad­ing" the en­emy, the pres­id­ent stated firmly, "The threat from ter­ror­ism is real, but we will over­come it. We will des­troy ISIL and any oth­er or­gan­iz­a­tion that tries to harm us."

His low point may have come when he in­sisted on veer­ing in­to gun con­trol. If the point of the speech was to unite the coun­try and bring an anxious na­tion to­geth­er, bring­ing up one of the most di­vis­ive do­mest­ic polit­ic­al is­sues is not a great way to do that—par­tic­u­larly when the ad­min­is­tra­tion has struggled to ex­plain how the usu­al items on their gun agenda such as gun-show re­stric­tions and bet­ter back­ground checks would have made any dif­fer­ence in San Bern­ardino.
Condon's last point is, perhaps, the most perceptive, and the best indication of just how badly thought out and ill-timed the President's speech was. Ordinarily, a prime time Presidential speech is an event where something important happens, whether it is the recognition of a national tragedy such as President Reagan's speech after the Challenger disaster, or President Obama's speech when he announced that Osama bin Laden was dead. Last night's speech was, well, nothing really. It was quite obviously a White House effort to address the criticism that the Administration was being subjected to in the wake of the San Bernardino attacks. The fact that it was being delivered from the Oval Office suggested that we would be getting an annnoucement of national importance. Instead, we got a restatement of existing policy along with language that could have been delivered ina a speech from the Rose Garden on Monday morning, or the Press Room on Monday afternoon.
For anyone looking for substance when it comes to American policy toward ISIS, then, last night's Oval Office address was, to borrow the words of a great writer, a tale told by an idiot, full of sound and fury, signifying nothing.