Iran And The U.S. On The Same Side Against ISIS?
Iran and the United States are on the same side in the fight against ISIS, whether they like it or not.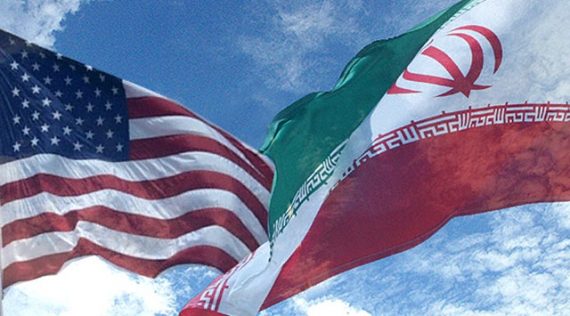 While the United States and Iran are, at least in theory, on the same side in the battle against ISIS, on the surface, the idea of an alliance of any kind between the two long time enemies is being dismissed by both sides. Over the weekend, Secretary of State Kerry said that Iran's participation in the international meeting being held in Paris to discuss the ISIS threat would not be appropriate. Iran's Supreme Leader Ayatollah Ali Khameni responded by rejecting U.S. efforts to coordinate efforts against ISIS, and warning the United States that unilateral intervention in Iraq and Syria would lead to the same result as the 2003 Iraq War. Beyond the public rhetoric, though, there seems to be at least some indication that the two nations are talking behind the scenes about how to respond to something that they both consider a threat:
A spokesman for Kerry acknowledged the U.S. has held discussions with the Iranian government about efforts to counter ISIS amid negotiations over Tehran's nuclear program.

"It's no secret that we have had discussions w[ith] Iran about the counter-ISIL efforts in Iraq on margins of our P5+1 talks on nuclear issue," State Department spokeswoman Jen Psaki tweeted Monday.

Psaki said that negotiations did not and would not include military coordination. But she suggested that American and Iranian diplomats could continue to discuss efforts against ISIS during bilateral talks on the nuclear issue later this week in New York.

"There may be another opportunity on the margins in the future to discuss Iraq with Iran," Psaki said.
Notwithstanding the fact that there may be talks going on behind the scenes, the public rhetoric from both nations shouldn't come as a surprise. In both cases, acknowledging any kind of coordination would pose political risks that respective leaders are unwilling to take at this point. For the Obama Administration, obviously, the long history of enmity between the U.S. and Iran makes it next to impossible for any American President to pursue even normal diplomatic relations with the Islamic Republic. President Obama has gotten criticism for negotiating with the Iranians over the country's nuclear program, for example, and he'd likely get similar domestic political opposition to anything approaching open cooperation with Tehran over ISIS. Similarly, while the Iranian mullahs and political leaders don't have to worry about public opinion or political opponents the same way American politicians do, attacks on the United States are such a central part of Iranian policy that it would be hard for even the Grand Ayatollah to back down from. Given that, the rhetoric noted above is to be expected, even if the two countries are talking behind the scenes.
While the idea of an alliance, even an informal one with Iran may make Americans uncomfortable, Jack Goldstone argues that its the only way that the United States can defeat ISIS:
Washington loves nothing more than to oversimplify the complex. But the fight against the radical jihadist movement that has taken over large parts of Syria and Iraq is not simply a war. In a conventional war, you are fighting a massed army seeking to gain or hold territory; such an army can be destroyed by superior force and skilled tactics. In a civil war, you are fighting guerrillas or militias seeking to free themselves from the central government, or to take it over. They can be defeated by giving the central government military and financial support to defend itself, building up secure zones to protect civilians and killing or capturing rebel leaders. ISIL, by contrast, is conducting a revolutionary war, in which civilians are recruited to support an ideological cause and rallied to overturn and replace regimes that are widely seen as unjust and illegitimate.

The distinction matters. To destroy the threat embodied in ISIL requires approaching the task as one of counter-revolution. ISIL, after all, is at its core only about 30,000 fighters, tops; what has made them the group force that could take over much of two countries with a total population of more than 50 million people is that they are supported by millions as the vanguard of a revolutionary movement for justice. That support ranges from military recruits from former supporters of other rebel groups who are joining ISIL to financial support from conservative co-religionists in Saudi Arabia and other Arab Gulf states to the quiet support of tens of millions of Syrian and Iraqi Sunnis.

How could such a barbarous and brutal group as ISIL, as Obama described it Wednesday, earn the support of those millions? By promising to protect and avenge them against the Assad regime in Syria, which has slaughtered their children and gassed their relatives and fellow townspeople and tribesmen; and against the Shiite regime in Iraq, which has stolen their jobs and destroyed their livelihoods, contemptuously dashing the hopes and careers of Sunni Arabs in that country.

(…)

Iran has already contributed to progress in Iraq by agreeing to the removal of Nouri al-Maliki, the divisive Shiite partisan who was prime minister. Iran now must support an inclusive Iraqi regime that gives full rights and opportunities to the Sunnis within Iraq, with a U.S.-supported and reinforced Iraqi military, to keep the ISIL threat from moving directly to Iran's borders.

At the same time, however, Iran has been vigorously supporting Bashar al-Assad's regime in Syria against both moderate and extremist rebels. That places Iran squarely in opposition to President Obama's plan to build up a moderate rebel force capable of taking on both ISIL and the Assad regime forces and winning.

This creates a delicate diplomatic dilemma, but also a great opportunity. If Iran can be persuaded to adopt a similar role in Syria to the role it is already accepting in Iraq—assent to an inclusive, majority-led but minority-respecting regime, with the United States playing an active role in supporting the military forces of the government—and therefore to withdraw its active support of Assad, Iran can align itself with the broader Sunni coalition that President Obama is seeking to back a political solution in Syria.

Creating such an alignment will be incredibly difficult, but it could bring huge benefits to the entire Middle East. Beyond the immediate crisis of ISIL in Syria and Iraq, co-operation between the United States and Iran, and between Iran and Sunni states in the region, in supporting inclusive states in both Syria and Iraq could help to reduce the Sunni-Shia rifts that have kept the region in turmoil. The civil wars in Iraq and Syria as well as in Yemen and unrest in Bahrain and Saudi Arabia are all fueled by the "all or nothing" approach to Islam of Sunni and Shia groups in their countries, much like the Protestant vs. Catholic struggles that fueled the Thirty Years War in 17th-century Europe.

(…)

Nobody should underestimate the challenge of defeating ISIL. But the prospect of this crisis leading to an alignment of U.S., Sunni and Iranian interests holds out the prospect of finally creating lasting stability in the Middle East. The end of the Thirty Years War produced almost five decades of subsequent peace in Europe; the end of the Napoleonic wars similarly produced peace among Britain, France and Germany for almost 60 years. If the revolutionary threat from ISIL leads to an unlikely coalition embracing NATO, Sunni regimes and Iran to defeat that threat, we may hope that, however long it takes to achieve, the result will also be a peace that lasts.
Goldstone's ideas are highly theoretical,of course, and there's no guarantee that either the Iranian's would be receptive to the suggestion that the help to ease Bashar Assad out in Damascus or that such a move would help to undercut ISIS's appeal in a way that would make it possible to push back its territorial gains. Indeed, his analogy to the Thirty Years War and the Napoleonic Wars foreshadows the possibility that the conflict in the Middle East is likely to widen and to take many years to resolve, even assuming for the sake of argument that "defeating ISIS" is an achievable goal. However, it strikes me that they are at least worth considering since it doesn't seem as though there are many other alternatives. Another massive American ground force akin to the Iraq or Persian Gulf wars, for example, may indeed achieve success on the ground against the immediate threat but, as the history of the past decade has shown us, it's just as likely to create yet more resentments that ISIS or other organizations can capitalize on to recruit supporters as it is to achieve the kind of complete victory that people seem to long for. The mullahs are far from paragons of virtue, but then that is true with many of the other nations we are seeking to rally into a more active international coalition such as the leadership of Saudi Arabia and the Gulf States or President Erodgan in Turkey. However, if the threat from ISIS is as severe as our national leaders claim it to be, then we can't be choosy about who were ally ourselves with.
Whether or not there is coordination of some kind between Iran and the United States regarding ISIS, it's already quite obvious that Iran is going to be involved in this fight in some way. They have already used their considerable influence to help get Nouri al-Maliki to step down from power, which was widely seen as the first step in a political transformation that has yet to occur in Iraq but which needs to happen if there is going to be any hope of curtailing support for ISIS on the ground. The Iranians have also been heavily involved in the Syrian civil war from the very beginning, providing material, weapons, and training to the Assad regime in its fight against a rebel coalition that is dominated by ISIS and other jihadist forces,. Additionally, Iran's close ally Hezbollah has been involved in the war on the side of the Assad regime for several years now. It's also apparent that, at the end of the day, another conflict in Iraq is going to result in Iran becoming a more influential regional power in the same way that the 2003 war did. Given that this is the case, perhaps it would be best if the Iranians were part of the international effort against ISIS rather than excluded from it since that would potentially give the West a broader ability to influence Iran in the future. Like I said, it's a all a long shot but I'm not sure we have any better alternatives.