Report Says John Kelly Called Trump An "Idiot."
More signs of tension between President Trump and his Chief of Staff.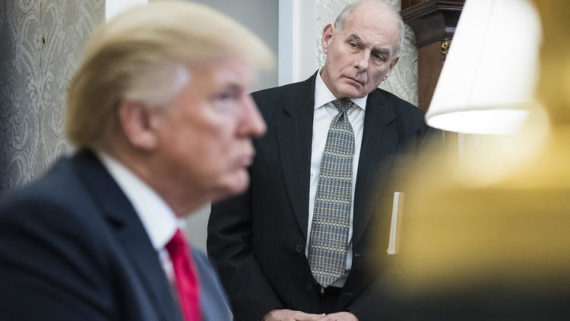 NBC News is out with a new report that appears to show that the tensions between President Trump and his Chief of Staff aren't letting up, suggesting that John Kelly's days in the White House could be numbered:
White House chief of staff John Kelly has eroded morale in the West Wing in recent months with comments to aides that include insulting the president's intelligence and casting himself as the savior of the country, according to eight current and former White House officials.

The officials said Kelly portrays himself to Trump administration aides as the lone bulwark against catastrophe, curbing the erratic urges of a president who has a questionable grasp on policy issues and the functions of government. He has referred to Trump as "an idiot" multiple times to underscore his point, according to four officials who say they've witnessed the comments.

Kelly called the allegations "total BS."

"I spend more time with the president than anyone else and we have an incredibly candid and strong relationship," said Kelly in a statement. "He always knows where I stand and he and I both know this story is total BS. I am committed to the president, his agenda, and our country. This is another pathetic attempt to smear people close to President Trump and distract from the administration's many successes."

Three White House spokespeople said they don't believe it's accurate that Kelly called the president an "idiot," adding that none of them has ever heard him do that or otherwise use that word.

Officials said Kelly's public image as a retired four-star general instilling discipline on a chaotic White House and an impulsive president belies what they describe as the undisciplined and indiscreet approach he's employed as chief of staff. The private manner aides describe may shed new light on why Kelly now finds himself — just nine months into the job — grappling with diminished influence and a drumbeat of questions about how long he'll remain at the White House.

"He says stuff you can't believe," said one senior White House official. "He'll say it and you think, 'That is not what you should be saying.'"

Trump, who aides said has soured on his second chief of staff, is aware of some though not all of Kelly's comments, according to the current and former officials.

The White House spokespeople said they haven't heard Kelly talk about himself as the one saving the country, and that if anything he may have spoken in jest along those lines.

Presidential historian Michael Beschloss said Kelly's comments about Trump, when compared to previous White House chiefs of staff, "suggest a lack of respect for the sitting president of a kind that we haven't seen before." Beschloss said the closest similarity would be President Ronald Reagan's chief of staff during his second term, Don Regan, who "somewhat looked down on" his boss and eventually lost the support of the staff and the president. Regan was replaced after two years by Howard Baker.

(…)

Kelly entered the White House with a mandate to instill order in a West Wing where aides regularly had unfettered access to the president. He adopted some key changes, such as shrinking the number of people in meetings and limiting access to the Oval Office.

He has also pushed back against the president on some foreign policy and military issues, current and former White House officials said.

In one heated exchange between the two men before February's Winter Olympics in South Korea, Kelly strongly — and successfully — dissuaded Trump from ordering the withdrawal of all U.S. troops from the Korean Peninsula, according to two officials.

For Kelly, the exchange underscored the reasoning behind one of his common refrains, which multiple officials described as some version of "I'm the one saving the country."

"The strong implication being 'if I weren't here we would've entered WWIII or the president would have been impeached,'" one former senior White House official said.

Kelly has made similar comments to lawmakers, at times making fun of what he sees as Trump's lack of knowledge about policy and government, current and former officials said.

He's been particularly cutting when it comes to immigration issues, which he considers one of his policy strong suits, having served as Homeland Security secretary and head of the combatant command for U.S. military operations in Central America and South America, the officials said.

Kelly held a series of meetings in his office with White House officials during negotiations with lawmakers on funding for the president's border wall and a resolution on a program — known as DACA — that allows some people who were brought to the U.S. illegally as children to remain in the country, according to four officials who either attended or were briefed on the meetings.

He often used the settings to express concern that Trump would agree to a deal that's not hardline enough on immigration and criticized the president's knowledge of the issues to underscore his point, the officials said.

"He doesn't even understand what DACA is. He's an idiot," Kelly said in one meeting, according to two officials who were present. "We've got to save him from himself."
This isn't the first report about conflict between Trump and his second Chief of Staff, of course. For months now, rumors about Kelly's impending ouster have been circulating in Washington for months now along with reports that the President has been growing increasingly frustrated with Kelly's efforts to impose discipline on an undisciplined White House and an undisciplined President. More than once, there have been reports of disputes between Kelly and Trump over these restrictions, as well as growing conflict between the two men. One report, for example, alleged that Kelly and Trump had gotten into a heated argument in the Oval Office to the point where Kelly started boxing up some of his personal belongings in preparation for leaving the office that very day. Obviously, that didn't happen, and some reports have indicated  but that hasn't stopped the reports about conflicts between the two, as well as increasing efforts by Trump to essentially make an end run around Kelly by calling people without going through him and excluding him from important phone calls, including a call with Russian President Vladimir Putin in which Trump congratulated Putin on his win in an election that nobody believes was actually legitimate. Most recently, it was reported that Trump was considering selecting Kelly as the new Secretary of Veterans Affairs after the failed nomination of White House physician Ronny Jackson, although it's unclear if Kelly would agree to such an appointment if it appeared as if he was being thrown a bone after being thrown out the White House door. On top of it all, there have been those who wondered how long Kelly, who has been on duty ever since signing up for the Marine Corps decades ago, would put up with this kind of humiliation although it seems clear that his sense of duty is playing a large role in his decision to stay where he is. This report is only destined to add to that speculation.
Obviously, the part of this report that is gaining the most attention is the fact that Kelly has reportedly referred to the President of the United States as an "idiot" in conversations with members of the White House Staff. This brings to mind similar reports last year that Rex Tillerson, who of course was still Secretary of State at the time, had referred to the President as a "moron." Like Kelly is today, Tillerson denied those reports but they obviously led to more tension between himself and the President that only began to increase as time went on. Five months later, of course, Tillerson was out as Secretary of State, having received the news of his fate in a rather unceremonious manner. According to this report and others that have come out in recent months, Kelly may not have to wait that long for his own departure, with some reports indicating that he may be gone by the time the one-year anniversary of his coming on at the White House arrives in July.