Donald Trump Is Seeking To Stop A Book Critical Of Him From Being Published
Who needs a First Amendment when you have lawyers willing to write threatening letters?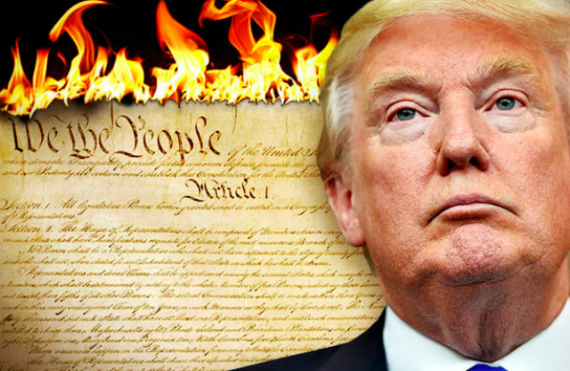 Lawyers for President Trump are seeking to stop the impending publication of a new tell-all book about his campaign and the early days of his Administration that has already been making headlines:
WASHINGTON — President Trump escalated his attack on a new bookportraying him as a volatile and ill-equipped chief executive on Thursday as his legal team demanded that the author and publisher halt the release of the account scheduled for next week and apologize or face a possible lawsuit.

In an 11-page letter, the president's lawyer said the book, "Fire and Fury: Inside the Trump White House," by Michael Wolff, as excerpted in a magazine article, includes false statements about Mr. Trump that "give rise to claims for libel" that could result in "substantial monetary damages and punitive damages."

"Mr. Trump hereby demands that you immediately cease and desist from any further publication, release or dissemination of the book, the article, or any excerpts or summaries of either of them, to any person or entity, and that you issue a full and complete retraction and apology to my client as to all statements made about him in the book and article that lack competent evidentiary support," the letter said.

The letter was signed by Charles J. Harder, a prominent libel lawyer based in Beverly Hills, Calif., and was sent to Mr. Wolff and Steve Rubin, president and publisher of Henry Holt & Co. It follows a similar cease-and-desist letter sent by Mr. Harder on Wednesday night to Stephen K. Bannon, the president's former chief strategist, who is quoted in the book making derogatory comments about the president and his family.

While other presidents have avoided direct confrontations with publishers over unflattering books for fear of giving them more publicity, Mr. Trump is furious about Mr. Wolff's account and about Mr. Bannon's comments, according to advisers. Through a long career in real estate and entertainment, Mr. Trump has repeatedly threatened lawsuits against authors, journalists and others, but often has not followed through, and it was unclear whether he would in this case.

"He called me a great man last night," Mr. Trump said on Thursday at the White House. "He obviously changed his tune pretty quick.

Mr. Wolff did not immediately reply to a request for comment. His editor, John Sterling, said by email, "We haven't yet responded to the letter."

The book, which quickly shot up to number one on Amazon's best-seller list following articles about it on Wednesday, quotes Mr. Bannon describing a meeting held by Donald Trump Jr. with Russians during the 2016 campaign as "treasonous" and "unpatriotic" and quotes him calling Ivanka Trump "dumb as a brick."

It presents Mr. Trump as an unengaged candidate and president who grew bored when an aide tried to explain the Constitution to him and refuses to read even one-page briefing papers. Various advisers to the president are reported to have called him an "idiot," a "dope" or "dumb" as dirt. And Melania Trump, the president's wife, is described as being so unhappy about the prospect of life in the White House that she was in tears on election night.

Mr. Trump fired back with a blistering statement on Wednesday saying that Mr. Bannon had "lost his mind" and "has nothing to do with me or my presidency." In separate statements, the White House called the book "trashy tabloid fiction" that is "filled with false and misleading accounts" and Mrs. Trump disputed characterizations of her views.

Mr. Bannon, who left the White House under pressure last summer but had until now stayed in touch sporadically with Mr. Trump, sought to smooth over the rift during his Breitbart News radio show on Wednesday night.
This move comes after a similar cease and desist letter was sent by Trump's attorneys to Steve Bannon, alleging that he was violating the terms of a non-disclosure agreement by discussing internal campaign and White House matters and by making "disparaging" comments about the President and members of his family.  This letter appears to corroborate reports that Trump has required people working on his campaign, and potentially in the Administration itself, to sign the same kind of non-disclosure/non-disparagement agreement that was reportedly commonplace for people who work at The Trump Organization. What's unclear is the extent to which an agreement such as this can be enforced in a context such as this. While courts have upheld such agreements in the private sphere, there are very few cases on the record where any political candidate or politician has required their own employees to sign such agreements and no cases where courts have ruled on whether or not such agreements can even be enforced. At the very least, though, it would seem unlikely that any such agreement could be applied to White House employees, and at least some possibility that a court would rule that the public interest would outweigh any privacy concerns when it comes to enforcing such an agreement in the context of a political campaign.
Most of the news media attention regarding the book yesterday focused on the comments that Steve Bannon made about Trump, his son Donald Jr., other members of Trump's family, and a whole host of White House and campaign aides during what were apparently hours of open-ended interviews with author Michael Wolff. There is much, much more to the book than that, though, and much of it is detailed in the excerpt that was published yesterday in New  York magazine and again today in a piece published by The Hollywood Reporter.  Many of these revelations seem to substantiate reports we've seen before, such as the fact that Trump never believed he would actually win the election and that both he and some members of his family were visibly glum when it became apparent on Election Night when it became clear that he was going to win the Electoral College. Additionally, the book apparently details observations that staffers interviewed by Wolff passed on regarding the President's behavior over the past year, including several anecdotes that call his mental acuity into question in some rather serious ways. The White House is flatly denying these claims, but Axios is reporting that Wolff taped his interviews with Bannon and other staffers and, if that's the case, then it could be difficult for the White House to debunk the veracity of these reports without effectively asserting that the President's own staffers were lying to someone who they knew was in the process of writing a book about the President.
As a matter of law, it seems highly unlikely that the President and his attorneys would be at all successful in an effort to prevent this book from being published and that their letter to the author and publisher is little more than legal bluster designed to try to undermine the impact of the book itself. As a general rule, courts have disfavored what is generally called "prior restraint," meaning the effort by a government entity to stop publication of material that is clearly protected by the First Amendment. While the attorneys who authored the cease and desist letter are Trump's private lawyers, the fact that Trump himself is the President of the United States means that the line between what is private and what is public is blurred significantly. Additionally, courts in the past have made it extremely difficult for even private parties from obtaining court orders barring the publication of material they claim to be false or defamatory. In many such cases, courts have ruled that there are sufficient protections in the law that allow for the punishment of libelous or defamatory material such that barring the publication of the entire work cannot be justified. In a case such as this dealing with the internal operations of the campaign and Administration of the President of the United States, it seems likely that any court presented with the matter would be likely to find that the public's right to know outweighs any damage that might be suffered by the subject of the book and that the laws against libel, slander, and defamation provide a sufficient remedy for those claims that can be shown to be factually untrue.
As I noted, it seems fairly clear that the reasons behind these letters have little to do with the legal merits of the assertions made in them and everything to do with trying to discredit the book itself. Even based on just the two book excerpts I linked to above, which I recommend reading in full, it's clear that Wolff's book is likely to prove to be highly embarrassing to the Administration in general and the President in particular. Additionally, it's been reported that Trump himself is "furious" about the revelations in the book, making it likely that he directed his attorneys to "do something" about it. In that regard, it's possible to look at these letters as little more than an effort by Trump's lawyers to prove to their client that they did something even if what they did doesn't stop the book from being published and fails to stop the truth about his Presidency from coming out. Nonetheless, this is yet another example of the obvious contempt that this President has shown for the First Amendment, freedom of speech and of the press, and the rule of law. I'd call it surprising or shocking, but with this President, it's just standard operating procedure.