Trump's Job Approval Numbers Hit Another Historic Low
Just about two months into office, Donald Trump's job approval number are worse than any newly elected President since World War II.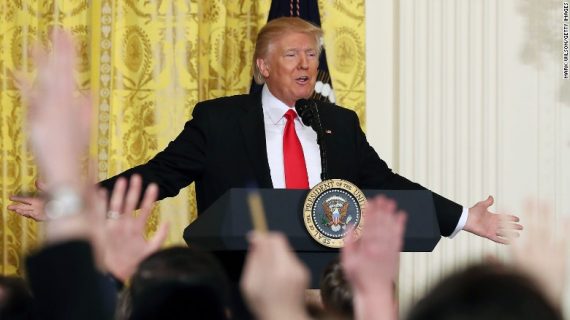 A new poll has Donald Trump hitting a new low in job approval for his still-young Presidency, and a historic low for any President since such polling began after World War II:
President Donald Trump's approval rating is at a low 37 percent, according to Gallup daily tracking poll results released Monday.

A solid majority of Americans polled, 58 percent, said they disapprove of the president's job performance.

The results represent Trump's worst results in the poll since his inauguration in January and a swing from just over a week ago, on March 11, when 45 percent of those surveyed told Gallup they approved of the president's job performance (49 percent said they disapproved then).

As recorded by Gallup, Trump's approval rating has been under water every day since his inauguration except for three, and for many of those days, the poll registered majority disapproval of the president.
These numbers are consistent with other polling of Trump's Job Approval that we've seen to date, although Gallup's numbers for both approval and disapproval are markedly higher and lower respectively than we've seen from other polling. Even the Rasmussen poll, which had been showing Trump in positive territory early in his Administration now has Trump with a negative rating overall, and a gap between approval and disapproval that has been widening as we've gotten further into what has only been roughly sixty days of the Trump Administration. It's also reflected in the poll averages, which show Trump hitting new lows on an almost daily basis. The RealClearPolitics average, for example, gives Trump an approval rating of 43 6% and a disapproval rating of 50.3% and, on Pollster, his numbers stand at 42.7% approval and 53 .8% disapproval. Additionally, the chart of Trump's approval rating so far shows quite starkly just how badly the numbers have been for Trump so far: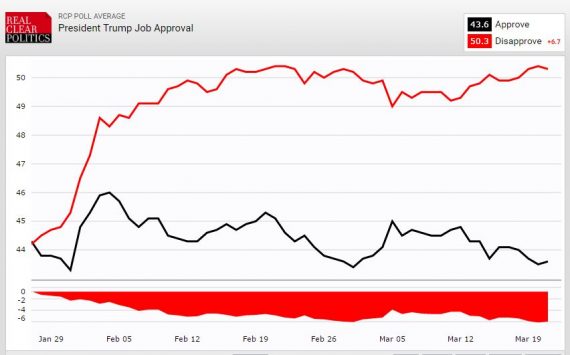 As I've said when I previously looked at the President's job approval in these early days (see here and here), the exceedingly negative position that President Trump finds himself in is highly unusual for a new President. In the past, even after very close and contentious elections such as the 2000 contest between George W. Bush and Al Gore when there was reason for resentments to run high due to the circumstances under which Bush's victory was finally acknowledged by his opponent, incoming President's have entered office with relatively good favorability numbers and have maintained positive job approval numbers for an extended period of time after entering office even when the condition of the country would seem to justify public disdain for people in power. President Obama's job approval, for example, remained positive until roughly May of 2010 and President Bush's remained positive until well into 2004, although in his case those numbers were inflated in no small part to the reaction of the public to the September 11th terrorist attacks and the wars in Afghanistan and Iraq. President Trump, on the other hand, has yet to see a day when his average job approval numbers were positive even for one day. One of the primary reasons for this appears to be the fact that, unlike previous incoming Presidents, Trump is not very well liked at all. As indicated by the averages at both RealClearPolitics and Pollster show, Donald Trump entered office with the majority of the public viewing him unfavorably and those numbers have only expanded in the past two months. Because of that, Trump is not getting the benefit of the doubt from the public for virtually any decision he makes, and that's showing up in his job approval numbers.
The question, of course, is what impact numbers such as this will have on the Trump Presidency going forward, especially if they continue or get worse. The answer to that question, though, isn't as easy as it might appear. For one thing, it's unclear that the Trump White House really cares at the moment what the President's job approval numbers are. They certainly aren't acting like they do, and neither are Republicans on Capitol Hill who have it within their hands the ability to stop some of the more controversial aspects of President Trump's agenda should they fail to do so. Additionally, it's worth noting that while the President's Job Approval is historically low, are roughly consistent with his share of the popular vote in the 2016 election. Finally, it's worth noting that, while Trump's Job Approval numbers are at historic lows, the numbers are highly partisan and need to be viewed through that lens. By that I mean that there are overwhelming numbers of Democrats who oppose Trump, there are equally overwhelming numbers of Republicans who oppose him. Here's how those numbers break down based on the customized averages at Pollster:
Among Democrats, Trump's average numbers are 84.3% disapprove and 12.3% approve;
Among Republicans, Trump's average is nearly the opposite,  with 86.5% approving of the President's job so far and 9.5% disapproving;
Among Independents, Trump's average stands at 50.3% disapprove and 41.9% approve.
These numbers aren't altogether different from those revealed by the exit polls taken on Election Day. This means that, while the people who opposed him in 2016, regardless of whether they voted for Hillary Clinton or one of the third-party candidates, continue to oppose him Trump has yet to lose significant support among his core base of supporters. Unless and until that happens, I wouldn't expect to see any reaction at all from the Trump White House or any indication that they're at all inclined to change from their present course.
Note: This post was updated to include the partisan breakdown noted in the final paragraph above.