Trump Job Approval Numbers Continue To Set Records, And Not The Good Kind
Donald Trump's job approval numbers are the lowest for any new President since World War II. That doesn't bode well for his Administration's future.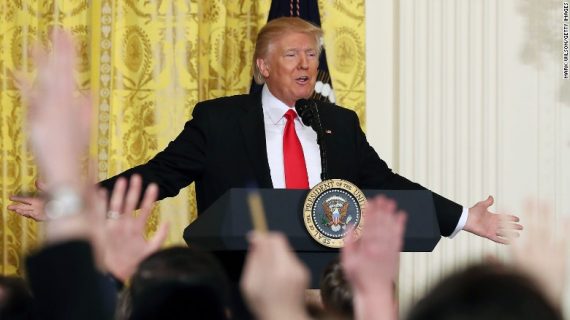 A new CBS News poll shows that Donald Trump's job approval rating after one month continues to be at historic lows for incoming Presidents:
Just over a month after taking office, President Trump's overall job approval rating is 39 percent — similar to what it was earlier this month. Fifty-one percent of Americans disapprove, and 10 percent don't have an opinion.  Views continue to be strikingly partisan.

President Trump has described his administration as a "fine-tuned machine," but 49 percent of Americans say it is more disorganized than previous administrations at this point in time. Forty-eight percent say the Trump administration is more organized (17 percent) or just as organized as previous administrations (31 percent).

Much of Mr. Trump's campaign for president focused on jobs and keeping the country safe. Six in 10 Americans are very or somewhat confident that President Trump's policies will create jobs, but they divide on whether his policies will keep the country safe from terrorism — 50 percent are very or somewhat confident his policies will keep U.S. safe from terrorism, and 49 are not very or not at all conifdent in those policies.

There continues to be some concern about Mr. Trump's ability to handle an international crisis. Sixty-two percent are uneasy about his approach, and only 35 percent say they're confident about his ability to deal with an international crisis. However, among Republicans, 75 percent are confident, and 22 percent are not.

The opposite is true for Democrats — 92 percent are uneasy with his approach, and only six percent are comfortable. Sixty-four percent of independents are also uneasy about the president's approach to international crises.

A slim majority views President Trump as a strong leader but he gets more negative ratings on other characteristics. A majority (58 percent) of Americans don't think he understands the complicated problems a president has to deal with and most (57 percent) don't think he has a clear plan for solving the country's problems. About eight in 10 Republicans think Mr. Trump does have a clear plan and that he understands the problems he faces, while about nine in 10 Democrats don't think he does.

On empathy, 47 percent of Americans think Mr. Trump cares a lot or some about the needs and problems of people like them, while 52 percent say he cares not much or not at all.
These numbers are consistent with other recent polling from outlets such as NBC News and Survey Monkey, Quinnipiac, Marist College, Gallup, and Public Policy Polling. In fact, the only poll that shows something different is Rasmussen, which shows Trump's approval rating as being on the positive side, with 53% approving of his job performance to date and 47% disapproving. The main reason for this appears to be the fact that Rasmussen is basing its poll on an undisclosed "Likely Voter" model that clearly excludes a whole host of Americans. As many pollsters would note, any "Likely Voter" model this far away from any election of national importance is generally seen to be as inappropriate and inexact since it's far too early to tell what kind of group will make up the universe of voters in the 2018 midterms, and certainly far too early to be making that forecast for the 2020 election. This is why most pollsters who are polling on something as wide-ranging as a President's job approval end up polling either Registered Voters or, more broadly, adults generally whether they are currently registered to vote or not. In any case, the fact that Rasmussen is so wildly out of balance with every other recent poll of the President's job approval suggests strongly that it should be ignored, as does the fact that Rasmussen has been ranked low in pollster rankings for several years now.
Looking at the RealClearPolitics Average, we see that Trump is currently averaging an approval rating of 44.3% and a disapproval rating of 49.8%. According to Pollster, Trump's numbers stand at 49.9% disapprove and 43.2% approve, a relatively minor difference between the two poll averaging systems despite their differences. By way of comparison, President Obama's Job Approval on this same day eight years ago stood at 62.5% approve and 34.7% disapprove while President George W. Bush's on this day in 2001 stood at  58.5% approve and 20.3% disapprove. No doubt, part of Trump's historically high disapproval numbers are related in no small part that he received just 45.9% of the vote in the 2016 election, but that seems to be only part of the explanation. President Bush also received a smaller amount of the popular vote in the election than his opponent, but by the time he took office the country had rallied behind him as it tends to do for all newly incoming Presidents. Except, of course, Donald Trump. The fact that Trump's personal favorable numbers continue to be in the negative range no doubt is also playing a role in all of this as well. However, I'd also suggest that a good part of the explanation for what's going on here is that the public is seeing what the first month of the Trump Administration has been like, and they clearly don't like what they see.
None of this bodes well for Trump in the time to come, of course. History shows us that there generally two points where a President's job approval are usually at their highest. One comes at the beginning of their term in office when the public is, generally speaking, optimistic about the future and willing to give the new President a chance. The other comes at the end of their term when the fact that they will soon be leaving office usually leads the public to think more positively of them than they may have over the previous four to eight years. How long that period lasts depends largely on the President's job performance and outside factors such as the state of the economy. For President Obama, it took roughly a year for the President's numbers to collapse to the point where approval and disapproval were more or less equal. For President Bush, the positive ratings fluctuated over the years but didn't really turn negative until the beginning of 2004, after which they became increasingly negative even though he managed to win re-election that year. For Bush, of course, the approval numbers were somewhat artificially kept high due to the public response to the September 11th attacks and the fact that there were two wars going on at the time. In both cases, Obama and Bush saw their job approval numbers drop and then fluctuate over time, but generally stay within the same range, something that had a real impact on their ability to get Congress to do what they wanted. If Trump can't even get beyond 50% job approval in his first month in office, it's likely that he'll be far lower at some point, and at that point his Presidency will be even weaker and more ineffective than it already appears to be.