Trump's Job Approval At Historic Low For Incoming Presidents
Donald Trump's initial job approval numbers are lower than any President since the EIsenhower Administration.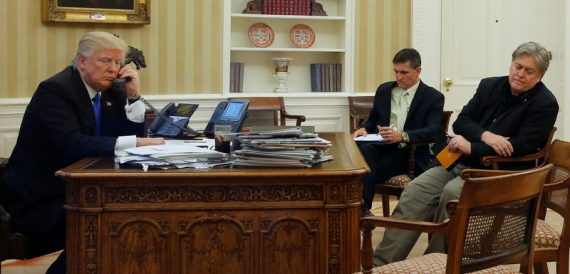 Two weeks into the Trump Presidency, the first measurements of President Trump's job approval numbers are showing public opinion being more negative about him than any President in recent memory:
It's been two weeks since Donald Trump's inauguration, and the new President's work so far hasn't impressed the American people.

A majority, 53%, disapprove of the way the President is handling his job, according to a new CNN/ORC poll, marking the highest disapproval for a new elected president since polls began tracking those results. Trump is the only President to hold a net-negative rating this early in his tenure.

Overall, 44% approve of the way he's handling the job, seven points below the previous low-point of 51%. Further, the share who disapprove "strongly" of Trump's work as president is nearly as large as the total block who approve, 43% feel intensely negative about Trump. Partisanship is the sharpest divider in opinions on Trump (90% of Republicans approve vs. 10% of Democrats).

Trump's high disapproval most clearly differentiates his ratings from those of his predecessors. While Ronald Reagan's first approval rating measure of 51% from Gallup in 1981 was not that far above Trump's 44% now, Reagan's disapproval number was far lower than Trump's (13% to 53%). And George W. Bush, the last president to be elected without capturing the popular vote, held a far more positive 57% overall approval rating in February of his first year in office, with just 25% disapproving.
Trump's job approval numbers in a new CBS News poll are similarly low:
Amid the flurry of far-reaching executive orders signed during his first two weeks in office, the president's first recorded job approval rating in the CBS News Poll is at 40 percent.  Some 48 percent of Americans disapprove, and 12 percent don't have an opinion yet.  Views of the 45th president are strikingly partisan: More than eight in 10 Republicans approve and more than eight in 10 Democrats disapprove of how he is handling his job.  Independents are more likely to disapprove (46 percent) than approve (36 percent).

Mr. Trump's first approval rating is a historic low when compared with other presidents during their first month in office, and he is the first president since 1953 (when Gallup started measuring the job performance of presidents just after their first inauguration) to have more Americans disapprove than approve of the job he is doing so early in his term.

Ratings of the most recent U.S. presidents were far less partisan. About a third of Republicans approved of the job Barack Obama was doing at the start of his presidency, and a similar percentage of Democrats approved of George W. Bush at the start of his first term.

President Trump does better on a couple of specific issues. Forty-three percent of Americans approve of his handling of the economy, while 37 percent disapprove.  Americans split on how he is handling terrorism.  Again, these results are highly partisan.
The numbers have been similar in other polls that have been released in the last two weeks, as well as the standard job approval tracking polls that have been tracking Trump's job approval from his first day in office. The only exception to that rule has been Rasmussen's tracking poll, which currently shows Trump at 54% approval and 46% disapproval, but it's worth noting that even this poll shows Trump with the highest disapproval rating of any recent incoming President. As a result of all these numbers, the RealClearPolitics average leaves Trump upside down when it comes to job approval, with 48.3% disapproving of his performance in office to date and 46% approving. In the Pollster average, meanwhile, Trump stands at 49% disapproval and 43.8% approval On some level, of course, this isn't surprising given the fact that Trump only received 45 .9% of the vote in the 2016 General Election and that his favorable/unfavorable numbers remain exceedingly high on the unfavorable side, which is historically unusual for an incoming President since the pattern has generally been that the American public gives the new President something of a honeymoon and that the transition and Inauguration generally provide them with that. Add into this the fact that both the transition and the first weeks in office for the new Administration have been far more error prone and controversial than Administrations in the recent past.
To be fair, two weeks is a small amount of time in which to judge the failure or success of a Presidential Administration. There are some 206 weeks left in Trump's first term in office, and it will be another roughly 193 weeks before Trump will stand for re-election assuming that he chooses to run again. There's a lot that can happen between now and then that could change how the public perceives him, both positive and negative. As things stand right now, though, the Trump Administration is most assuredly starting off on the wrong foot and that could have serious implications for its ability to advance its agenda in the months and years to come.