Trump Hits Negative Job Approval In Record Time
After just over a week in office, Donald Trump already has a negative job approval number. That's a modern record.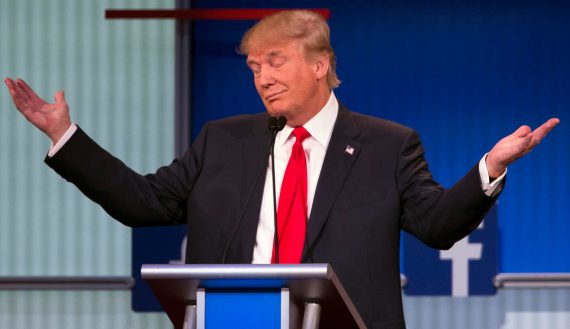 Donald Trump has hit majority disapproval in his job approval numbers in a record amount of time:
In normal times, it takes American presidents hundreds of days before they reach a majority disapproval rating.

This has been the case for the last five presidents – with Bill Clinton being the previous record holder after taking 573 days to have more than 50 per cent of Americans disapprove of his presidency.

But Donald Trump, the billionaire businessman, TV star and now US president, has smashed this record after his victory on a wave of anti-establishment anger.

It has taken just eight days for him to gain a majority disapproval rating, according to Gallup polling, with 51 per cent of Americans saying they disapproved of the President on 28 January 2016.

Trump's first week in office has caused controversy and international outcry after a raft of executive orders has seen immigration halted from seven Muslim-majority countries, the unravelling of Obamacare, the withdrawal from the Trans-Pacific Partnership trade deal and the blocking of funding for groups that perform abortions.

He attacked the media for saying (truthfully) that Obama's inauguration crowd size was larger than his own, after millions of people around the world took to the street on the Women's March one day into his presidency.

The unprecedented week in American politics has helped Trump break the record for the shortest amount of time for a president to reach a majority disapproval rating.

Compared to his eight days, it took Barack Obama 936 days and George W. Bush 1,205 days to see over half the country disapprove of them.

The Republican managed to win November's US election by claiming certain key swing states in order to clinch the presidency, despite losing the popular vote by 2.9 million ballots.

This may go some of the way to explain why his approval rating is 24 points lower than Barack Obama's when he was just eight days into his presidency.

Even before his inauguration his approval ratings were the lowest of any president in two decades.

According to Gallup, the last three presidents had approval ratings of at least 65 per cent during their presidential transitions – significantly higher than Trump's.

Some 75 percent of America's approved of the way Obama handled his transition, while 65 per cent approved of Bush and 67 per cent approved of Clinton.

This compares to Trump, whose transition was approved of by 48 per cent of Americans – while another 48 per cent disapprove.
As noted, this is far different from recent incoming Presidents who have generally enjoyed a honeymoon of sorts from the American public, in many cases an extended honeymoon:
Days until achieving MAJORITY disapproval from @Gallup

Reagan: 727
Bush I: 1336
Clinton: 573
Bush II: 1205
Obama: 936

Trump: 8. days. pic.twitter.com/kv2fy0Qsbp

— Will Jordan (@williamjordann) January 29, 2017
Trump's polling has also turned negative in other polling as well. As of today, only two polls, Rasmussen and The Economist/YouGov, show Trump's job approval in positive territory with the remainder of the polls that have tracked Presidential job approval to date showing more people disapproving of Trump's performance than approving of it. As of today, that gives him a RealClearPolitics average of 44.8% disapprove and 43.7% approve. Trump's personal favorability, meanwhile, remains overwhelmingly negative, which may explain his low job approval numbers. Obviously, it's difficult to discern a trend from just one week's worth of polling. At the same time, though, it does show that things aren't necessarily going to be easy for the Trump Administration going forward.
It's also worth noting that these job approval numbers tend to be very cyclical and that we're likely to hit a time in the future when Trump and his team manage to go through a week or two without stepping all over themselves with mistakes and miscalculations and his numbers turn somewhat positive. At the same time, though, I don't expect that we are going to see Trump's numbers do as well as some previous Presidents absent some real positive change or an event that results in the same kind of bonding around the President that we see after other national tragedies or crisis moments such as 9/11. Even then, as I noted above, one of the reasons why this President has seen his job approval numbers turn negative so quickly is because of the fact that he went into the election so widely disliked that the only reason he was able to win is because he was running against a candidate who was as disliked as he was. While those favorability numbers did improve somewhat during the transition, they remained overwhelmingly negative right up until Inauguration Day. Ordinarily, Americans try to come to like their President, and the transition process usually helps that along by allowing the incoming President to humanize themselves in a way the campaign did not  Additionally, the American public tends want to see their President succeed, so they're generally willing to cut them a break in the beginning. Trump isn't getting that break in no small part because of the reputation he had before even running for President and the kind of campaign that he ran. As a result, he's likely to find it harder to garner majority support anytime soon, if he ever gets there.  Obviously, this could make a bid for re-election in 2020 more difficult than it otherwise might be, but even before we get there it is likely to have an impact on Trump's Presidency. If Trump's number continue to trend downward over the long term, then Republicans on Capitol Hill are going feel more free to oppose him on policy grounds and to criticize Administration network that threatens to engulf the party in controversy. This could mean that it will be less likely that Trump will actually be able to enact his policies into law.