Virginia Now Leans Obama
Democrats Barack Obama and Tim Kaine have gained momentum in Virginia in weekend polling.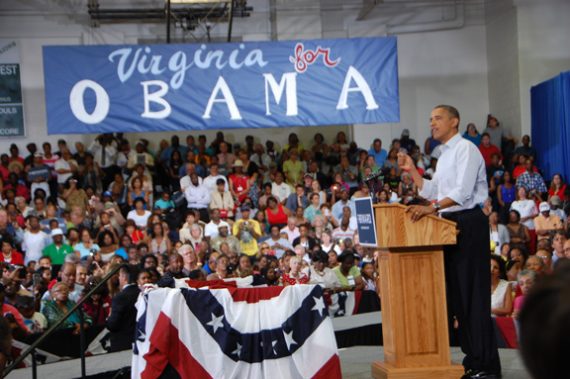 The only substantial change in the RealClearPolitics state-by-state numbers since I posted my presidential predictions Saturday morning is that my home state of Virginia has moved from a 0.7 point Romney lead to a 0.3 point Obama lead. Of the four November polls in the sample, only Rasmussen goes for Romney.  Likewise, Democrat Tim Kaine is now up to a 1.8 point lead over Republican George Allen in the Senate race; he had a smaller lead Saturday.
Those were the two picks in which I had the least confidence—simply because the polling margin was so narrow—and my confidence in my original predictions is even less. Indeed, I'd likely predict the other way were I starting from scratch today.
Making it even harder is the fact that Virginia has an absurdly long early voting period. (Technically, we don't have early voting at all. But virtually anyone qualifies for in-person absentee balloting. In my area, at least, it's been open from noon to 8pm daily for weeks.) That means that the pendulum swing of momentum in the race is less crucial, since a lot of votes were already banked before the debates, job reports, Sandy, and whatever other news items that have impacted the polling.