Mitt Romney Wins New Hampshire, Ron Paul Second, Race Nearly Over
A good night for Romney, a surprising showing for Ron Paul, and the first steps toward the end of the race for the Republican nomination.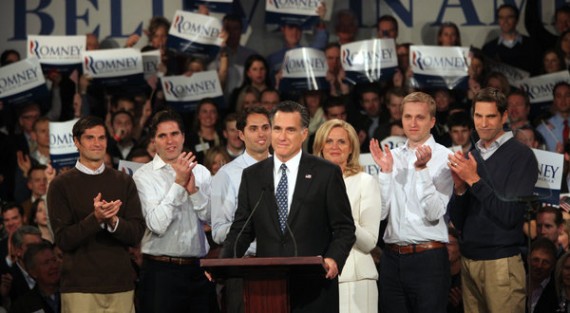 After a day or so of doubts about whether Mitt Romney's decisive lead in the polls would hold up, whether he would be able to pull off the double-digit victory that everyone was expecting to, and who would come in second, the results from the New Hampshire primary turned out to be not entirely surprising at all:
MANCHESTER, N.H. — Mitt Romney swept to victory in the New Hampshire primary on Tuesday, turning back a ferocious assault from rivals who sought to disqualify him in the eyes of conservatives, in a contest that failed to anoint a strong opponent to slow his march to the Republican nomination.

Mr. Romney, a former governor of Massachusetts, won by a double-digit margin, a validation of his strategy to use his neighboring state to cement his standing as the front-runner. The candidates who had hoped to use the primary to emerge as his leading rival fared poorly, leaving a fractured Republican opposition.

"Tonight we celebrate. Tomorrow we go back to work," said Mr. Romney, who strode into his victory party at Southern New Hampshire University less than 30 minutes after the final polls closed to present himself as the candidate to beat for the Republican nomination.

Representative Ron Paul of Texas, whose candidacy has never concerned Mr. Romney, finished second. Former Gov. Jon M. Huntsman Jr. of Utah, who staked his entire campaign here, placed a distant third but pledged to fight on.

A week after winning the Iowa caucuses by just eight votes, Mr. Romney pieced together a coalition of moderate and conservative voters. The margin was more comfortable than commanding, but he will benefit handsomely by having five rivals still competing against one another to emerge as his main opponent as the race moves to South Carolina.

Mr. Romney, who struggled in the final hours of the campaign here to ward off attacks from rivals portraying him as an elitist who killed jobs during his high-flying days at a corporate takeover firm, delivered a pointed message to his fellow Republican candidates. He warned them not to play into President Obama's hands by trying to destroy his candidacy.

"In the last few days, we have seen some desperate Republicans join forces with him," Mr. Romney said. "This is such a mistake for our party and for our nation. This country already has a leader who divides us with the bitter politics of envy."

His words were directed squarely at Newt Gingrich, the former House speaker, who accused Mr. Romney of presiding over the "looting" of companies. The attacks did not seem to help elevate Mr. Gingrich's candidacy. He was locked in a close race for fourth place with former Senator Rick Santorum of Pennsylvania, who refrained from adding his voice to the attacks on Mr. Romney's business background.

A prevailing sense among New Hampshire primary voters that Mr. Romney is the Republican candidate most likely to defeat Mr. Obama helped lift him to victory. He did well among those who consider the economy the most important issue, according to exit polls, and among Catholics and more affluent voters.

Mr. Romney moved to quickly set the tone of the night, accepting victory and delivering a speech with broad themes of the general election, well before the size of his winning margin was known. It was an attempt to take control of the race before confronting his biggest test in the first Southern primary.

"Tonight, we are asking the good people of South Carolina to join the citizens of New Hampshire and make 2012 the year he runs out of time," Mr. Romney said, referring again and again to Mr. Obama, but not acknowledging any of his Republican opponents by name.

Mr. Romney intends to convey his muscle in the race on Wednesday by announcing his fund-raising figure from the final three months of last year, when he raised at least $23 million. He is set to roll out endorsements and advertisements during the 10-day spring toward the South Carolina primary, even as he begins his push for the Florida primary on Jan. 31.
Ron Paul came in second with 23% of the vote, higher than he had been polling over the past week and an apparent indication that he had been able to mobilize the independent/libertarian vote in the Granite State much as he had done in Iowa. In 2008, Paul had finished 5th in the state, with about 18,900 votes. This time, Paul garnered more than 55 votes, more than aall of the other candidates save Huntsman and Romney combined. Not surprisingly, Paul's speech last night was as much a victory speech as if he'd actually won the night:
MANCHESTER, N.H. — Mitt Romney won New Hampshire, but Ron Paul declared a victory of sorts with his strong second-place showing Tuesday night, solidifying his position as a thorn in the front-runner's side.

The Texas congressman, who garnered about 24 percent of the vote, capitalized on the open primary to win a big chunk of independents, non-Republicans and others disenchanted with the status quo.

"I called Gov. Romney a short while ago. … He certainly had a clear-cut victory, but we're nibbling at his heels," Paul told hundreds of cheering supporters in a crowded banquet hall. "He had a victory, but we have had a victory for the cause of liberty tonight."

National campaign chairman Jesse Benton called on Paul's conservative opponents to drop out of the race and get behind Paul as the conservative Romney-alternative.

"It's been our goal to consolidate this into a two-man race, and we're there now," he said.
That's not going to happen, of course. Jon Huntsman, who finished a disappointing third with 17% of the vote, vowed to take the fight to South Carolina and did his best to spin an outcome that had to be a let down given his recent rise in the polls into good news:
Jon Huntsman bet his presidential hopes on New Hampshire, and last night he said his third-place finish in the Granite State was good enough to give his campaign a critical boost and continue on to the next contest.

"I say third place is a ticket to ride, ladies and gentlemen," Huntsman told cheering supporters packed into the Black Brimmer American Bar and Grill in Manchester. "Hello, South Carolina!"

As the votes were counted last night, Huntsman was in third place with about 17 percent, finishing behind former Massachusetts governor Mitt Romney and Texas Congressman Ron Paul.

Stuck in single digits in some surveys just last week, polls showed Huntsman with the wind at his back in the campaign's final days, though he couldn't catch up to Paul.

And after clashing with Romney in last weekend's debates over his service as President Obama's ambassador to China, Huntsman found a new campaign slogan – "Country First" – and a new energy on the trail.

Both were on display last night as supporters chanted "Join the Hunt" and "Country First" while Huntsman shared the stage with his wife, Mary Kaye, his three adult daughters, his son-in-law and his parents, Karen and Jon Sr.

"Ladies and gentlemen, I love this state," Huntsman said to cheers. "We have worked hard and diligently. We have pounded the pavement. We have shaken hands. We have had conversations. We have won people over, person by person. This is the old way to get politics done in New Hampshire, and my confidence in the system is reborn because of the people of New Hampshire."
Rick Santorum and Newt Gingrich, meanwhile, came out of New Hampshire virtually tied at 9% of the vote, Gingrich with roughly 22,921 vote and Santorum with roughly 22,708. and both gave simultaneous concession speeches that didn't really concede anything, arguing that the race had just started and that they were heading to South Carolina. One candidate who's already down in the Palmetto State, Rick Perry garnered a rather pathetic 1% of the vote and issued a statement that basically said that New Hampshire didn't matter. Of course, you'd expect the guy who came in last place to say the race doesn't matter.
Taking a look at the Exit Polls, Romney's victory was pretty widespread, and pulled in what some might consider some surprising demographic groups:
Romney won all income categories, except those earning less than $30,000/year. That group went to Ron Paul slightly more (36%) than to Romney (31%)
Romney won among both registered Republicans (48%) and registered Independents (32%)
Romney won all ideological groups except those who called themselves "somewhat liberal," which went to Paul 33% and 32% for Romney
Romney won all religious groups, except "None" which went to Paul 47% to 21% for Romney
Romney won the support of 42% of those with a positive opinion of the Tea Party, and 40% of those with a neutral opinion. Huntsman received 42% of those who had a negative opinion of the movement
In other words, it was, unlike Iowa, a clear and decisive victory for Romney. Some will discount it by stating that this was all expected given the fact that Romney had been leading the field by double digits for months now, and while that may be true nothing succeeds like success and, right now, Mitt Romney has the wind at his back heading into South Carolina. Polling there is now showing him with a double digit lead over his rivals.  Of course, the next ten days are going to consist of candidates like Newt Gingrich, Rick Perry, and Rick Santorum trying to chip away at that lead. Gingrich and his SuperPac, for example, will reportedly putting as much as $3.5 million in to ad buys around the state, which is not an insignificant amount of mount for the Palmetto State. Rick Perry is already down there comparing Romney's career at Bain to "vulture capitalism," and Santorum is likely to spend his time trying to peal away the social conservatives in the South Carolina GOP, where he's likely to find a friendlier venue than he did in the Palmetto State. The question is whether it will be enough. Romney will be able to match Gingrich or anyone else dollar-for-dollar and ad-for-ad for one thing. For another, it's unclear whether the this anti-Bain message really works on Republicans and Republican-leaning Independents. If the results in New Hampshire are any indication, the answer to that question is a clear and resounding no.
It's worth mentioning, though, that South Carolina (and Florida) are different from Iowa and New Hampshire in one important respect.  Iowa and New Hampshire both have among the lowest unemployment rates in the nation, far below the national average. South Carolina and Florida, on the other hand, both still have unemployment rates far above the national average and approaching 10%. It's possible that the arguments that Gingrich and Perry are making regarding Bain will resonate stronger in these states than they did in the first two contests. At this point, though, I have to wonder what good its going to do. Neither Gingrich nor Perry seem to have the organization needed to take on Romney for a prolonged period of time, nor do they have the kind of money needed to wage an ad war in a state like Florida, California, Texas, or Ohio. If Romney pulls off a narrow victory in South Carolina, which seems likely as long as the conservative vote continues to be divided, it's hard to see how anyone stops him from winning Florida, running the table in January, and leaving his candidates in the dust.
The race for the Republican nomination didn't end last night, but it's close to being over at this point. In the past two races, Romney has pulled off victories and ended up with rivals in second place who have no real chance of mounting a credible long-term challenge to him. He is, in fact, the first non-incumbent Republican candidate for President to win both Iowa and New Hampshire, and if he wins South Carolina on January 21st he will pull off a trifecta that no candidate running with any serious opposition has ever been able to do. If he does that, this race is over. The fat lady hasn't started singing yet, but she's standing over there in the corner backstage warming up.