Huckabee, Trump Tied For Lead In Gallup Poll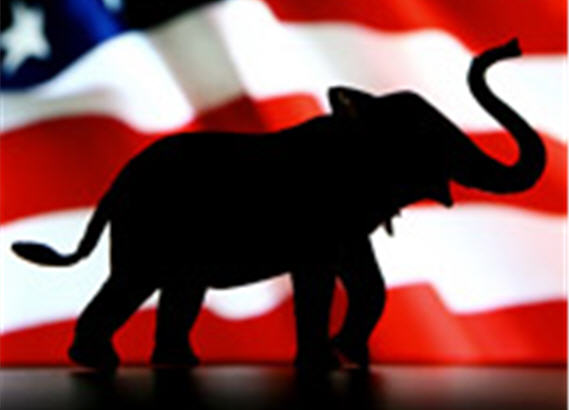 Taking into account all the usual caveats about early polling, we've got yet another poll showing Donald Trump leading even presumed heir apparent Mitt Romney in a GOP race:
PRINCETON, NJ — Donald Trump debuts in a first-place tie in Gallup's latest update of Republicans' preferences for the party's 2012 presidential nomination among potential contenders. Trump ties Mike Huckabee at 16%, with Mitt Romney close behind at 13%. Sarah Palin is the only other potential Republican candidate to earn double-digit support.

The April 15-20 Gallup poll finds Trump leading the field among moderate and liberal Republicans, with 21% supporting him. Huckabee is the leader among conservative Republicans. Huckabee's support and Trump's support differ between ideological groups, while Romney and Palin get similar support from both ideological wings of the party.

Among the lower-ranked candidates, Newt Gingrich's support and Michele Bachmann's support tilt decidedly conservative. Trump is the only potential candidate who shows notably stronger appeal to liberals and moderates than to conservatives within the GOP.

To stay competitive, Trump would need to maintain a decent level of support among conservatives, since they outnumber moderates and liberals by about 2 to 1 among rank-and-file Republicans and Republican leaners. For the same reason, Huckabee's smaller support among moderates and liberals is less of an issue if he maintains his top standing among conservatives.
Here's the chart: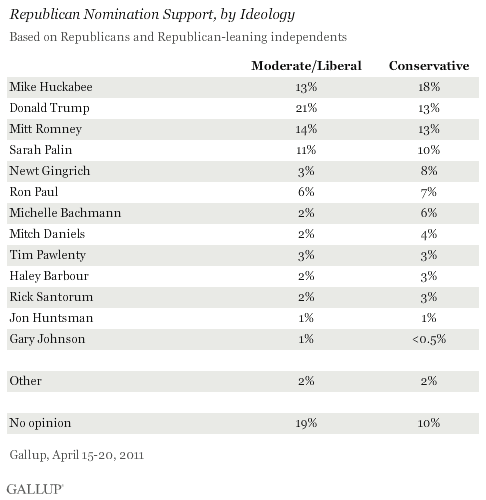 Again, I'm not sure what all this means other than to say that if Donald Trump really is thinking about running for President, I don't see why he wouldn't do so given his recent poll performance.