Mike Huckabee Bows Out Of 2012 Race: "The Factors Say Go, But My Heart Says No."
We won't have Mike Huckabee to kick around in 2012.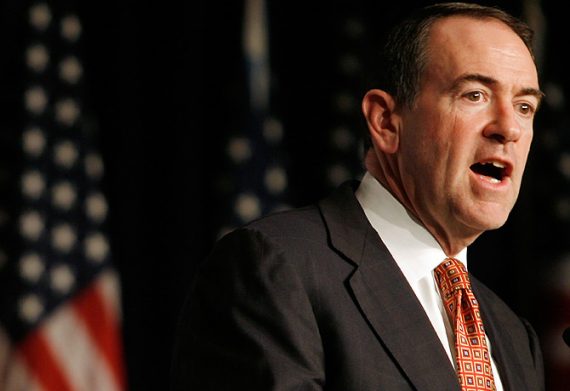 At the end of his weekend Fox News Channel show, Mike Huckabee announced that he will not be a candidate for President in 2012.
Former Arkansas Gov. Mike Huckabee (R) announced Saturday that he won't run for president in 2012, removing a strong contender from the field and underscoring the volatility and wide-open nature of the Republican nominating contest.

"My answer is clear and firm. I will not seek the Republican nomination for president," Huckabee said Saturday evening.

The decision isn't entirely unexpected. Huckabee has a lucrative contract with Fox News, which has enabled the Baptist minister who grew up poor to build a Florida mansion. He acknowledged several times during his recent book tour that financial considerations could keep him from running, noting that "If I run, I walk away from a pretty good income."
The odd thing about the announcement (and yes, sadly, I did watch it) is that after it was over, Fox News broadcast a "Breaking News" segment that was basically Donald Trump talking about Huckabee not running. There have been several reports that Huckabee and Trump have gotten close in recent weeks, so who knows what this means.
Obviously, this has some serious implications for the 2012 race, and Nate Silver had a piece earlier today examining who benefits if Huckabee didn't run:
If we add up the points across all six categories, the clubhouse leader, with 4.5 points, is Herman Cain of Georgia, the radio talk show host and entrepreneur who is beginning to get more attention lately. He's the most Huckabee-like of the other Republican candidates. Closely behind him, with 4 points each, are Sarah Palin, Newt Gingrich, and Michele Bachmann. Mr. Pawlenty, Mr. Santorum and (somewhat to my surprise) Mr. Paul also score reasonably well.
On another note, this seems to me to be the first time since 1992 when Mario Cuomo bowed out of the Democratic race when a candidate who was arguably a frontrunner for a Presidential nomination decided not to run at all.
Update: Here's the video of Huckabee's announcement via Mediaite's Tommy Christopher:
\
And here's a shorter clip that includes that odd Trump appearance I talked about: