Mike Huckabee Says He "Hasn't Closed The Door" On Running in 2012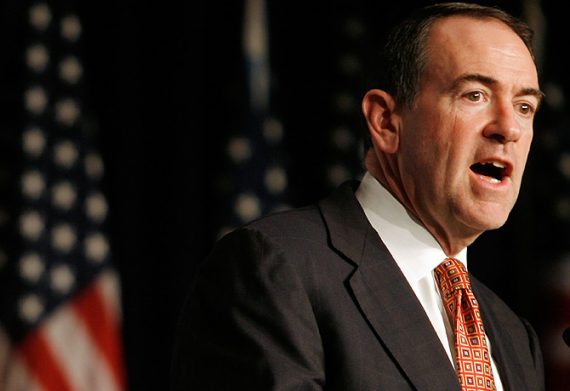 It was just three weeks ago that Mike Huckabee announced at the end of his weekly Fox News Channel show that he wasn't running for President. Now he seems to be suggesting that he might not have really meant what he said:
Former Arkansas Gov. Mike Huckabee foresees a "broke and battered" nominee emerging from the 2012 Republican presidential sweepstakes but says his recent exit from the race is not etched in stone.

Appearing today as a guest of the Clinton School of Public Service, the surprise 2008 GOP presidential contender said he did not entirely rule out running next year when he announced last month he had decided against throwing his hat into the ring. Running as a vice presidential candidate next year or for president in 2016 also are not out of the question, he said.

"Everything is still open. I haven't closed doors, because I found long ago that that's not a smart thing to do," the Fox television talk show host and syndicated radio voice told reporters after a speech at the Clinton presidential library.
So, what is Huckabee saying here?
One way to look at is that Huckabee is realizing that people aren't paying as much attention to him now that he's taken his name out of the running for 2012. Opening the door just a crack, by suggesting that he might change his mind and hinting that he's available for the Vice-Presidency should anyone be interested, guarantees that the media will still write about him. This helps with speaking fees, for one thing.
As I noted at the time he dropped out, Huckabee's supporters in states like Iowa are going to be hotly contested by several candidates, and his endorsement will be highly sought after. The more Huckabee keeps himself out there, the more valuable that endorsement becomes.
Huckabee isn't running for President, he's running for Kingmaker.
H/T: The Pajama Pundit