Rick Perry Tries A Reboot
Can Rick Perry bounce back from the epic disaster of his 2012 campaign?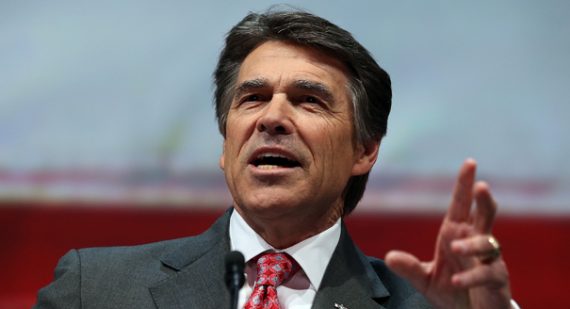 When Rick Perry entered the 2012 race for the Republican Presidential Nomination, we was seen by many conservatives as their last, best hope at halting what seemed like the inevitability of a Mitt Romney victory. None of the other candidates in the race that appealed to conservatives seemed to have any shot at becoming viable candidates, and many of them seemed like little more than utter jokes. Perry had previously stated that he wouldn't be running for President and had undergone major back surgery earlier that year, so when conservatives started pushing the idea of a Perry candidacy in the early summer of that year, it seemed unlikely that Perry would enter the race. Eventually, though, the demand for Perry to enter the race became too much for the Texas to ignore and, to much fanfare, he entered the race with a speech at the Red State Gathering in South Carolina on the same day as the Ames Straw Poll
Within a month of getting into the race, Perry rocketed to the top of the polls and raised an astounding amount of money. It really began to look like the Republican race in 2012 would come down to a battle between Romney and Perry, and that Perry had a shot at actually winning the nomination. Then, it was time for the debates. Very quickly, Perry went from being a frontrunner with an air of inevitability to one of the quickest political crash and burns that American politics had ever seen. On the issues, Perry was taking flack from all sides on issues ranging from Social Security, to immigration, and perhaps most bizarrely,   from Michele Bachmann over his support for a voluntary HPV vaccination program for schoolgirls in Texas. Even leaving aside the issues, though, Perry's debate performances were disastrous. Later, Perry and some of his supporters blamed the debate performances, at least in part, on painkillers that the Governor was still taking related to his back surgery and the fact that standing for long periods of time was physically uncomfortable. By the end of September, Perry's star had faded and Mitt Romney was back in the lead in the polls. By October, he was fading fast while former Godfather's Pizza CEO Herman Cain had become the GOP "flavor of the month." When the "oops" moment finally came in November, it was  just the final nail in a coffin that was already starting to close.  When Perry's campaign ended just before the South Carolina Primary was, in every sense of the word, anti-climatic.
Now, however, Politico notes that Perry seems to be mounting an attempt at a political comeback:
It's impossible to exorcise the memories of 2012. But Rick Perry is going all out to present a new and improved version of himself — the swaggering big-state governor of old, with a dash of seasoned wise man thrown in.

In the early months of 2014, his political team has booked him on one high-profile program after another: He's joked with Jimmy Kimmel, charmed the "Morning Joe" crowd and wowed the Conservative Political Action Conference. The Texas Republican's hip glasses are still earning approving media mentions long after he first donned them. And the possible 2016 candidate has spent time with early-state types in Iowa (and in late 2013, South Carolina), while also mixing it up in more exotic locales from Davos to Palau.

His carefully choreographed, so far gaffe-free reintroduction has two overriding goals: First, to remind voters of the Rick Perry who is the longest-serving governor in Lone Star State history, a political juggernaut who won 10 straight elections before stumbling in the national spotlight. And second, to get voters to forget, or at least not dwell on, his disastrous 2012 presidential bid.

"Where I have noticed it profoundly is in the last few weeks, the national TV appearances, whether he's been on a number of Fox shows or Jimmy Kimmel and some of the others, he just seems like a very confident, upbeat and articulate spokesman for conservative policy and values," said Ray Sullivan, a former Perry presidential campaign spokesman and chief of staff who joined the governor's ranks in 1998. He has his own public-affairs firm now but is still close with the office. "He seems to be enjoying himself more today than any time I can remember."

Smooth TV appearances aside, Perry has a ways to go to demonstrate he's equipped to be a credible national candidate after his campaign imploded so publicly last time. He continues to be dogged by his infamous "oops" moment, when he forgot on national TV the third federal agency he said he wanted to eliminate. His relatively moderate views on immigration, anathema to many in the GOP base, haven't changed. And the 2016 GOP primary field is bound to be more formidable than the relatively weak cast of contenders Perry couldn't overcome two years ago.

"After the 2012 race, the bar's pretty low," said Rob Stutzman, a California-based Republican consultant. If Perry can exceed expectations, Stutzman continued, "The opportunity is there, but the margin for error is small. He needs to outperform those perceptions immediately and dramatically or he looks like the same guy in '12 that a lot of people were surprised about."

(…)

Politically speaking, Perry's allies argue that there will be two big differences between 2016 and 2012, should he run: He would be in better health. They note that his long recuperation from back surgery impeded his performance last time. And he would be much better-prepared than last time, when he entered the race late.

"There is no question he wasn't ready when he jumped in the race in 2012; [after] he had back surgery, it didn't go well," said powerful Republican National Committeeman Henry Barbour. Now, "He's healthy, he's much better prepared, and he seems very comfortable in interviews and in articulating his views on what needs to happen.

Barbour, of Mississippi, is part of a small cadre of advisers that has been working for months to help prepare Perry for a possible bid. The group, a mix of Texas and national Republicans, is aiming to ensure that he's making connections around the country and meeting with influential domestic and foreign policy thinkers to bolster his expertise in those areas.

The conversations are spearheaded by Jeff Miller — separately, the head of Americans for Economic Freedom, an independent group supportive of Perry and red-state governing policies — and also include Perry 2012 campaign manager Rob Johnson, and Terry Nelson and Rob Jesmer of FP1 Strategies, among others. Deirdre Delisi, a longtime Perry ally who has also served as his chief of staff, weighs in on political discussions on an informal basis, she said.

A source familiar with Perry's political operation said the governor is in touch with donors "on a fairly regular basis" and that Perry is expected to travel to early voting states in the coming months. While in Iowa recently, he met with Bob Vander Plaats, an influential conservative leader who offered words of encouragement.

"He met a lot of Iowans and a lot of others last time on the campaign trail, and I think that will benefit him this time," said Vander Plaats. "That and not starting out as the front-runner. He will have to work the campaign like I think it's meant to be worked."
Given the fact that he will be leaving office at the end of the year, Perry will have plenty of time to put together a campaign organization in states like Iowa and New Hampshire, as well as continuing the national media appearances that have become far more common than they used to be. With his donor base still relatively intact, and national conservatives likely looking for a candidate with executive experience that isn't named Bush or Christie, Perry could find himself getting that second chance that failed Presidential candidates seldom get.