Herman Cain Continues To Lead GOP Field
Quite improbably, Herman Cain remains at the top of the GOP field.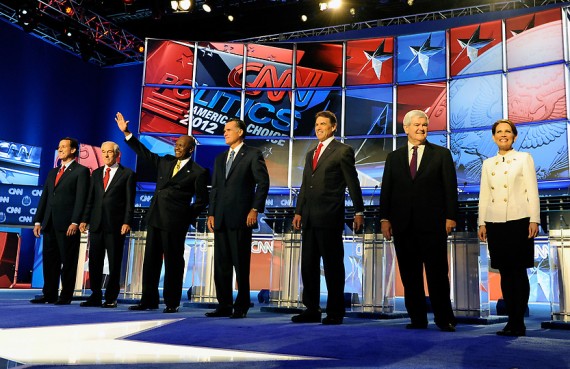 His economic plan has been eviscerated from the left and the right, and there's no sign that he's actually running a serious Presidential campaign, but Herman Cain remains at the top of the field for the Republican nomination:
Herman Cain, the former restaurant executive, is riding a wave of support among Republican primary voters that has placed him in a statistical dead heat with rival Mitt Romney, the former Massachusetts governor, in a race that has been characterized by momentum swings among the candidates.

The poll found Mr. Cain with the highest level of support, with 25 percent of Republican primary voters, and Mr. Romney with 21 percent. This difference is within the poll's margin of sampling error.

Adding to the fluidity of the contest, about one in 10 Republican primary voters say they would like to see someone else nominated.

Support for Rick Perry, the governor of Texas, has weakened to 6 percent, placing him among the second-tier candidates with Newt Gingrich and Ron Paul, who have the backing of 10 percent and 8 percent of Republican primary voters, respectively. Michele Bachmann, Jon M. Huntsman Jr., and Rick Santorum are all struggling to gain traction with the Republican electorate – none of the three drew more than 2 percent of support among Republican primary voters.
This is a somewhat significant change from the last CBS/New York Times poll taken three weeks ago, which had Romney and Cain tied at 17%, Perry at 11%, and Gingrich at 8%. So, despite the all-out assault on Cain, and not a few gaffes on his part, we've seen his support (and, to be fair, Romney's) rise, while Perry now finds himself on the precipice of falling into the non-entity category along with Santorum, Huntsman, and Bachmann. The good news for Perry is that there still seems to be a substantial part of the Republican electorate willing to look at other candidates:
About eight in 10 Republican primary voters say it is still too early to tell whom they will support, and just four in 10 say they have been paying a lot of attention to the 2012 presidential campaign, according to the latest New York Times/CBS News poll.
Additionally, some 24% of the respondents in the poll are not committing to any candidate, an amount that is essentially the same as those saying that they back either Cain or Romney. For all of these candidates, but most especially for Romney and Perry, this means that there is still an opportunity to change the state of play in the race by appealing to these voters, most of whom haven't even started paying much attention to the race to begin with (a strategy which I must admit is probably a good idea). With Perry just starting to roll out his economic plan, and apparently getting ready to go on the air with an aid campaign that will be near saturation levels in the early primary states, there's plenty of time for him to turn things around. As long as he doesn't continue to say stupid things, that is.
But what of Herman Cain? Three weeks ago, I expressed doubt that he would have staying power largely because of what he's said in the past and the fact that he didn't appear to be running a serious campaign. Since then, we've seen even more examples of his propensity to make statements about subjects when it's clear that he has no idea what he's talking about, or changing his position to suit his audience on issues like abortion and immigration. His foreign policy positions are atrocious. We've also seen that he raised an anemic amount of money in the third quarter, and apparently used some of it to produce one of the strangest campaign ads we've seen in quite some time. He still appears to be spending most of his time in states that don't have primaries until March or April. He barely has a campaign presence in Iowa, New Hampshire, South Carolina, or Florida. I'm not even sure that he's filed to be on the ballot in New Hampshire yet (the deadline is this coming Friday). None of this points to a man who is serious about running for the Presidency, or who is going to be able to capitalize on the lead he has in the polls right now. The conventional wisdom is that Cain will start falling in the polls once the real campaigning for Iowa and New Hampshire begins in November. Could the conventional wisdom be wrong? Yea, it could, but it doesn't seem likely that will happen.