When It Comes To Foreign Policy, Herman Cain Is Dangerously Clueless
Herman Cain's foreign policy consists of little more than deliberate ignorance.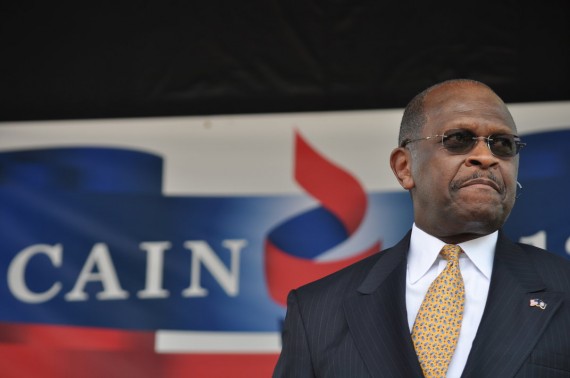 Chris Cillizza points out the extent to which Herman Cain has engaged in a purposeful display of ignorance about foreign policy:
Asked this past Sunday whether Iran's involvement in an alleged plot to assassinate the Saudi Arabian ambassador to the U.S. amounted to an act of war, Cain told "Meet the Press" moderator David Gregory: "After I looked at all of the information provided by the intelligence community, the military, then I could make that decision."

Pressed on the issue, Cain added: "If, if it's an act of war, and the evidence suggests that, then I am going to consult with my advisers and say, 'What are our options?'"

The leading 2012 GOP presidential contender also seemed not to know what a "neoconservative" was and offered a halting — though ultimately decent — answer on American policy toward Afghanistan.

Cain's lack of detailed answers on foreign policy matters have not hurt him in the GOP presidential primary thus far for three reasons: 1) the Republican electorate is almost exclusively focused on the economy; 2) his candor is part and parcel of his "not a politician" appeal; 3) in a crowded Republican field, he's been able to mask what he doesn't know easily and effectively.
Cain is shielded from the effects of his ignorance mostly by the fact that we're living in a world where foreign policy threats are far less existential than they were a quarter century ago. During the Cold War, the idea of a President who wasn't well-versed in the basics of foreign policy would have seemed unthinkable. Even during times when the economy was the predominant issue in a Presidential election, as it nearly always is, foreign policy issues ranging from relations with the Soviet Union and China to the Vietnam War were always somewhere near the surface, and a candidate who didn't seem to even be engaged or interested in those issues likely wouldn't have gotten very far. With the Soviet Union gone and the War On Terror thousands of miles away, foreign policy just isn't as big a deal as it used to be. Could you have imagined, for example, President Carter saying in 1976 that he won't comment on nuclear weapons issues until he becomes President and has been briefed by his military advisers? Or Ronald Reagan not having a working knowledge of the issues related to Jews in the Soviet Union? Or George H.W. Bush saying that he didn't know, or particularly care, who the leader of South Korea was? And yet Herman Cain has said some version of each of those things. He refuses to share any thoughts about Afghanistan, he was unfamiliar with the Palestinian "Right Of Return," and he made a joke about who might be the leader of Uzbekistan, a nation that just so happens to share a border with Afghanistan. In a sane world, this should be completely unacceptable.
As Cillizza goes on to point out, what a Presidential candidate knows or thinks about these issues matters:
While people may not vote on "foreign policy" per se, a working knowledge of the world stage — and America's role in it, is, without question, regarded as essential by the public.

That is, people may not care all that much about the war in Afghanistan or Iraq, but they damn well expect that the person they are electing knows enough about it to keep them safe from harm.

(Remember that one of President Obama's signature lines is that his first job as commander-in-chief is to keep the American public safe.)

"Being commander in chief is the most important role for any president and Herman Cain just isn't credible in that role," said Max Boot, a senior fellow at the Council on Foreign Relations and a former foreign policy adviser to Arizona Sen. John McCain's (R) 2008 presidential campaign. "National security knowledge isn't enough to win the presidency as McCain showed, but it's lack can be fatal."
Daniel Drezner, who recently did a pretty thorough job of eviscerating the few foreign policy statements Cain has made, argues that it is essential for a Presidential candidate to be at least somewhat well-versed in world politics:
Second, Cain's philosophy of "I won't say anything until I know all the facts" is bogus because, in foreign policy, the facts are never all in. Very often intelligence is partial, biased, or simply flat-out wrong. It's those moments, when a president has to be a foreign policy decider for a 51-49 decision, that a combination of background knowledge and genuine interest in the topic might be useful.

Third, without some knowledge about foreign policy, the best intelligence briefings and foreign policy advisors in the world won't be able to help Herman Cain. An awful lot of international relations knowledge is cumulative; without a decent base there's no point in trying to be briefed on the arcane stuff. That would be like trying to learn calculus without knowing any algebra. I really don't expect Herman Cain to know the names of foreign policy leaders — but I do expect him to know which countries matter and why. In his answer to "Ubeki-beki-beki-beki-stan-stan," Cain made it pretty clear that he doesn't understand why Uzbekistan matters for supplying Afghanistan. That's a problem.

Fourth, there are decisions when the particular president does matter. A President Gore doesn't invade Iraq. Apparently a President McCain would not have sent special forces into Africa.  In this post-9/11 world, the president has greater authority to assassinate people than I'd like, but there it is  – so which people will be on Cain's target list?  So I'd like to see the "Cain Doctrine" fleshed out just a wee bit.

Finally, and not to put too fine a point on it, America's reputation for competent leadership has taken a colossal beating over the past decade. With Iraq in 2003, Katrina in 2005, the 2008 financial crisis, and the 2011 debt ceiling fiasco, America doesn't look so hot in the eyes of the world. We have a smaller margin to screw up royally than we are used to. I suspect that even Herman Cain would learn about foreign policy after a few years on the job. It's those few years that scare the crap out of me.
The danger of a President who isn't at least somewhat well-versed in these topics, of course, is that he or she ends up becoming captive to their advisers, who have their own agendas and, in many cases, their own records for making some pretty bad mistakes over the years. The President is the one who is hired to make the decision, not the advisers, and it would be nice to think that the person sitting behind the Resolute Desk has given enough deep thought to the many issues that they would have to handle as Commander in Chief so that they would be able to recognize when they were being given bad advice and say "No, that's not what I want, we need other options." As we learned in 2003, someone who's willing to do some second- guessing of the so-called experts is a good thing to have in the Oval Office. Herman Cain displays none of that when it comes to foreign policy.
Apparently, the Cain campaign is working on a foreign policy memo of some kind that will be released in the next month or so. Based on what we've seen so far, I'm not entirely optimistic as to its contents. More importantly, a memo tells us nothing about what kind of thought process a President might use in the midst of a crisis. On some level, you just have to go by what the candidate's own actions and words indicate about what kind of thinker they are. All the evidence we've seen from Herman Cain makes it pretty clear he's simply not up to the task of being Commander in Chief.