There Is No Herman Cain Campaign For The Presidency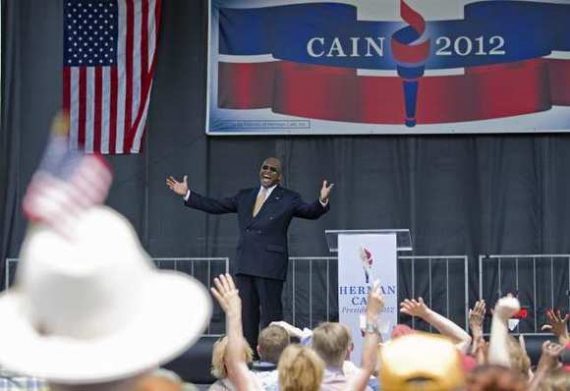 At least not one capable of actually winning primaries or caucuses:
In early October, as Herman Cain caught fire in national polls and began to climb into the first tier of the Republican presidential race, the ex-CEO turned insurgent candidate puzzled political observers by diverting his campaign to promote a book entitled This is Herman Cain! My Journey to the White House. Cain's critics alleged that his publicity tour wasn't really about selling the idea of a Cain Presidency to voters, but rather peddling motivational pamphlets-"Leadership Requires Leadership" is available for $5 at "The Herminator Experience" website—and inflating the value of his services on the speaking circuit.

A series of interviews with key party figures may lend further credence to this charge. Well-connected GOP operatives in New Hampshire, Florida and South Carolina say they see little or no evidence of Cain's campaign in those key early primary states, and some are even unable to name who is leading his localized efforts just a little more than two months before voters are expected to cast the first ballots.

"There is no sense of a tangible organization that you can point to," says Rich Killion, an uncommitted GOP strategist in New Hampshire, who's unsure of the location of Cain's Granite State base of operations, or even if there is one. "If you said, 'Rich, tell me who is running the effort here?' I could not even give you that person." Matt Murphy, Cain's original state director, resigned in June.

"There is good will towards him, but there is almost no organization to speak of," says Fergus Cullen, a former chairman of the New Hampshire Republican Party. "If there is a local group who wanted to invite him to speak, it is unclear whom to call. I gather that they are adding staff and ramping up, but the primary is in two and a half months."

A prominent Republican operative in Florida says the Cain campaign is similarly invisible in his state. "If somebody called here and asked to volunteer for Cain, I would not know whom to talk to," he says. Cain won a major Florida straw poll in late September, but he's been largely absent ever since. "He came and worked the crowd. He got a few state reps. to endorse him" and then he left, the operative says. "It boggles the mind. I don't know any of the usual suspects who have been called, asked or much less hired. There is no grassroots. The guys in key counties, none of them are getting talked to."

"We see nothing to resemble a real campaign," says another GOP operative, who is based in South Carolina and knows of only one Cain staffer there.  According to him, both of South Carolina's U.S. Senators and one member of its House delegation sought assistance with reaching out to Cain, but the strategist said he's been unable to get the campaign to respond.
There are just over two months to go before Iowans go to their caucus locations. Is it possible that Cain can pull together some kind of ground operation between now and then? Maybe, but it seems to be incredibly unlikely to me and the fact that he's not really making any moves to capitalize on his rise in the polls makes one wonder exactly what he thinks he's doing here.
H/T: Andrew Sullivan