Bachmann, Romney, Paul At The Top In New Iowa Poll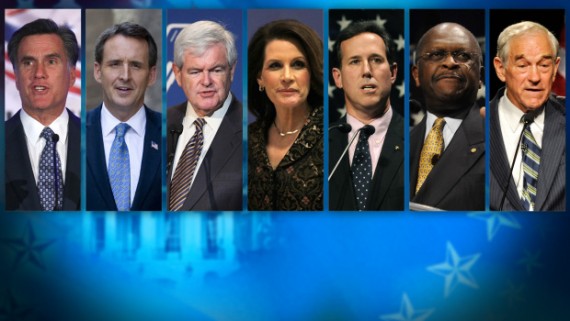 Scott Rasmussen's first poll of Iowa GOP Caucus goers has some interesting results:
In the Iowa caucus race for the Republican presidential nomination, five candidates are in double digits, and many voters are open to changing their mind before caucus day arrives.

The first Rasmussen Reports telephone survey of Iowa's Likely Caucus Participants shows that Minnesota Congresswoman Michele Bachmann attracts 22% support, while former Massachusetts Governor Mitt Romney earn 21%. Just slightly behind is Texas Congressman Ron Paul at 16%, followed by Texas Governor Rick Perry at 12% and former Minnesota Governor Tim Pawlenty at 11%.

Former House Speaker Newt Gingrich picks up five percent (5%) of the vote, businessman Herman Cain wins four percent (4%), and former U.S. Ambassador to China Jon Huntsman is at two percent (2%). Seven percent (7%) would prefer some other candidate. (To see survey question wording, click here.)

Nationally, Romney, Perry, and Bachmann lead the pack.

Overall, just 28% of potential Iowa Caucus participants are absolutely certain of how they will vote, while the rest could change their mind. Among those who are certain of their vote, Ron Paul is on top at 27%.
Perhaps the most surprising thing here is that Romney, who has been perceived as having written Iowa off for the most part, it still very much in the hunt. Partly, of course, that's due to name recognition and the fact that Iowans have been familiar with him since 2007. Nonetheless, Iowa Republicans are fairly conservative, and the fact that they still seem to have some support for Romney may be an indication that the "anti-Romney" sentiment that has become a part of the conventional wisdom's explanation for Michele Bachmann's surge may not be as strong as many have thought.
The other interesting factor is Ron Paul. He's pulling much more support in polls than he was four years ago, he's no longer viewed as the "kook" many dismissed him as in 2008, and he has a history of being able to mobilize supporters to come to straw poll events. Don't be surprised if he comes in second or third, thus potentially embarrassing a candidate like Pawlenty.