Republicans Clash In Most Energetic, Combative Debate So Far
Last night's debate was definitely more combative than previous renditions.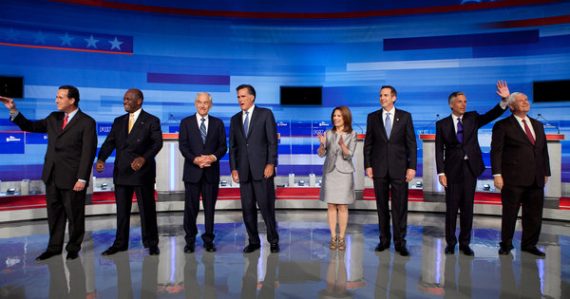 Unlike the Clash Of The Pygmies in May, which included every candidate except the ones who were actually leading in the polls at the time, and the lackluster and poorly produced CNN Debate in June, last night's Fox News debate in Ames, Iowa was actually interesting and entertaining to watch, thanks in no small part to a better format and the fact that the candidates actually engaged each other rather than competing for who could win the "I Hate Barack Obama" commemorative t-shirt. Most directly, last night stood in strong contrast to the CNN debate, thanks mostly to the fact that the format was much better. Rather than John King going "ummm" every three minutes and disjointed questions from people on television screens, we had Brett Baier, who may be the best hard news person at Fox News Channel, anchoring and a series of good, confrontational questions from Chris Wallace and Byron York. If Republicans were  looking for a debate that drew contrasts and, apologies to Michele Bachmann, separated the men from the boys, this debate did a better job of that than any of the others we've seen so far.
Enough with the preliminaries, though, we're here to talk about the debate:
AMES, Iowa — A withering critique of President Obama's handling of the economy was overshadowed by a burst of incivility among the Republican presidential candidates who gathered here for a debate on Thursday night and fought to stay alive in the party's increasingly fractious nominating race.

The simmering animosity that has been building among some contenders broke into full view during the two-hour debate, with Representative Michele Bachmann defending her legislative accomplishments, her economic ideas and her experience to serve as president. She batted away the criticism, smiling at times and swinging at others, trying to prove she could take the heat.

While the first votes of the Republican nominating contest are six months away, a sense of urgency already hangs over the campaign. Several candidates face a far earlier test and are struggling to avoid being embarrassed at the Iowa straw poll on Saturday — the same day Gov. Rick Perry of Texas intends to declare his candidacy and join the Republican race.

Tim Pawlenty, a former Minnesota governor who is seeking to rejuvenate his campaign, repeatedly assailed Mrs. Bachmann's record. He stood directly at her side and accused her of "making false statements" and having "a record of misstatements."

"The American people are going to expect more and demand more," he said. His criticism was so stinging, quiet jeers could be heard in the crowd. He added: "If that's your view of effective leadership with results, please stop, because you're killing us."

As the rest of the field looked on, Mrs. Bachmann shot back that Mr. Pawlenty pursued policies as Minnesota governor that sound "a lot more like Barack Obama, if you ask me." She cited his support for cap-and-trade environmental policies and for individual health care mandates.

The debate, which took place in Stephens Auditorium on the campus of Iowa State University, came at a moment of increasing intensity in the Republican campaign.

While the eight candidates were united in their criticism of Mr. Obama, with a particular focus on his economic policies and unemployment, the crosscurrents in Iowa overshadowed the larger issues in the race.

Mitt Romney, who was positioned at the center of the stage, sought to stay above the fray as he stood silently and watched the Minnesota politicians engage in their unusually sharp back and forth. He brushed aside a suggestion that he had not played a leading role in the debate over raising the nation's debt ceiling.

"I'm not president now," he said with a smile, "though I would have liked to have been."

Mr. Romney, who has raised more money and built a stronger organization than any other candidate, seemed to relish in steering clear of the fight. He defended his health care record as governor of Massachusetts and often resorted to humor.

When Mr. Pawlenty served up a gentle dig at Mr. Romney's wealth, offering to mow just one acre of Mr. Romney's estate, Mr. Romney laughed it off, saying, "That's just fine." Later, when in a contrast to his previous debate performance, Mr. Pawlenty attacked Mr. Romney for his health care plan and compared it to the president's plan, Mr. Romney simply joked, "I think I like Tim's answer at the last debate better."

(…)

Bret Baier, a Fox News anchor who served as the moderator, opened the debate by reciting a list of the challenges facing the country, from the downgrade in the nation's credit rating, to the fall of financial markets, to the helicopter crash in Afghanistan that killed 30 American troops. He urged a civil conversation.

But the debate's proximity to Saturday's straw poll, a sink-or-swim moment for several candidates, led to the biggest display yet of combativeness among candidates who often evoke Ronald Reagan, but did not heed his 11th commandment, not to speak ill of fellow Republicans
What The New York Times calls "incivility," I call candidates who were actually willing to engage each other a little (within the limited confines of the debate rules) rather than spending two hours repeating the same sound bites over and over again, Of course, there were plenty of areas where the candidates agreed with each other.  When Byron York asked each of them, in connection with a question about the budget deficit and taxes, whether they'd accept a deal that included spending cuts and tax increases at a 10-to-1 ratio, every single candidate said, stupidly, that they would veto such a bill. On the debt ceiling itself, Michele Bachmann continued to repeat the objectively false idea that Standard & Poor's downgraded America's sovereign debt because we raised the debt ceiling. And, when it came to marriage, the only sane people on the stage were Ron Paul and, thanks to his support for at least civil unions, Jon Huntsman.
The real news from the debate, though, was the clash between Michele Bachmann and Tim Pawlenty:
Long simmering tensions between Minnesota Rep. Michele Bachmann and former Minnesota Gov. Tim Pawlenty boiled over Thursday during a Republican presidential debate in Iowa, as the two candidates engaged in a harsh back and forth over their White House qualifications.

(…)

Pawlenty, a former two-term governor, said Bachmann's record in the House is "non-existent."

"She has said she has a titanium spine," Pawlenty said. "It's not her spine we are worried about, it's her record of results."

He went on, calling her an ineffective member of Congress, naming several laws that President Barack Obama and Democrats have passed since taking 2009.

"If that's your view of effective results, please stop," Pawlenty said. "You're killing us."

A stone-faced Bachmann shot back, accusing Pawlenty of having abandoned his conservative principles while serving in St. Paul.

She said he supported a cap-and-trade plan to cut carbon emissions and once expressing support for a mandate that individuals purchase health insurance, though neither idea became law during his administration.

"That sounds a lot more like Barack Obama if you ask me," Bachmann said.

The two Republicans have engaged in long-distance sniping for weeks as both have raced across the state hunting for votes ahead of the potentially pivotal Ames Straw Poll on Saturday.
Going into the debate, there were many wondering (myself included) whether Pawlenty would continue with the jabs he'd been taking at Bachmann over the past several weeks, especially after he had backed down so quickly from his "ObamneyCare" comments in the June debate. The consensus, though, was that he couldn't afford to back down at this point. This debate, and the Ames Debate, are Pawlenty's last hope to revive a campaign that's on the ropes. As the video compilation shows, Pawlenty was willing to take on Bachmann and draw contrasts between himself and Bachmann:
There were some odd moments too. Perhaps the oddest being when Byron York asked Michele Bachmann if she would be "submissive" to her husband if
elected President. The crowd reaction to the question was, overwhelmingly, negative, and Bachmann probably picked up a few points with her response:
I'm no Bachmann fan but I thought this question was rather unfair, especially since the biblical phrase from which it is drawn doesn't necessarily mean what those hearing the question might think it means (although I can't attest to what Bachmann's church thinks about what it means, I do know what the Catholic Church teaches about it). In any event, York is likely to get a little criticism for that question, and it's probably well deserved.
Anyway, on to the assessment of winners and losers.
Jon Hunstman: This was likely the first time most people watching the debate heard Huntsman speak for an extended amount of time and discuss what his positions on the issues is, I know it was for mine. It was, in short, an opportunity for Huntsman to introduce himself to the electorate and try to break out of lower  end of the pack. I don't think he did a very good job at all. In response to many of the questions, Hunstman referenced his eight years as Governor of Utah. I can only assume that the claims he made about how the state performed under his leadership are largely correct but I don't think he did or said much of anything last night to get grassroots Republicans in New Hampshire or elsewhere excited about his candidacy. In some sense, it almost seems like Hunstman's entire campaign is based on the idea that Mitt Romney might eventually implode, but that doesn't look likely to happen anytime soon. Perhaps the Governor be more aggressive at the next Fox debate, which takes place in Flordia where there are voters he might actually resonate with. For now, though, Huntsman is largely a dud.
Newt Gingrich: The former Speaker distinguished himself last night mostly by attacking the questions and the questioners for what he called "gotcha" questions rather than asking about the issues. Interestingly enough, it appeared that Gingrich's definition of a "gotcha" question includes any question that asks him about something he might have said in the past. Other than that, Gingrich did okay I guess, but its really hard to take him seriously as a candidate when he has no real campaign staff and continues to fade in the polls. Gingrich won't do well at Ames tomorrow, but he's not going to drop out any time soon,. For Newt, this is now a vanity exercise and a matter of pride and hubris, so he'll be around for awhile.
Rick Santorum: Santorum's oddest comment of the night came in response to a question about Iran by pointing out, among other things, the manner in which the Islamic Republic treats its gay and lesbian citizens. While this is a legitimate concern, it's rather ironic for a man who compares homosexuality to bestiality and doesn't really think that gays should have a right to live their lives in peace to cite this singular sin by the Iranian regime as an example of its brutality. Beyond that, Santorum's most memorable contribution to the night was the manner in which he kept attempting to inject himself into exchanges between other candidates and complain about how he wasn't getting his fair share of questions. I'm not sure how that went over with the crowd and the viewers. What I am sure of is that Santorum's paeans  to the traditional social conservative dog whistle themes, including his rather bizarre and legally incorrect idea that "morality" should somehow trump the Constitution, went over well with many on the right. Nonetheless, Santorum has never really caught fire either in Iowa or nationwide and, barring some kind of surprise, he's one my short list of people who are possibilities to drop out after Ames.
Herman Cain: As with the June debate, Herman Cain seemed to stand out far less than he did in the first debate back in May. Additionally, now that he's been campaigning for several months and has made headlines mostly by saying dumb things and displaying an appalling amount of ignorance about foreign policy, he seems diminished from the confident, bombastic guy we saw in May. I can't really say that Cain either distinguished himself or made any major flubs last night, although he did falsely say that he never said that communities had the right to deny construction of a mosque when, in fact, he clearly did. More distressingly, he barely even mentioned his supposed change of heart about Muslims, and just came across as the vanity candidate he probably is at this point. Along with Santorum, I'd put Cain on the short list of people who might not be around for very long after Saturday.
Ron Paul: What can you say about Ron Paul that hasn't already been said? He hit all the traditional themes of his campaign and the crowd was clearly behind him based on the responses when he spoke (a sign, by the way, that his performance in the Straw Poll could be surprisingly good). People call Ron Paul nuts, but what he really is is an idealist. I don't always agree with what he says, but you can't deny his committment to his ideas, and you can't say that his responses are poll-tested or politically correct. At least when he's around, the debates are entertaining.
Tim Pawlenty: Pawlenty is a man on his last political rope at this point and he needed to come in to this debate and show that he still had a fire in his belly. As I noted above, he did score some pretty solid points against Michele Bachmann., and the points he made about her lack of a real record of accomplishments is no doubt one that other candidates will start hitting as we get further in this process. However, Pawlenty once again didn't really go after Romney very much, which would seem to be a better target for him given that he's unlikely to change the mind of a committed Bachmann voter. On some level, I have to wonder if Pawlenty wasn't, in part, auditioning for the VP slot last night by showing that he was perfectly capable of being the attack dog, which is the traditional role of a Vice-Presidential nominee. Of all the guys on the stage, Pawlenty is arguably the most prepared to be President since he has more Executive experience than any of the others save Huntsman, but he's never caught fire with the voters and I don't think he lit a spark last night.
Michele Bachmann: I don't think Bachmann did as well as she had in the June debate, but that's mostly because nobody had bothered to confront her the first time around. This time, Pawlenty went after her directly and Jon Huntsman directly criticized her position that the debt ceiling should never have been raised in the first place. While this is unlikely to change the mind of a committed Bachmann supporter, it has revealed areas in which she is vulnerable (i.e., her sparse record of accomplishments in politics and her irresponsible pie-in-the-sky policy positions) that I'm sure we'll see candidates like Romney and Perry pick up on in the future. For the purposes of this debate, though, Bachmann handled herself well. Her exchange with Perry and her response to Byron York's bizarre "submission" question showed that she's not easily thrown off her gain, and that skill will serve her will in the future.
Mitt Romney: As in June, Mitt Romney came into this debate as the putative frontrunner. While Fox didn't follow CNN's lead and place Romney in the center podium again, it didn't really matter because, once again, none of the candidates really choose to engage Romney directly. This allowed Romney to mostly stay above the fray and look on bemused as his fellow candidates labored on. Once again, he was the stable, sure technocrat sending the messages "Hey, I'm here, I know how to do this, and, unlike the rest of these guys, I can win." This is likely to change in future debates, especially with Rick Perry entering the race but, for now at least, Romney walked away as the clear winner last night, and for the most part probably looked for better to the average voter than the other candidates on the stage.
For the most part, this was a much better, and certainly more entertaining, debate than the one's we've seen so far. As with other debates, of course, it did little to actually advance public debate and served mainly as an avenue for candidates to spout their talking points. However, it also was one of the first times voters have been able to see any of the candidates try to draw contrasts between themselves and the other candidates (which is, in the end, what a primary race is supposed to be about). The final impact of the debate will be hard to judge, though. It's not likely to influence the outcome of the straw poll, which is mainly an reflection of organization and enthusiasm. Moreover, the fact that we already know that a candidate is entering the race on Saturday who will quickly be vaulted into the top tier, if not second place, it seemed almost as incomplete as the minor-candidates-only debate in May. Let's see how Bachmann, Romney, and Perry handle each other, because I think that's the race we're going to be looking at for the next several months.