Herman Cain Apologizes To Muslim Leaders After Meeting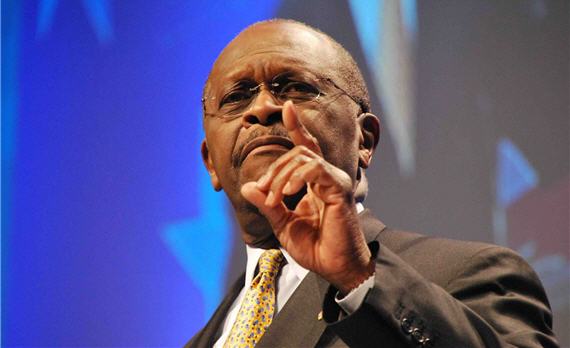 Over the past several months, I've been pretty hard on Herman Cain for the comments he's made about Muslims — including the comment that he wouldn't hire a Muslim to work in his Administration, that he'd require them to take loyalty oaths if he did, and that he believed local communities should have the authority to bar the construction of mosques — so, it's heartening to see that he's apparently rethought his previous comments:
Herman Cain hosted a quiet meeting with a small group of Muslim leaders on Wednesday in an effort to rebuild relations frayed by his comments about not wanting to appoint Muslims to government posts and blocking the construction of mosques.

Cain's campaign announced plans to convene the outreach meeting this week, but refused to provide details even after the meeting, which was held at the All Dulles Area Muslim Society (ADAMS) Center in Sterling, Va.

ADAMS Center board member Robert Marro told POLITICO that the presidential hopeful met with a handful of Muslim leaders then toured the facility, which serves 6,000 families at eight branches in Northern Virginia and Washington.

Cain's been under fire for his comments, but Marro said he believed they'd been able to open his eyes to the idea that he's been "getting information from people that maybe had some other agendas in mind."

They discussed the supposed danger of the incursion of Sharia law, which have been referenced by many candidates campaigning for the Republican presidential nomination, as well as the contributions of Muslims to American society, Marro said.

"I think he left the meeting with an entirely different view of what Muslims are and what mosques do," Marro said. "If he was expecting to see secret nooks and crannies where people are plotting nefarious things, he would have been highly surprised to find there is nothing like that in ours — or other mosques across the country."

Marro said he believed that they had achieved a complete turnaround in Cain's positions.

"I would be flabbergasted if he ever repeated those statements and said that communities should be allowed to ban mosques," He said. "I think that the meeting today has changed his mind 100 percent. From the tenor of the conversation, I can't see him repeating such things.
Cain's campaign released the following statement after the meeting:
I would like to thank Imam Mohamed Magid and the ADAMS Center for extending their hospitality to me this afternoon. We enjoyed heartfelt fellowship and thoughtful dialogue about how patriotic Americans of all faiths can work together to restore the American Dream.

While I stand by my opposition to the interference of shariah law into the American legal system, I remain humble and contrite for any statements I have made that might have caused offense to Muslim Americans and their friends. I am truly sorry for any comments that may have betrayed my commitment to the U.S. Constitution and the freedom of religion guaranteed by it. Muslims, like all Americans, have the right to practice their faith freely and peacefully.

As I expected, we discovered we have much more in common in our values and virtues. In my own life as a black youth growing up in the segregated South, I understand their frustration with stereotypes. Those in attendance, like most Muslim Americans, are peaceful Muslims and patriotic Americans whose good will is often drowned out by the reprehensible actions of jihadists.

I am encouraged by the bonds of friendship forged today at our meeting, and I look forward to continuing this very healthy dialogue. The relationship we established was so positive that the Imam has invited me back to speak to not only some of their youth, but also at one of their worship services.
I hope that Cain is sincere in his comments, and I'll take him at his word that he is. If nothing else, this seems to prove something I've long believed; that Americans would have different opinions about Muslims if they actually got to know them personally.