Herman Cain: I'll Hire Muslims In My Administration If They Take A Loyalty Oath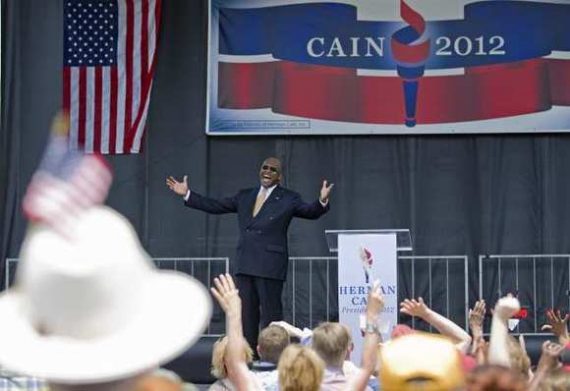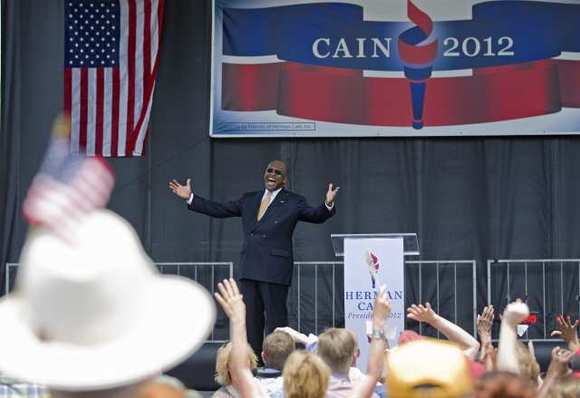 Several months ago, GOP Presidential candidate Herman Cain made headlines when he said that he wouldn't hire Muslims in his Administration because of this danger of "Sharia Law." Yesterday on Glenn Beck's show, Cain doubled down on that comment, saying that he'd hire Muslims, but only if they took a loyalty oath:
BECK: You said you would not appoint a Muslim to anybody in your administration. \

CAIN: The exact language was when I was asked, "would you be comfortable with a Muslim in your cabinet?" And I said, "no, I would not be comfortable." I didn't say I wouldn't appoint one because if they can prove to me that they're putting the Constitution of the United States first then they would be a candidate just like everybody else. My entire career, I've hired good people, great people, regardless of their religious orientation.

BECK: So wait a minute. Are you saying that Muslims have to prove their, that there has to be some loyalty proof?

CAIN: Yes, to the Constitution of the United States of America.

BECK: Would you do that to a Catholic or would you do that to a Mormon?

CAIN: Nope, I wouldn't. Because there is a greater dangerous part of the Muslim faith than there is in these other religions. I know that there are some Muslims who talk about, "but we are a peaceful religion." And I'm sure that there are some peace-loving Muslims.
I don't often agree with Think Progress, but they nail it here:
Cain's requirement that Muslim nominees take a loyalty oath while Catholics and Mormons would be exempted is not only bigoted, it's also ironic considering that the same suspicion was once levied at Catholics. During the 1960 presidential election, anti-Catholic sentiment held that if then-Sen. John F. Kennedy were elected president, his Catholic faith would make him beholden to the Pope rather than the United States. Such views were abhorrent when directed at Catholics 50 years ago, and they are abhorrent when directed at Muslims today.
The sad truth of the matter, though, is that comments like this are more likely to help Cain among the GOP base than they are to hurt him.
Cain is a skilled public speaker, and he comes across well on television, which is likely part of the reason he's risen in the polls. When he says stuff like this, though, he just sounds like a guy who belongs out on the fringe rather than among the top tier candidates.
In parting, I'll just remind Cain of Article VI, Clause 3 of the United States Constitution:
The Senators and Representatives before mentioned, and the Members of the several State Legislatures, and all executive and judicial Officers, both of the United States and of the several States, shall be bound by Oath or Affirmation, to support this Constitution; but no religious Test shall ever be required as a Qualification to any Office or public Trust under the United States.
Indeed.
Update: Apologies for the formatting errors in the original version of this post.