Romney & Bachmann Rise, Pawlenty & Cain Fizzle In Mostly Lackluster Debate
The debate format was the biggest loser last night, but there were a few memorable moments in New Hampshire.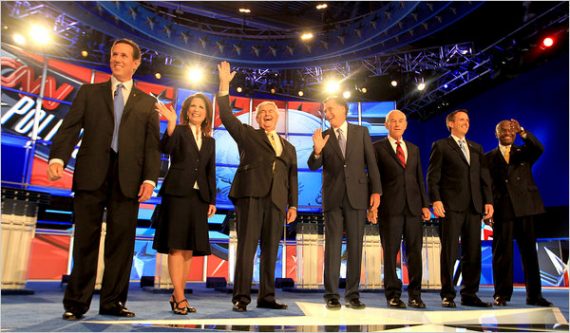 I'll go right ahead and say from the start that the biggest loser of last night's GOP Presidential debate on CNN was anyone who was unfortunate enough to watch it. As with many of the group debates that CNN had done during the 2008 cycle (YouTube debates anyone?), the format of this debate was absolutely atrocious and the host (John King this time rather than Anderson Cooper or Wolf Blitzer) had no control over the process, and that made the entire program nearly unwatchable at times.
For  one thing, there was no time limit imposed on the responses. Instead, King said that each candidate was going to be on "the honor system" — an ironic concept for politicians no doubt. This resulted in King frequently trying to bring the debate under control by interrupting a candidate, or trying to, with an "um uh" or something similar. It was incredibly annoying, and it did nothing to move the debate along. The second flaw came in the fact that nearly a good portion of the debate questions came from people watching the debate off-site elsewhere in New Hampshire who were projected on large television screens in the debate hall. Someone forgot to tell most of the candidates — except Mitt Romney, Ron Paul, and Newt Gingrich for the most part — to look into the camera when answering those questions, not up at the big giant television hanging about them. The third flaw came in King's decision to begin and end each commercial break with a "human interest" question for one of the candidates, most of which, except for asking Herman Cain what kind of pizza he liked (he picked deep dish and thus doomed himself in the New York primary), they questions were utterly stupid.
Other than that? How was the debate you ask? Well, it was about what you would expect under the circumstances:
GOFFSTOWN, N.H. — Opening a new phase in a race to define the direction of their party, the leading Republican presidential candidates gathered Monday night for the first time to begin drawing distinctions among themselves in a vibrant competition to be seen as sufficiently conservative for primary voters, but electable enough to defeat President Obama.

The seven contenders, standing onstage here for two hours in a prime-time televised debate, repeatedly passed on the opportunity to seize upon the fissures that have roiled the Republican Party for most of the last two years. They presented a forceful, and nearly unified, attack against Mr. Obama, especially on the economy, the budget deficit and health care.

The spotlight was trained squarely on Mitt Romney, a former governor of Massachusetts, who has come under withering attack for the health care plan he signed into law that resembles the plan Mr. Obama pushed through Congress. But his rivals treaded lightly, and he relentlessly turned the conversation back to Mr. Obama, emerging unscathed from his return to the debate stage four years after losing his first bid for the party's nomination.

In one sign of how the candidates continue to develop and refine policy positions at this early stage of the race, Mr. Romney called for American troops to return from Afghanistan as soon as possible, declaring, "Our troops shouldn't go off and try to fight a war of independence for another nation." He sought to press his credentials as a chief executive, arguing that he was best suited to promote a message of economic revival and job creation.

Tim Pawlenty, a former governor of Minnesota who remains largely unknown to many Republicans across the country, highlighted his blue-collar roots as he sought to introduce himself as a leading alternative to Mr. Romney. He had coined a new word a day before the debate — "Obamneycare" — a term aimed at criticizing both Mr. Romney and Mr. Obama in a single breath, but when the debate got under way, he chose not to press the attack, apparently to avoid coming off as too negative.

The debate, which took place on the campus of St. Anselm College, just outside Manchester, provided the biggest opportunity for an introduction — or reintroduction — of many of the candidates. Each of the contenders had serious moments and enlightening exchanges in a lively forum that ended without any noticeable gaffes or missteps.

Newt Gingrich, whose campaign imploded last week when virtually his entire senior strategy team resigned, did not mention the controversy and sought to rebrand himself as the idea-driven policy candidate. But he exhibited a defensive tone from the outset, and at times lectured the debate moderator, John King of CNN, for how he characterized the responses.

Mr. Gingrich came into the debate facing continued criticism for appearing several weeks ago to speak against Representative Paul D. Ryan's proposed budget plan that would provide Medicare subsidies allowing seniors to buy their insurance in the private market.

Asked to address that criticism, Mr. Gingrich said his comments, against "radical change" on either side of the aisle, had been taken out of context. He said he supported Mr. Ryan's budget as "a general proposal."

But he seemed to repeat at least some of his critique. "If you're dealing with something as big as Medicare and can't have a conversation with the country where the country thinks what you're doing is the right thing, you better slow down," Mr. Gingrich said.

The debate had the feel of the official campaign kickoff, if only because it was the first one to include the presumptive front-runner, Mr. Romney.
The presence of Romney and Gingrich, among others, differentiated last night's debate from the last month's "Clash of the Pygmies" in several important ways. First of all, this time around, I think it's quite probable that the next GOP nominee was on the stage last night. The four potential candidates that weren't there — Palin, Giuliani, Perry, and Huntsman — may or may nor eventually enter the race and make a splash. For the moment, though, this is is Mitt Romney's race, and it's the job of the other candidates to try to topple him. For the most part, nobody laid a glove on Romney last night (not even Pawlenty, about which more below), which means he comes out of this looking pretty good and still looking like the inevitable, if reluctant, nominee. Other candidates went into this debate with other objectives in mind, but only a few of them managed to accomplish what they needed to.
Mitt Romney: Romney came into this debate as the putative front runner and he walked away pretty much unscathed. CNN had placed Romney in the center podium on the stage, with three candidates on either side of him, with the obvious intention of trying to make him the focus of the debate. It didn't work mostly because none of the candidates really rose to the challenge even when directly given the opportunity. Romney's flaws are already well known to movement conservatives and there isn't much he isn't going to be able to change that other than to keep playing the role of the stable, sure technocrat who is ready to win the election when they're ready to  turn to him. By not making any major mistakes, and not having anyone score any points against him, Romney comes away from this as a winner.
Tim Pawlenty: If anyone came out of this debate as a loser, it was Tim Pawlenty. On Sunday morning, he had scored a direct hit against Mitt Romney by calling the President's health care plan "ObamneyCare," in a direct effort to reinforce the notion that Romney is somehow the father of ObamaCare. It made headlines, and everyone was looking forward to the confrontation between Pawlenty and Romney last night. Then, as Jazz Shaw describes it, Pawlenty inexplicably demurred:
[R]ather than hitting it out of the park, Pawlenty took a complete pass on it, falling back on criticism of the president's health care plan. The moderator even gave him a second chance – rare in this stunted format – challenging him as to why he wouldn't talk about "Obamneycare" now that he was standing next to Mitt. King offered Pawlenty his own Teddy Roosevelt moment, positioning him at the base of San Juan Hill with troops at the ready. But rather than leading the charge, T-Paw chose to load everybody into a beige minivan and drive around the hill instead.

Pawlenty has been unable to break out of single digits in most polls and he badly needed to frame himself as the viable alternative to Romney, who currently looks like the stereotypical "who's next" Republican nominee. But in my opinion he let that opportunity slip away and I don't know how much time he's going to have left to seize the moment. It's not that he got any of the questions "wrong" last night. He just didn't light the kind of fire that he's going to need for the long war to come.
I'll go even further. This may have been a fatal blow to Pawlenty's campaign. He's been languishing in the single digits from the beginning of his campaign, looking for a way to breakthrough into the top tier without success. Contrasting himself strongly with Romney would have gone a long way toward doing that. Instead, after going on the attack on Sunday, he backed away last night, and that makes him look weak. Contrasted with a candidate like Michele Bachmann, Pawlenty looks like weak tea, and I think that's going to hurt him in the long run. More importantly, if someone like Rick Perry gets in the race, then Pawlenty is likely to fade fast.
Michele Bachmann: As I noted last night, Michele Bachmann grabbed headlines early in the debate by announcing that she had formally filed to run as a candidate for President. It was not a surprise and, yea, it was a stunt, but it was a good stunt, and it was the beginning of what I think was a very good night for Bachmann. I'm far from being a fan of Michele Bachmann's, and I'm sure she'll say plenty of things on the campaign trail that will serve as fodder for discussion here over the coming months, but last night she came across as well-spoken, energetic, and on top of the issues. A sharp contrast with the woman she is often compared to, who seems to only because to speak in sound bites delivered in a sing-song voice. I've said several times that Bachmann has the potential to be a player in this race, last night confirmed it.
Newt Gingrich: After the mass defections from his campaign late last week, it was somewhat odd to see Gingrich up there on the stage with the other candidates. I found myself wondering, for example, who had done debate prep with him — Callista? The family cat? For the most part, Gingrich was Gingrich. The one headline-grabbing moment for him was when he seemed to say, once again, that the Ryan Plan was a step to far because it didn't have sufficient public support. However, he accompanied that response with enough verbal legerdemain that I doubt anyone really understood what he was saying. He also went down a road that eventually led him to compare Islam to Naziism and Communism and essentially back Herman Cain's support for loyalty oaths, which isn't surprising considering what Gingrich said about the "Ground Zero Mosque" last year. For the most part, though, Gingrich seemed last night liked he should've been doing post-debate analysis on Fox instead of standing up on the debate stage.
Herman Cain: Herman Cain didn't come across nearly as well as he did during last months debate. Partly, this was because of the format of the debate, the lack of any real time management, and the fact that he was sharing the stage with more candidates this time around. His one notable moment, other than the pizza question, was when he was asked yet again about the Muslim loyalty oath issue. One gets the impression that Cain realizes that his stances on this issue is hurting him to some extent,  but he doesn't want to back down from it either. The result is that every time he gets asked about it, he digs himself into a bigger hole over an issue that, in the end, really doesn't matter. Cain also seemed much more lackluster in comparison to Bachmann, although they both seemed to get about the same number of questions.  With Bachmann in the race, I think Cain's momentum may be coming to an end.
Rick Santorum: As I was writing this up, I nearly forgot that Rick Santorum was there, mostly because he didn't really say anything memorable in either good or a bad way. Like Gingrich, he seemed like a guy who belonged in the post-debate spin room rather than the stage.
Ron Paul: What can you say about Ron Paul? He hit all the notes he usually does — bring home the troops, end the Fed, and some kind of long discussion about monetary policy that kind of lost me. However, he also distinguished himself positively in my eyes by being the only candidate on the stage unwilling to endorse a Federal Marriage Amendment, and for saying that, ultimately, government shouldn't be in the marriage business to begin with. I'm sure some of the libertarian-leaning voters in New Hampshire were happy but, of course, Ron Paul is not going to be the 2012 GOP nominee.
For an early debate,  I believe the primary impact of his debate will be three-fold. First, it once again reinforces Romney's frontrunner status. Unlike many of the other candidates last night, Romney's job last night was to look Presidential, and he succeeded for the most part. At the moment there doesn't seem to be anyone in the field of candidates that can take him out, although that can obviously change. Second, Michele Bachmann is likely to get a big boost out of this. She'll get cable news appearances, she'll be announcing her candidacy, and she'll be campaigning in Iowa. She's won't be the nominee, but she'll be more of a force in this race than many, myself included, anticipated when her name was first mentioned at the beginning of the year. Finally, Tim Pawlenty needs to seriously think about what he's doing here. If he's not willing to take on the guy at the top of the pack while he's standing right next to him, then why should Republicans believe he really has what it takes to beat the President of the United States?
If you're interested in others takes on the debate, you can check out what Jazz Shaw, Chris Cillizza, Dana Milbank, and Ed Morrissey have to say. Or, you can watch it for yourself: