The First GOP Debate: Clash Of The Pygmies
Last night's Presidential Debate in South Carolina was interesting, but, in the end, not very important.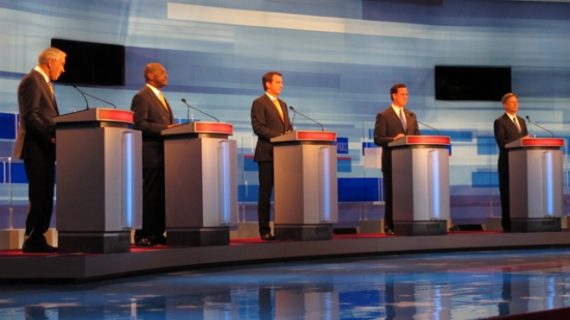 Let's get one thing out of the way here. None of the five men who appeared at the GOP Presidential debate in South Carolina last night are going to be the Republican nominee for President. With the possible exception of Tim Pawlenty, none of them are likely to be on the short list for Vice-President. That doesn't mean the debate was a waste of time, though, because as one commentator wrote yesterday afternoon, there is some value in seeing candidates who actually believe strongly in something:
2012 is coming soon, and it's going to be a huge election year.  The presumed frontrunner Republican candidates are, quite honestly, no good. So what's so great about tonight's debate? They won't be there. Instead, we'll be hearing from the people who actually have things to say – things that you won't hear when those bigger names are in front of the camera.

Not everyone in tonight's debate is a great candidate, but if you watch this evening, you'll be exposed to some great minds – people who have real ideas for how to make America better who typically have to fight for their fair chance to be heard.

I'd like to ask each of you to tune into tonight's debate. Watch it with an open mind and give fair consideration to what each of these candidates has to say. You may see somebody who stands out from the crowd – someone who resonates with what you believe.
It was with that spirit, and the hope that there'd be enough material for me to make fun of on Twitter during the debate, that I tuned into a debate that, thanks to a certain President's decision to authorize the mission to kill Osama bin Laden, turned out to be much more about foreign policy than anyone had anticipated:
GREENVILLE, S.C. — The first Republican presidential primary debate — with some of the key contenders AWOL — kicked off the nomination fight Thursday with shots at President Barack Obama's domestic and foreign policy.

The faceoff, co-sponsored by Fox News and the South Carolina Republican Party, came just days after Obama announced that Osama bin Laden had been killed. Bin Laden's death sharply reoriented the debate among the five candidates here — the first 15 minutes were spent on foreign policy — not jobs, the economy or the national debt, which have been key issues for the GOP.

It also muted some criticism of Obama — and the first time his name came up, it was to praise from former Minnesota Gov. Tim Pawlenty.

"I do congratulate President Obama for the fine job that he did in making the tough call and being decisive as it related to finding and killing Osama bin Laden," Pawlenty said. A good job. I tip my cap to him in that moment."
Of course, Pawlenty and most of the rest of the other debate participants — Ron Paul and Gary Johnson being the exceptions — tried to burnish their Republican credentials by trying to argue that the man who had just ordered a SEAL raid into an ally's territory wasn't tough enough. At one point, Herman Cain even seemed to suggest that we needed to go to war in Syria. In any event, I think that this portion of the debate pretty much established something that I had been thinking since Sunday night — that the killing of Osama bin Laden pretty much takes foreign policy off the table as an issue the GOP can use to go after the President in 2012.
As for the debate itself, it was, well interesting, but I don't think that any of the candidates came out of this as the "winner" or that this debate is going to have any significant impact on a race that doesn't even start for months.
Ron Paul: Paul's biggest problem in debates last time around was that he seemed to wander off topic a lot, thus losing an audience that already wasn't entirely sympathetic to his ideas. Things have changed. For one thing, the GOP is arguably more in line with Ron Paul's positions on a whole host of issues now than it was in 2008. For another, Paul did a much better job of staying on point, most of the time. That said, he did wander off the reservation a few times, such as during a question about drug policy where he ended up talking about heroin, and during a response to a question about the Defense Of Marriage Act, where he once again totally mis-stated what the lawsuits challenging the law are all about. It probably helped that the audience seemed to have a fairly good contingent of Paul supporters, who applauded after many of his responses. Nonetheless, it's unlikely that he made many friends among the social conservatives that dominate the South Carolina GOP.
Herman Cain: Going into this debate, many people on the right were saying that Cain would "win" this debate, and he certainly seemed well-positioned to do so. With a career in radio behind him and what many have called a dynamic and engaging public speaking style. Not surprisingly, after the debate was over last night, many bloggers on the right such as Stacy McCain, Jim Hoft, and Peter Ingemi, bolstered by a mostly useless Frank Luntz Focus Group segment, to declare Cain the "winner" of the debate. Frankly, though, I didn't see it. His answer to a question about the war in Afghanistan was mostly incomprehensible, and his answer regarding energy policy could basically be summarized as "Drill Baby Drill." Cain threw a lot of red meat to the conservative base, though, so it's no surprise that they're rallying around him, especially since most of the other candidates that they'd find acceptable stink.
Tim Pawlenty: Before the debate, Noah Green was wondering why Pawlenty would agree to appear on stage with four incredibly low-tier candidates. Part of the reason, of course, lies in the polls that show him in the basement for the GOP nomination, behind even Ron Paul and even behind people who haven't even decided whether they're or not they're going to run for President. So, he cannot afford to pass up opportunities to get his name out there.  He did okay, I guess. Frankly, I've never been impressed with Pawlenty as a speaker and he didn't seem to be any more energetic in this five-candidate forum than he was in his speech at CPAC. If Pawlenty is going to break out, he needs to get people thinking that he belongs with the big fish (Romney, Huckabee, Gingrich, etc). I don't think he did it last night.
Rick Santorum: What can you say about Rick Santorum? He attacked Muslims, people who don't speak English, working women, and homosexuals. So, it was a pretty standard night for him. The social conservatives probably loved him, but he has no bona fides when it comes to fiscal conservatism after you look at his voting record as a Senator. More importantly, he lost a re-election bid in Pennsylvania, a state Republicans have to win in 2012. He's going nowhere.
Gary Johnson: I've made no secret of the fact that I'm a Johnson fan, so I guess I'll say I'm disappointed that he didn't do better last night. He did very well on the questions about Afghanistan and Libya, and he handled the drug policy issue better than Ron Paul did, but his delivery was off and he didn't get his ideas across well at other times. Also, he got a little whiny over the fact that he wasn't getting any questions, that's never the right thing to do. Hopefully, he'll improve his debating style before the next big debate in September.
To wrap things up, I don't think this debate will really have much of an impact on the race, although it may energize the supporters of some of these candidates, such as Ron Paul and Herman Cain. It was fun to watch, even more fun to make fun of, but in the end it's not really going to matter.
If you're interested in others takes on the debate, you can check out what Chris Cillizza, Jazz Shaw, Conor Friedersdorf, and Jason Pye have to say, or, if you're so inclined, you can watch the entire debate for yourself:
Photo via Fox News Channel