Michele Bachmann Wins Ames Straw Poll, Ron Paul A Close Second
A good day for Michele Bachmann, Ron Paul, and Rick Perry. A bad day for everyone else.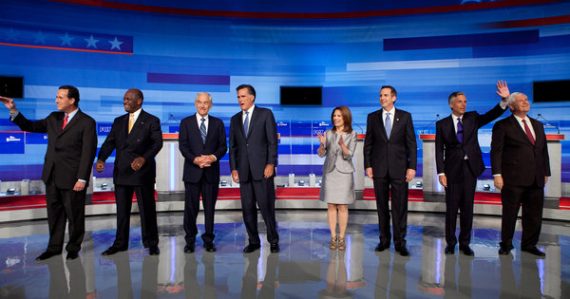 The results of the Ames Straw Poll are in and native Iowan Michele Bachmann has eked out a close victory, with Texas Congressman Ron Paul coming a very close second:
Results just announced put Michele Bachmann as the winner of today's Iowa Straw Poll. The Minnesota congresswoman earned 4,823 votes to secure her first place finish.

Congressman Ron Paul finished second with 4,671 votes; while former Minnesota Gov. Tim Pawlenty came in third with 2,293 votes.

Other vote totals are:

– Fourth place: Former U.S. Sen. Rick Santorum of Pennsylvania with 1,657 votes
– Fifth place: Retired businessman Herman Cain with 1,456 votes
– Sixth place: Governor Rick Perry with 718
– Seventh place: Former Massachusetts governor Mitt Romney with 567 votes
– Eighth place: Former U.S. House Speaker Newt Gingrich with 385 votes
– Ninth place: Former Utah governor Jon Huntsman with 69 votes
– Tenth place: U.S. Rep. Thad McCotter of Michigan with 35 votes

A total of 16,892 votes were cast.
The gap between Bachmann and Paul was just 152 votes, which is a testament to the fact that both campaigns were very aggressive about bringing in supporters to vote in the straw poll, and both can claim something of a victory. It's Michele Bachmann, though, who is likely to get the biggest boost from these results, a boost her campaign likely needs now that Rick Perry is in the race and threatening to take the social conservative/Tea Party banner away from her, not to mention the fact that Perry totally out matches Bachmann when it comes to actual governing experience.
As for the other candidates, Tim Pawlenty's third place finish might give him some claim to a moral victory, but it is an illusory one. Pawlenty trailed Bachmann by 2,350 votes and Paul by 2,378 votes, and he only got 636 more votes than Rick Santorum. Not a very good showing for a guy who's been campaigning in Iowa longer than either of them. Pawlenty will probably stay in the race for now, but his campaign is on life support at this point. I'd expect his money to start drying up rather quickly as donors start looking elsewhere, and without money it's going to be very hard for him to run a competitive campaign. At this point, I'd be very surprised if Pawlenty were still an active candidate for President two months from now.
Rick Santorum probably finished respectably enough to keep his campaign, which has been running on something of a shoestring budget anyway, up and running. He had hinted he drop out if he didn't finish in the top five and he finished fourth. He's not going to win, but Rick Santorum will be around at least through the Iowa Caucuses themselves I suspect.
Herman Cain is in pretty much the same position as Tim Pawlenty, with the exception that Cain never really had a big money campaign to begin with and he doesn't have much of an Iowa staff to speak of. These results will probably be disheartening to many of his supporters, and that may affect the donations, but I'm not sure if that will cause him to drop out. Cain seems to think he's on some kind of mission and, judging from the speech he gave at Ames today, he seems to be enjoying what he's doing, so
The biggest surprise of the Straw Poll is the fact that Rick Perry, who hasn't spent a single day as a candidate in Iowa and who just announced his candidacy this afternoon, got more votes as a write-in candidate than Mitt Romney, Newt Gingrich, Jon Huntsman, and Thad McCotter. There were reports all week that a Pro-Perry SuperPAC was on the ground helping organize a write-in campaign. Apparently, they succeeded very nicely. I'd count that as a win for Perry, who will be heading into Iowa tomorrow.