Rick Perry On Ben Bernanke: "We Would Treat Him Pretty Ugly Down In Texas"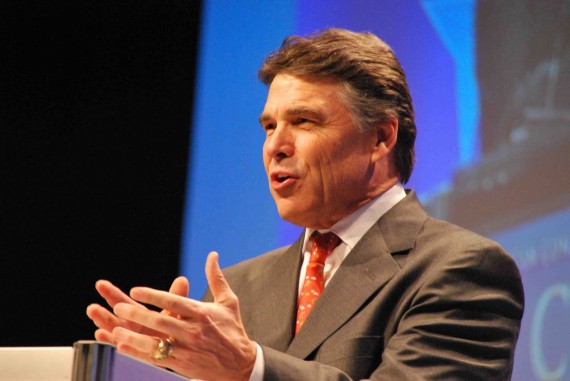 During a campaign appearance in Iowa yesterday, Rick Perry had some not-so-kind words about the Chairman of the Federal Reserve Board that have raised eyebrows even among some on the right:
Texas Gov. Rick Perry, making his maiden campaign swing in Iowa after jumping into the race for the Republican presidential nomination, suggested Monday night that Federal Reserve Chairman Ben Bernanke would be committing an act of treason by printing more money between now and November 2012.

Responding to a question about the Federal Reserve at a campaign event in Cedar Rapids, Perry said: "If this guy prints more money between now and the election, I don't know what y'all would do to him in Iowa, but we would treat him pretty ugly down in Texas. Printing more money to play politics at this particular time in American history is almost treacherous, or treasonous, in my opinion."

Perry continued by saying that printing more money would be "devaluing the dollar in your pocket, and we cannot afford that. We have to learn the lessons of the past three years that they've been devastating. The president of the United States has conducted an experiment on the American economy for almost three years, and it has gone tragically wrong, and we need to send him a clear message in November 2012 that new leadership is coming."
Via Think Progress, here's the video:
There was, as I said, some immediate negative reaction on the right. Former Bush Administration spokesman Tony Fratto called Perry's remarks "inappropriate and unpresidential." Over at Commentary, John Podhoretz referred to it as a "serious unforced error" on Perry's part:
I think it's pretty clear from the clip that Perry was trying to play folksy straight-talkin' populist guy while taking up a complicated issue, using colorful dirt-kicker language to connect to his al-fresco audience as he might in his home town of Paint Creek. And in the early going on Twitter, I suggested the harrumphers were knowingly making a mountain out of a molehill to bring him down a notch. I was wrong.

He's trying to be the next president, and he needs to be judged on that standard. What Perry did was make a thoughtless blunder, an unforced error; we're now going to spend a couple of days discussing whether he was summoning violence on Ben Bernanke's head or not, which is of absolutely no use to Perry. He is, or was, moments away from becoming the race's frontrunner, and what is in his interest is to harness the excitement of his late entry with qualities of leadership and control that will rally the majority of Republicans unhappy with the choices facing them to his side. Rick Perry made that more difficult today; this was a serious rookie mistake on the national stage.
As Podhoretz goes on to note, there are plenty of serious issues to raise about Federal Reserve policy, starting with its role in the 2001-2007 economic bubble and subsequence collapse. However, suggesting that the Chairman of the Fed is manipulating the money supply for poltiical purposes and hinting that if he ever came to Paint Creek, Texas (why would anyone?), he might be lynched isn't the way to do it. Unless you're a caller to Rush Limbaugh's show, that is.