Rick Perry: Evolution Just "A Theory That Is Out There"
Like Jon Huntsman, Rick Perry has something to say about evolution today and he handled it very differently.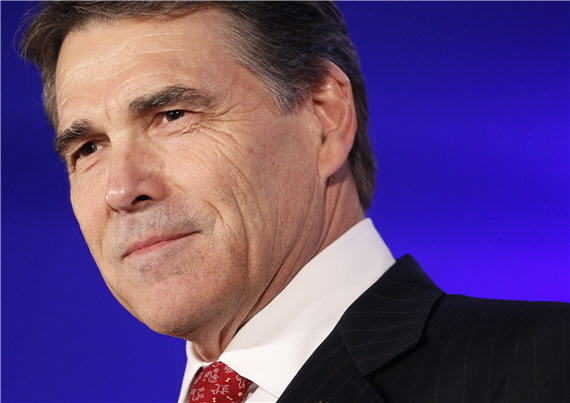 It was, perhaps, inevitable that Texas Governor Rick Perry would get a question about evolution and so-called "Intelligent Design" on the campaign trail, the source of the question wasn't quite as expected:
Rick Perry is sure about a lot of things. But the theory of evolution, or even how old the planet Earth is, are not on that list.

A woman who will probably not be supporting the Texas governor brought her young son along to a campaign event in New Hampshire on Thursday, and had the boy ask Perry his views about science. "How old do you think the earth is?" the boy asked. This was an apparent allusion to how fundamentalist Christians often insist that Earth — and indeed, the whole universe — is about 6,000 years old.

"How old do I think the earth is? You know what, I don't have any idea," Perry responded. "I know it's pretty old. So it goes back a long, long ways. I'm not sure — I'm not sure anybody actually knows completely and absolutely hold the earth is.

(….)

"Here your mom was asking about evolution. And you know, it's a theory that is out there — it's got some gaps in it. In Texas we teach both creationism and evolution in our public schools. Because I figure–"

The mother cut back in: "Ask him why he doesn't believe in science."

Perry continued: "Because I figure you're smart enough to figure out which one is right."

The mother continued to tell her son, "Ask him why he doesn't believe in science." At that point Perry politely ended the conversation, and moved on to the next person in the crowd.
Here's the video:
It's pretty clear that this kid was being pushed by his Mother to ask this question about evolution, especially given the fact that she continued to push the issue further on her own. Nonetheless. the question was asked and Perry's answer is what it is. I don't think anyone's really surprised by it, after all it's pretty much what the evangelical Christians that Perry courts believe, although Perry is a smart enough politician to not to let himself get labeled a Young Earth Creationist or anything like that. Instead, he relies on the phony argument of "balance" to say that students should be exposed to both evolutionary theories and the theories of so-called "Intelligent Design," which are in reality nothing more than the Biblical Creation Myth wrapped in pseudo-scientific clothing.
Perry's comments have, of course, garnered much comment across the political blogosphere, but they also caught the attention of political writers in Texas, who pointed out that his claim that Texas teaches "both creationism and evolution in our public schools" is completely false:
David Bradley, a social conservative member of the State Board of Education, said he hadn't heard the governor's comments. But when asked if Texas schools teach creationism alongside evolution, Bradley responded: "Not specifically."

Still, Bradley said in Texas nothing prevents a teacher from discussing creationism, or a student from bringing it up in the classroom. "It is not specifically in the Texas curriculum," Bradley said. But "in Texas, the students are directed to investigate and evaluate all theories."

Perry's office has not yet responded to a voicemail seeking clarification on his statement.
Before they respond, Perry's aides might what to take a loo at Edwards v. Aguillard, where the Supreme Court held that school districts cannot teach creationism along side evolution in a science classroom:
The purpose of the Creationism Act was to restructure the science curriculum to conform with a particular religious viewpoint. Out of many possible science subjects taught in the public schools, the legislature chose to affect the teaching of the one scientific theory that historically has been opposed by certain religious sects. As in Epperson, the legislature passed the Act to give preference to those religious groups which have as one of their tenets the creation of humankind by a divine creator. The "overriding fact" that confronted the Court in Epperson was "that Arkansas' law selects from the body of knowledge a particular segment which it proscribes for the sole reason that it is deemed to conflict with . . . a particular interpretation of the Book of Genesis by a particular religious group." 393 U.S., at 103 . Similarly, the Creationism Act is designed either to promote the theory of creation science which embodies a particular religious tenet by requiring that creation science be taught whenever evolution is taught or to prohibit the teaching of a scientific theory disfavored by certain religious sects by forbidding the teaching of evolution when creation science is not also taught. The Establishment Clause, however, "forbids alike the preference of a religious doctrine or the prohibition of theory which is deemed antagonistic to a particular dogma." Id., at 106-107 (emphasis added). Because the primary purpose of the Creationism Act is to advance a particular religious belief, the Act endorses religion in violation of the First Amendment.
In other words, if it's true that Texas schools are teaching creationism, or I would submit "Intelligent Design," alongside evolution in science classrooms they are doing so in violation of the United States Constitution.
I doubt that this will hurt Perry much in the fight for the GOP nomination. In fact, as both James Joyner and Alex Knapp have noted, it's Jon Huntman and his public affirmation of evolution that is more likely to be poision to the GOP base than a candidate who believes that religious doctrine should be taught as science so that children can "decide for themselves." (Since when is science a matter of personal opinion, anyway?) Nonetheless, the substance of Perry's statement is one that should raise eyebrows given that it betrays a fundamental misunderstanding of what a scientific theory actually is:
'A scientific theory is a well-substantiated explanation of some aspect of the natural world, based on a body of facts that have been repeatedly confirmed through observation and experiment. Such fact-supported theories are not "guesses" but reliable accounts of the real world. The theory of biological evolution is more than "just a theory." It is as factual an explanation of the universe as the atomic theory of matter or the germ theory of disease. Our understanding of gravity is still a work in progress. But the phenomenon of gravity, like evolution, is an accepted fact.', American Association for the Advancement of Science.
Saying that it's "just a theory" in the manner that Perry and advocates of "Intelligent Design" do is meant to undermine this understanding of what a scientific theory is in an effort to equate it with the Bible-based mythology that they wish to push into the science classrooms. The fact that Perry appears to agree with them is, at least for me, just another strike against him.