British Ban Teaching Creationism As Science, Should The U.S. Do The Same?
It is now illegal to teach creationism as science in the United Kingdom in any school, public or private, that receives public funding.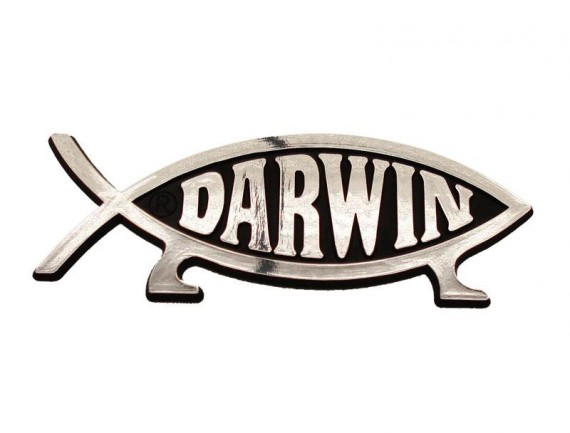 The United Kingdom has just banned the teaching of so-called "Creationism" as science in all schools in the country that receive public funding, whether public or private:
LONDON, June 18 (UPI) –The United Kingdom has banned the teaching of creationism as scientifically valid in all schools receiving public funding.

The government released a new set of funding agreements last week including clauses which specifically prohibit pseudoscience.

"The parties acknowledge that clauses 2.43 and 2.44 of the Funding Agreement [which preclude the teaching of pseudoscience and require the teaching of evolution] apply to all academies. They explicitly require that pupils are taught about the theory of evolution, and prevent academy trusts from teaching 'creationism' as scientific fact," one clause reads.

The funding agreement defines creationism as "any doctrine or theory which holds that natural biological processes cannot account for the history, diversity, and complexity of life on earth and therefore rejects the scientific theory of evolution," and goes on to note that this idea is rejected not only by the scientific community but most mainstream churches as well.

"It does not accord with the scientific consensus or the very large body of established scientific evidence; nor does it accurately and consistently employ the scientific method, and as such it should not be presented to pupils at the Academy as a scientific theory," the agreement states.

The funding agreement notes that the discussion of beliefs about the origin of the Earth including creationism are permitted in religious education "as long as it is not presented as a valid alternative to established scientific theory."

The British Humanist Association has been lobbying against the instruction of creationism since 2011 with its Teach Evolutionism, Not Creationism campaign.

The BHA is currently celebrating the UK government's declaration that "the requirement on every academy and free school to provide a broad and balanced curriculum … prevents the teaching of creationism as evidence based theory in any academy or free school."
Tom McKay has more:
According to io9, this means any "academy or free school" in the U.K. which teaches creationism to students would be breaking its funding agreement with the government. Academies are roughly equivalent to charter schools in the U.S., while "free schools" are nonprofit independent schools funded by taxpayer dollars, which can be organized by parents, teachers, charities and businesses. The new language updates a 2012 rule which required all future free schools that teach the theory of natural selection alone to include academies and all existing free schools.

This means that the U.K. is on track to more or less completely end the practice of teaching creationism in publicly funded schools. However, it does permit creationism and other beliefs about the origin of the Earth and life to be taught in classes on religion, so long as they are not presented as valid alternatives to scientific theory. While there are further reforms needed in other educational sectors across the U.K., it looks like the biggest step toward getting religion out of taxpayer-funded science classes has just been accomplished.

Contrast that to the U.S.: In the U.S., some $1 billion in taxpayer funding across 14 states goes to private schools. Earlier this year, Politico reported that those private schools included "hundreds of religious schools that teach Earth is less than 10,000 years old, Adam and Eve strolled the garden with dinosaurs and much of modern biology, geology and cosmology is a web of lies."

In the U.S., just the states of Louisiana and Tennessee currently permit creationism and its offshoot, intelligent design, to be taught as alternatives to evolution in public schools. But across much of the South and Midwest, private schools that teach creationism are able to accept millions of dollars in public funding.
Slate created a map showing the parts of the country where private schools that teach some form of creationism while receiving public funding: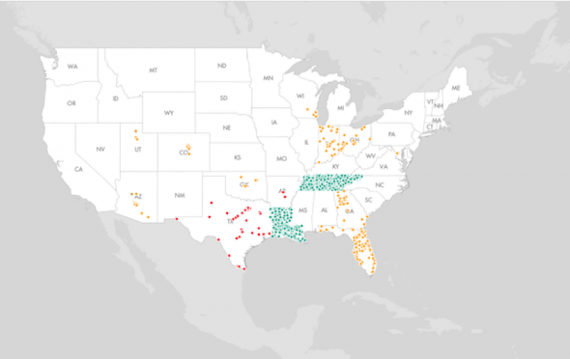 There are, obviously, major differences between education, public or private, in the United Kingdom and the United States. In the U.K., funding for schools tends to be more centralized than it is in the United States, for example, where the majority of funding for education comes from states and localities. That, along with the general influence of different strains of Christianity, is one of the main reasons why we see the concentration of publicly funded private schools in the Southern United States. Additionally, the protections of the First Amendment make it more difficult for government authority to regulate the curriculum taught at private schools, although the schools are generally required to demonstrate that they are complying with state education standards, and their students take most of the same standardized tests as public school students.
At the same time, the law is clear that teaching Creationism or even so-called "Intelligent Design in public school classrooms is constitutionally impermissible. In 1987, in Edwards v. Aguillard, the Supreme Court held that school districts cannot teach creationism along side evolution in a science classroom. More recently, a Federal District Court Judge in Pennsylvania held that a school dist in that state was barred from teaching so-called "intelligent design" in public school classrooms. In both cases, and in others that have dealt with these issues, the Courts found, correctly, that whether it is called "creationism," "creation science," or "intelligent design," what schools are trying to teach in these cases is nothing other than a warmed over, possibly slightly secularized, version of the Genesis Creation Myth. There is no science behind what's being taught. And, most importantly, in most of the cases that have gone to court there was direct evidence that the legislators and school board members who pushed these additions to the curriculum were intending to advance religion.
The question, of course, is whether or not what happened in the United Kingdom could happen in the United States. To some degree, at least, the First Amendment protects religious and parochial schools in teaching religious doctrine. At the same time, though, these schools must meet most of the same education standards as public schools. Additionally, it's worth noting that not all of the private schools at issue here are religious schools per se. In Texas, for example there is a charter school that teaches creationism and similar institutions around the country. On some level, it seems as though if these institutions are receiving public funding then they should be required to meet certain standards, and one of those ought to be that they shouldn't be teaching something that isn't science in a science classrooms.
In a rational world, of course, we wouldn't be having this conversation. Teaching Creationism in a science classroom would be seen as absurd as the idea of teaching that the world is flat in a Geology class, or that Earth is at the center of the universe in an Astronomy class. Instead, thanks in no small part to the bifurcated education system that we have in this country, which is unlikely to change any time in the future, we have something like this. The United Kingdom took a radical step by banning even private schools from teaching creationism if they receive public funds, but it's not an idea I'm willing to dismiss out of hand. After all, if these institutions want to continue teaching creationism, or anything else for that matter, then they can stop taking public funds. As long as they do, however,then they ought to answer for what they're teaching children.