Could Sanders Be the Democrats' Trump?
In 2016, a crowded Republican field yielded an unlikely nominee. Could history repeat itself in 2020?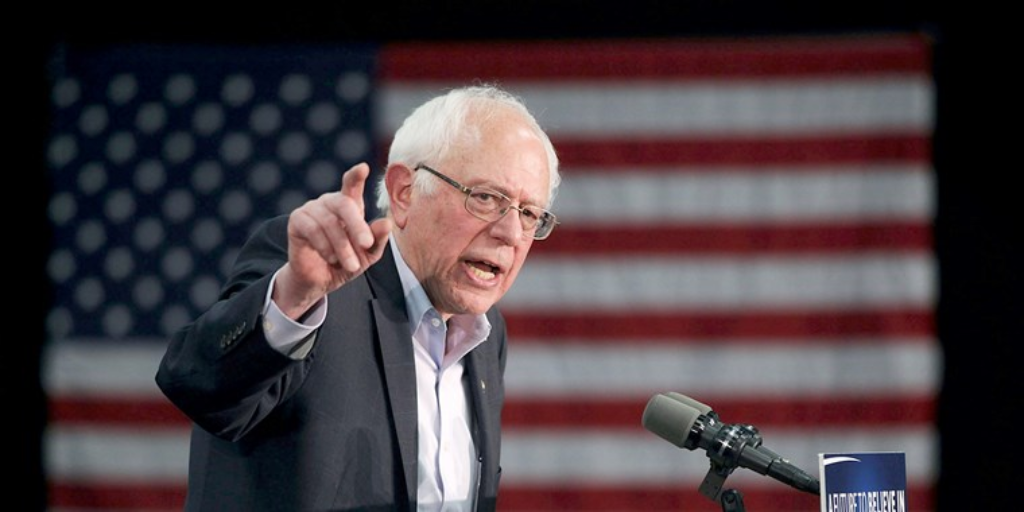 Lilly Kofler, U.S. Director of Behavioral Science at Hill+Knowlton Strategies, takes to POLITICO to argue "Too Many Democrats Are Running in 2020, According to Science."
The first Democratic presidential debate is scheduled to take place over two nights and three TV networks this June. But even with this unprecedented capacity, the stage isn't big enough to handle the dozen-plus candidates seeking the party's nomination, so they must surmount a variety of hurdles involving polls and fundraising to make the cut. This isn't a primary; it's Lollapalooza. And like a music festival where you can have a hard time choosing among all the bands with competing time slots, a surplus of candidates will give Democratic voters what behavioral scientists like me call "choice overload." Simply put, having too many choices can make it harder to make a decision, and this is likely to have a profound—profoundly negative—effect on the 2020 campaign.

It might seem like a good thing to have a cereal aisle's worth of candidates to choose from, but behavioral science predicts that too many options will, counterintuitively, result in lower satisfaction among Democratic voters—and possibly lead to lower enthusiasm and lower turnout. We saw a demonstration of this so-called "cereal aisle effect" in the Chicago mayoral race, where a crowded, diverse, and qualified field of 14 candidates without prohibitive frontrunners coincided with almost the lowest turnout in city history at 33.4 percent.

This presents an unfortunate reality for the 1 percenters in the field—in this case not the super-rich but the senators, governors and other accomplished candidates who are polling below the margin of error. Some pundits say there's no downside to a presidential campaign, but the gains to a candidate's national reputation could come at a cost to the entire field. An abundance of marginal candidates will make it harder for Democratic primary voters to comfortably evaluate the candidates with realistic chances of winning—and paradoxically that will reduce enthusiasm for the party's eventual nominee. Picture a dinner party with too many people sitting around the table: The fact that each guest is a valued friend doesn't make the experience any less uncomfortable.

[…]

In a crowded environment, smart candidates embrace simplicity and limit the number of attributes they highlight. You have a 10-point national security plan? Great. Put it on your website but just tell voters, in a couple short sentences, what America's role in the world is. Your tax plan will save the middle class a bajillion dollars? Awesome. Tell me how much I'll save, or even better, tell me how much I stand to lose montly if I vote for someone else. The pain of losing money is greater than the joy of saving it, especially when you ask me to think about the impact to my finances this month, rather than my annual bottom line.
I'm immediately reminded of the 2016 Republican primary mess. Wikipedia reminds us:
A total of 17 major candidates entered the race starting March 23, 2015, when Senator Ted Cruz of Texas was the first to formally announce his candidacy: he was followed by former Governor Jeb Bush of Florida, retired neurosurgeon Ben Carson of Florida, Governor Chris Christie of New Jersey, businesswoman Carly Fiorina of Virginia, former Governor Jim Gilmore of Virginia, Senator Lindsey Graham of South Carolina, former Governor Mike Huckabee of Arkansas, outgoing Governor Bobby Jindal of Louisiana, Governor John Kasich of Ohio, former Governor George Pataki of New York, Senator Rand Paul of Kentucky, former Governor Rick Perry of Texas, Senator Marco Rubio of Florida, former Senator Rick Santorum of Pennsylvania, businessman Donald Trump of New York and Governor Scott Walker of Wisconsin. This was the largest presidential primary field for any political party in American history.
In terms of experience and name recognition, it was arguably more impressive than the current Democratic field. From a resume standpoint, all but Carson and Trump were traditionally qualified for the presidency. From a Republican standpoint, almost any of them would have been ideologically acceptable as well. We all know what happened: the one candidate whose message stood out from the pack became the surprise frontrunner and easily won the nomination.
Could the same thing happen in 2020? Two columnists are arguing that it could.
Dana Milbank contends that "Bernie Sanders has emerged as the Donald Trump of the left."
Fundraising and polls show that many Democrats think the best answer to an angry old white guy with crazy hair, New York accent and flair for demagoguery is, well, another angry old white guy with crazy hair, New York accent and flair for demagoguery. It's not difficult to picture a scenario in which Bernie captures the Democratic presidential nomination with the same formula that worked for Trump with Republicans in 2016.

On paper, the independent from Vermont doesn't make sense: Democrats are a party of youth, and he's 77; they are majority-female, and he's a man; they represent the emerging multicultural America, and he is white. Statistically, he is the worst option against Trump: An NBC News poll this week found that there are more voters with concerns about Sanders (58 percent) than there are for former vice president Joe Biden (48 percent), Sen. Elizabeth Warren (53 percent), Sen. Kamala D. Harris or former representative Beto O'Rourke (41 percent each).

Yet Sanders has both money and movement. His campaign on Tuesday announced a haul of $18.2 million in the first quarter from 525,000 individual contributors. The other major populist, early favorite Warren (Mass.), has floundered in both money and popularity. And undeclared front-runner Biden now looks vulnerable to accusations he inappropriately touched women, kicked off by a prominent Sanders 2016 backer who served on the board of the Sanders political group.

Meanwhile, Sanders himself remains untouchable, in a Trumpian way. Claims of mistreatment by male staffers from women who worked on his 2016 campaign? Yawn. His resistance to releasing his tax returns? Whatever. The idea that Democrats need a unifying figure to lure disaffected Trump voters in key states? Never mind.

Sanders isn't Trump in the race-baiting, lender-cheating, fact-avoiding, porn-actress-paying, Putin-loving sense. But their styles are similar: shouting and unsmiling, anti-establishment and anti-media, absolutely convinced of their own correctness, attacking boogeymen (the "1 percent" and CEOs in Sanders's case, instead of immigrants and minorities), offering impractical promises with vague details, lacking nuance and nostalgic for the past.

Sanders's supporters hope he'll fight Trump's fire with fire, refusing to be conciliatory (the way Biden and O'Rourke are), or to be goaded by Trump the way Warren was into taking a DNA test. Maybe answering belligerence with belligerence will work; Trump-era predictions are worthless. Either way, the support for Sanders shows that the angry, unbending politics of Trumpism are bigger than Trump.

[…]

He simplified and blamed: "The crisis that we are facing today is not complicated. . . . We have a government that ignores the needs of the working people . . . yet works overtime for wealthy campaign contributors and the 1 percent." He mocked those who questioned ideas such as Medicare-for-all ("the establishment went crazy, media went nuts, still is"), and he celebrated his prescience. He channeled rage at the "vulgarity" of a "grotesque" and "corrupt" system, the "absolute hypocrisy" of Republicans, corporations that "lie" and billionaires who "buy elections." Of the wealthy, he said, "Many of them are bandits," and he said if Republicans "don't have the guts to participate in a free and fair election, they should get the hell out of politics."

Like Trump, he railed against companies moving jobs to China or Mexico, and he harked back to simpler times: "Forty, 50 years ago, it was possible for one worker to work 40 hours a week and earn enough money to take care of the whole family."

[…]

It's less hateful, perhaps, to blame billionaires than immigrants or certain "globalists" for America's troubles, but the scapegoating is similar. So is Sanders's "socialist" label (worn as defiantly as Trump wears the isolationist "America First"), and his Democratic credentials are as suspect as Trump's Republican bona fides were. Most Republicans opposed Trump, but the large field of candidates prevented a clean matchup.

A similar crowd could likewise prevent Democrats from presenting a clear alternative to Sanders's tempting — if Trumpian — message that a nefarious elite is to blame for America's problems. Universal health care, higher education and child care are within reach, Sanders said to cheers, if only "we stand up and tell this 1 percent that we will no longer tolerate their greed." In real life, it's not so simple. But in our new politics, maybe it is.
Phillip Klein joins in with "Let's face it: Bernie Sanders could be the next president."
Before going any further, it's worth dispensing with the plausibility issue — the idea that Sanders simply can't win because it would be too absurd. Given that nearly every professional analyst said the same thing about the possibility of Trump winning, it's worth shelving such assumptions about what's "realistic" in modern politics and just look at the possibility on its merits.

The argument for how Sanders could win the primary is pretty straightforward. At this point in the 2016 cycle, Sanders was 55 points behind front-runner Hillary Clinton and surged enough to make what was supposed to be a coronation into an actual race. One might be tempted to dismiss his performance as a matter of him emerging from a weak field as the main choice of those who wanted to fight the Clinton machine. And yet, four years later, in a much more crowded field of younger and more diverse candidates, Sanders is still one of the top two candidates.

Right now, in the RealClearPolitics average, he's in second place, at 22.8%, trailing only Vice President Joe Biden, who is leading with an average of 28.8%. The next closest candidate is Sen. Kamala Harris, who doesn't even break into double digits. He's been nearly tied with Biden in Iowa and has led in several polls of New Hampshire. Given that Biden has already been forced to apologize several times for various aspects of his record as well as pushed to answer accusations of inappropriate contact with women, he has to at the minimum be seen as a very vulnerable front-runner.

Even as many rivals have come around to Sanders' positions on issues such as healthcare, and there is more competition for the far Left, he's still maintained a loyal following. His strong fundraising operation from last time has spilled into this campaign, as he's announced having raised $18 million in the first quarter. He will have plenty of money to play with, and unlike last time, he won't have to expend it trying to build up his name recognition.

Sanders' biggest vulnerability last time was with older (generally more centrist) Democratic voters and minority groups. If he loses the nomination again, these voters will most likely be his undoing. That said, there will also be more candidates competing for minority voters this time, when the race ultimately boiled down to a binary choice. That could work to the advantage of Sanders. In the 2016 primaries, Trump showed how beneficial it could be in a crowded field to have a passionate group of core supporters to propel a candidacy, even if the rest of the party is slow to warm up to somebody posing a challenge to the establishment.
The argument is plausible enough: a crowded field makes it really hard for anyone to break through. Sanders is already a front-runner and his brand and message distinguish him from the crowd. Plus, his bluntness and lack of polish and nuance may well be seen as refreshing in the age of Trump.
Now, I don't think the Democrats will nominate Sanders. I don't think Milbank or Klein really believe it, either. Democrats aren't Republicans and they may well be less susceptible to a populist demagogue. Historically, they've tended to nominate detail-oriented policy wonks; Sanders is anything but.
Still, I thought until very late in the game in 2016 that there was simply no way that the nominating electorate who picked guys named "George Bush" four times, Bob Dole, John McCain, and Mitt Romney would go for Trump. And that it was inconceivable that the voters would chose him over Hillary Clinton in the general. And here we are.