Trump, Clinton Look Well-Positioned For Big New York Wins
As the Empire State votes, Donald Trump and Hillary Clinton look well positioned to have a very good night.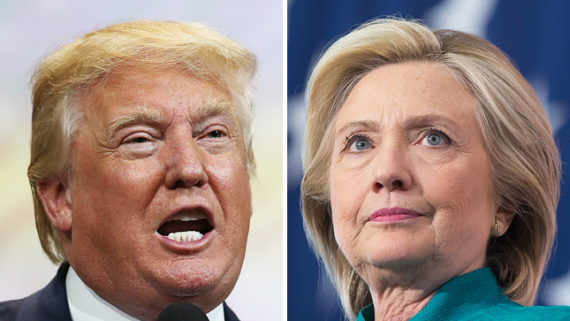 New Yorkers head to the polls in a primary that could go a long way toward cementing the front runner status of both Hillary Clinton and Donald Trump in their quests for their respective party's nomination:
NEW YORK — Voting has begun in the most raucous nominating contest of an already acrimonious season, which closed the day before with a flurry of retail politicking in New York that appeared likely to strengthen the trajectory of the two front-runners.

Democrat Hillary Clinton spent Monday reaching out to New Yorkers one handshake and one neighborhood at a time. She stopped by a hospital cafeteria in Yonkers, met with workers at a unionized carwash in Queens and sipped "bubble tea" at Kung Fu Tea counter in Flushing.

Republican Donald Trump, meanwhile, appeared for a photo op at his own Trump Tower in Manhattan with a new "diversity coalition." The group, representing many ethnic groups, is trying to fight accusations that Trump has stoked racial and ethnic tensions with his anti-immigrant and anti-Muslim rhetoric.

Polls have shown both front-runners ahead by double-digit margins in Tuesday's New York primary. A big win for Trump would bring him closer to securing an outright majority of Republican delegates — an outcome that remains in jeopardy and has prompted rival Ted Cruz to mount a spirited campaign to force a contested convention.

For Clinton, a victory would give her a boost of momentum and perhaps a new mandate to more openly pivot her campaign to prepare for the general election. Unlike Trump, Clinton is so far ahead in the delegate count against Sen. Bernie Sanders (Vt.) that it has become close to impossible for him to catch up.

"I am hoping to do really well tomorrow," Clinton said at Mikey Likes It Ice Cream in Manhattan's East Village. "I am hoping to wrap up the Democratic nomination."

The Sanders campaign has played down his prospects in New York, citing the state's closed primary, which doesn't allow the participation of independents. But Sanders has drawn tens of thousands of supporters at rallies in recent days, and he spent much of Monday shaking hands during a series of unannounced appearances around New York City. He was scheduled to appear at a large rally in Queens in the evening.

Sanders strolled down the Avenue of the Americas on Monday morning, greeting surprised Manhattanites over the course of 15 city blocks. The scene repeated itself in the mid-afternoon in the Bronx, where the senator posed for dozens of selfies with bystanders during a walk with his entourage in a busy retail district. He also visited a public housing project in the Bronx, where he said a shuttered playground and community center were unacceptable "in the wealthiest nation in the history of the world."

Sanders said what he saw was an example of the nation's misplaced priorities.

"Want to talk about crazy, crazy is that we have more people in jail in the United States of America than any other country on Earth," he said. "It seems to me a lot more sensible, a lot more humane, a lot more cost-effective to invest in our children, to invest in recreation, to invest in community centers, to make sure that kids have the education they need."

Clinton has tailored her message in New York to her tenure as the state's senator for eight years, calling upon voters to remember the work that she did on her behalf. But she has also sought to use Trump and New York's diversity to make a sweeping case that the primary — and the election on a whole — is about a choice between her vision for the future and Trump's divisive rhetoric.

(…)

Trump has crisscrossed the state in recent days. Over the weekend, he held campaign events in Staten Island and in Poughkeepsie, where he accused Cruz of being dishonest and too close to special interests. He also highlighted his message of economic populism. He was scheduled to hold a rally in Buffalo later Monday.

Like Sanders, Cruz is bracing for a loss in New York, polling behind not only Trump in recent surveys but also Ohio Gov. John Kasich, whose only primary victory so far came in his home state.

On Monday, Cruz was already looking ahead to a string of upcoming contests in Eastern states, including Maryland, which will vote next week. The senator from Texas spent Monday bouncing between New York and Maryland, where he held a rally at an American Legion hall in the Baltimore suburb of Towson. Cruz held a private meeting with GOP leaders in New York on Monday ahead of an evening fundraiser at the Harvard Club.

In Maryland, he told supporters that he expects the state to have an "outsized voice" as "the nation is looking to Maryland to decide: Do we nominate Donald Trump and hand the election to Hillary Clinton, or do we unite behind the Cruz campaign and beat Hillary Clinton?"

For Trump, a strong victory in New York could help him recover from several recent setbacks. Earlier this month, he lost the Wisconsin primary to Cruz amid a series of controversies over women's issues that many critics hoped represented a break in the wave of populist momentum buoying his candidacy.

The campaign also struggled to secure delegates in states, including Wyoming and Colorado, that require deep organization on the ground to secure favorable delegate slates. Cruz, meanwhile, has built up such organizations across the country, resulting in the selection of delegates who favor him. Many of these delegates will be bound to vote for Trump on a first ballot. But if Trump fails to secure an outright majority at the national convention, these delegates would be free to vote for Cruz on a second ballot.
Looking at the polls, the outcome in both contests seems to make the outcome tonight rather apparent, with the only question being just how far ahead in their respective delegate counts Trump and Clinton will be when it's all said and done.
On the Republican side, Donald Trump has been running away with this race for the past two weeks or more, which perhaps isn't a surprise given the fact that this is Trump's home state. With all the final polls taken into account, RealClearPolitics gives Trump (53.1%) a 30.3 point lead over Ohio Governor John Kaisch (22.8 %), with Ted Cruz bringing up the rear in third place at 18.1 %, a number that has shrunk since the focus of the race shifted from Wisconsin to New York and is likely the reason that Cruz has been limiting his time in the Empire State over the past several days. The Pollster numbers are largely the same. The most significant numbers here are both the fact that Trump is polling above 50% and the fact that Cruz is running in third place, because both could have a significant impact on the race for delegates. Under the New York GOP's delegate allocation rules, Trump would receive all of the 14 at-large delegates if he finishes with more than  50%  of the statewide vote, which seems likely at this point given the polls. In addition to these at-large delegates, there are three delegates at stake in each of the Empire State's 27 Congressional Districts. If a candidate gets above  50% of the vote in a District, he gets all three of those delegates. If nobody gets above 50% of the vote in a particular District, then the winner gets two delegates and the runner-up gets one delegate as long as they end up with 20% or more of the vote in that district, if not then all three delegates go to the plurality winner. A candidate who comes in third place in a particular District gets no delegates. If no candidate gets the majority of the vote statewide then the 14 at-large delegates are awarded proportionally based on each candidates percentage of the vote. (Source). If Trump's 50% number holds up statewide and in most Congressional District then he stands likely to walk away with as many as 85 of the 95 delegates at stake today while Ted Cruz and John Kasich will end up dividing up the remaining 15-20 Congressional District delegates. More importantly, to the extent Cruz's third place standing in the polls is replicated at the District level he is likely to lose significant ground to Trump in the Republican Delegate Count by the time the night is over.
On the Democratic side, Hillary Clinton has maintained a similarly strong lead over Vermont Senator Bernie Sanders notwithstanding the fact that Sanders has held a number of very well attended and enthusiastic rallies across the state over the past two weeks. According to RealClearPolitics, Clinton (53.1%) has an 11.7 point lead over Sanders (41.4%), a gap that has more or less stayed the same since the contest in the Empire State shifted into high gear after Wisconsin. The Pollster numbers are, again, largely the same as those from RCP. As with the Republican race, the fact that Clinton is polling above 50% is potentially significant when it comes to the race for delegates. For Democrats, there are 247 delegates up for grabs today not including the elected officials that make up the unpledged New York Superdelegates. Of that 247, a total of 84  are awarded on a proportional basis based on each candidates statewide vote total. The remaining 163 delegates are divided among the states 27 Congressional Districts, where they are awarded on a proportional basis based on the candidate's performance in that District. The main difference between how the Democrats do this is that the number of delegates varies from District to District with some Districts having five delegates available and others having as many as seven delegates at stake. (Source) Based on  the polling Clinton stands to win as many as 160 delegates tonight, with Sanders picking up the remainder. This would put Clinton one step closer to the majority she needs to win the nomination and, more importantly, put Sanders into territory where he would need to win an essentially impossible to achieve percentage of the remaining delegates in order to win the nomination.
With all of that in mind, here are my predictions:
Republicans
Donald Trump will garner over 50% of the vote statewide, giving him all 14 of the state's at-large delegates;
Trump will also do well enough at the Congressional District level to win at least 70 of the remaining 81 delegates;
Ted Cruz will win somewhere between 0 and 5 delegates in total tonight
Democrats
Hillary Clinton will win well over 50% of the vote statewide, giving her the majority of 84 at-large delegates;
At the District level, Clinton will win the majority of delegates as well, garnering between 105-115 of these delegates;
In other words, by the time the night is over both Trump and Clinton will be in good position in their respective delegate counts to the point where it will become that much more difficult for their opponents to deny them the nomination of their respective parties.