The Tea Party's Position On The Debt Ceiling Is Fiscally And Politically Irresponsible
Refusing to raise the debt ceiling does nothing at all to control spending.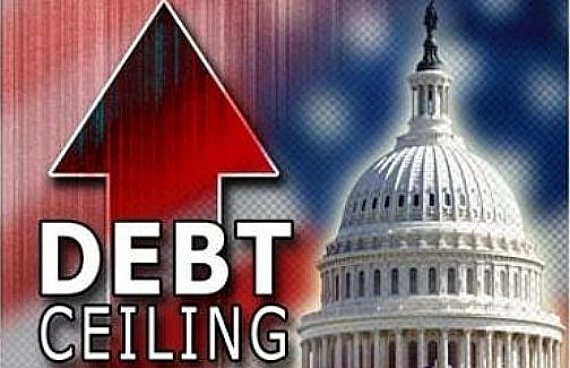 The recently concluded debate on Capitol Hill over raising the Debt Ceiling, along with the criticism that Senator Ted Cruz has received over forcing many of his fellow Republicans to cast a vote that could potentially harm them in primary battles against Tea Party candidates, has led to yet another resumption of the usual political rhetoric on the issue that we've seen over the past several years. Principally, of course, I am referring to the argument that the GOP's Tea Party wing has latched onto that essentially argues that there is something inherently wrong with voting to raise the debt ceiling. Indeed, as I noted during the debt ceiling showdown back in the summer of 2011, there is a sizable portion of this contingent of the GOP that contends that we don't need to worry about raising the debt ceiling at all. Others take the somewhat less radical position that instances when the debt ceiling needs to be raised are appropriate times in which Congress, presumably a Republican Congress should use leverage to force concessions out of the opposition party and the President on spending issues, or even on issues that have nothing directly to do with spending at all. That's why we've seen Republicans over the past several years who have used a showdown over the debt ceiling to attempt to force concessions on issues ranging from spending to the Keystone Pipeline to, most recently, the Affordable Care Act. In the end, of course, most of these efforts have ended in failure because the President and Democrats in the Senate have remained united in their position that there would be no negotiation over debt ceiling issues. It was in no small part in response to that unified Democratic front that the GOP ultimately decided not to force a fight this week on the issue.  Should Republicans manage to retake the Senate this year, though, one could imagine that they'd try to use the next debt ceiling showdown, which will likely occur in or about March 2015, one can easily foresee that they might return to the strategy of trying to seek concessions in return for raising the debt ceiling.
Politically, there may be certain advantages to taking this position. Indeed, notwithstanding the rhetoric we've heard from President Obama and other Democrats in recent years, the idea of using the occasion of debt ceiling increases and the expiration of Federal spending authority to extract policy or budgetary concessions from the opposition did not originate with Republicans during the Obama Administration. Examples of similar behavior can be found during the Reagan Administration when Democrats controlled the House of Representatives and used such occasions to attempt to extract concessions on issues such as providing funding to the Nicaraguan rebels and other matters that were points of serious contention between the parties back then. During the George W. Bush era, several Democrats attempted to use these occasions to get concessions on spending for the Iraq War. Additionally, much of the political rhetoric we've heard from Republicans regarding the irresponsibility of raising the debt ceiling without addressing spending mirrors similar rhetoric we heard from Democrats when Republicans were in power. Indeed, the current President had this to say about the matter when he was still a Senator from Illinois:
"Mr. OBAMA. Mr. President, I rise today to talk about America's debt problem.

The fact that we are here today to debate raising America's debt limit is a sign of leadership failure. It is a sign that the U.S. Government can't pay its own bills. It is a sign that we now depend on ongoing financial assistance from foreign countries to finance our Government's reckless fiscal policies. Over the past 5 years, our federal debt has increased by $3.5 trillion to $8.6 trillion. That is "trillion" with a "T." That is money that we have borrowed from the Social Security trust fund, borrowed from China and Japan, borrowed from American taxpayers. And over the next 5 years, between now and 2011, the President's budget will increase the debt by almost another $3.5 trillion.

Numbers that large are sometimes hard to understand. Some people may wonder why they matter. Here is why: This year, the Federal Government will spend $220 billion on interest. That is more money to pay interest on our national debt than we'll spend on Medicaid and the State Children's Health Insurance Program. That is more money to pay interest on our debt this year than we will spend on education, homeland security, transportation, and veterans benefits combined. It is more money in one year than we are likely to spend to rebuild the devastated gulf coast in a way that honors the best of America.

And the cost of our debt is one of the fastest growing expenses in the Federal budget. This rising debt is a hidden domestic enemy, robbing our cities and States of critical investments in infrastructure like bridges, ports, and levees; robbing our families and our children of critical investments in education and health care reform; robbing our seniors of the retirement and health security they have counted on.

(…)

Increasing America's debt weakens us domestically and internationally. Leadership means that "the buck stops here." Instead, Washington is shifting the burden of bad choices today onto the backs of our children and grandchildren. America has a debt problem and a failure of leadership. Americans deserve better.

I therefore intend to oppose the effort to increase America's debt limit"
With sufficient research, you can find similar quotes from Democrats such as current Senate Majority Leader Harry Reid and other top Democrats who have spent the better part of the past several years railing against Republicans who used similar rhetoric and similarly opposed raising the debt ceiling. As I've noted before, the politics of the debt ceiling encourage this type of behavior:
Raising the debt ceiling is a crappy vote for any legislator to take. It demonstrates as plain as day the fiscal irresponsibility of the Federal Government, and the act of voting to push the debt limit even further into the fiscal stratosphere is one that looks bad on any representative's resume.
Ideally, we ought to seriously consider eliminating the debt ceiling entirely, although it seems highly unlikely that any Congress is going to agree to give up what has become a sometimes effective bargaining chip in budget negotiations Another alternative would be to bring back what was called the Gephardt Rule, under which increases in the debt ceiling were tied to the passage of the annual Federal Budget Resolution. That rule wasn't entirely perfect though in that it only applied in the House and didn't necessarily mean the end of budget/debt ceiling showdowns and even government shutdowns during both the Carter and Reagan Administrations. Without such reforms, though, we will have to continue to rely on Congress to raise the debt ceiling when needed and to avoid turning it into a political crisis every time it has to be done. As I noted above, it isn't an easy vote for most representatives, but the fact that it is a difficult vote that's hard to explain to constituents isn't an excuse for behaving irresponsibly.
As I have stated before, if the GOP was serious about cutting spending they would take care of it where it ought to be taken care of, during the Budget and Appropriations process. Refusing to raise the debt ceiling does nothing at all to control spending. All it does is make it potentially impossible for the Treasury Dept to pay for things that Congress has already ordered them to pay for. This could mean possibly not being able to pay interest on the National Debt, which would be catastrophic, or it could also mean not being able to pay any number of  government expenses ranging from salaries for Federal workers to payments owed to private companies that have provided services to the Federal Government. The economic impact of not making this second group of payments would be quite serious. That's why refusing to raise the debt ceiling is a stupid, irresponsible, act.