Democrats Say They Reached A Deal With Trump On DACA
Trump makes a DACA deal, apparently.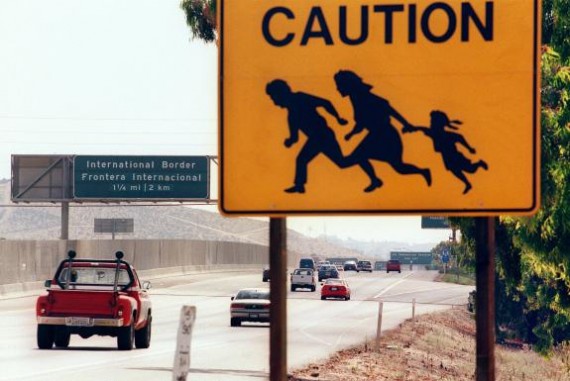 After a meeting last night at the White House with the President, top Democrats are claiming that they reached a deal with President Trump that would extend the Deferred Action for Childhood arrivals (DACA) that would not include funding for Trump's border wall:
WASHINGTON — Democratic leaders on Wednesday night declared that they had a deal with President Trump to quickly extend protections for young undocumented immigrants and to finalize a border security package that does not include the president's proposed wall.

The Democrats, Senator Chuck Schumer and Representative Nancy Pelosi, said in a joint statement that they had a "very productive" dinner meeting with the president at the White House that focused on the program known as Deferred Action for Childhood Arrivals, or DACA. "We agreed to enshrine the protections of DACA into law quickly, and to work out a package of border security, excluding the wall, that's acceptable to both sides," they said.

But on Thursday morning, the president contradicted the Democrats, saying no deal had been struck.

In a statement on Wednesday night, the White House was far more muted, mentioning DACA as merely one of several issues that were discussed, including tax reform and infrastructure. It called the meeting, which came a week after the president struck a stunning spending-and-debt deal with the Democratic leaders, "a positive step toward the president's strong commitment to bipartisan solutions."

But the bipartisan comity appeared to have its limits. In a tweet, Sarah Huckabee Sanders, the White House press secretary, disputed the Democrats' characterization of Mr. Trump's stance on the border wall. "While DACA and border security were both discussed, excluding the wall was certainly not agreed to," she wrote.

Mr. Schumer's communications director, Matt House, fired back on Twitter: "The President made clear he would continue pushing the wall, just not as part of this agreement."

While Democratic leaders sought to frame the Wednesday dinner as a victory for their priorities, Republican votes will be needed for any immigration overhaul. Hard-liners in Congress were flummoxed by word of a potential deal on DACA, one that could push some of Mr. Trump's electoral base away from him.

Representative Steve King, Republican of Iowa, wrote on Twitter that if the reports were true, "Trump base is blown up, destroyed, irreparable, and disillusioned beyond repair. No promise is credible." The website Breitbart, run by Mr. Trump's former chief strategist, Stephen K. Bannon, had the headline "Amnesty Don."

Some Republicans were more receptive. Senator Jeff Flake of Arizona, a frequent critic of the president, said on Twitter: "Kudos to @POTUS for pursuing agreement that will protect #Dreamers from deportation." The young immigrants are often referred to as Dreamers.

The dinner was a follow-up to a meeting that Mr. Schumer and Ms. Pelosi had with the president in the Oval Office last week, during which Mr. Trump agreed to the Democrats' proposal for a vote on a debt-ceiling increase and a government funding measure that also included a Hurricane Harvey aid package.

While the two top Republican congressional leaders, Senator Mitch McConnell and Speaker Paul D. Ryan, attended that meeting, they were absent from the Wednesday night dinner.

A total of 11 people were seated at the table in the Blue Room of the White House on Wednesday night, with the first 30 minutes of the meeting focused on China trade issues, according to one person briefed on the dinner. The meal served was Chinese food, an intentional nod to China trade, on which Mr. Trump and Mr. Schumer hold their closest views.

On the DACA program, Mr. Trump has given Congress six months to find a legislative solution to extend the protections that President Barack Obama granted by executive order. But before the dinner on Wednesday night, prospects for quickly enacting a replacement for DACA had appeared to be flagging in Congress.

"With all the other things going on right now, it's kind of put on the back burner," said Representative Mike Coffman, Republican of Colorado, who had pulled back a petition he had hoped to use to force the House to take up legislation on the program. Representative Bob Goodlatte of Virginia, chairman of the House Judiciary Committee, has said that the program is at the end of a list of immigration priorities.

A White House aide insisted that Mr. Trump had always left open the possibility of passing a DACA fix without funding for a border wall, and insisted that he had not moved away from the wall as a priority. During the Wednesday dinner, it was John F. Kelly, Mr. Trump's chief of staff, who made the more detailed case for the wall, according to a person briefed on the discussion.

The wall was a key campaign pledge by Mr. Trump, but Democrats are vehemently against it.

Mr. Trump recently began to wind down DACA, which has provided protection from deportation for roughly 800,000 young undocumented immigrants. But he has been torn about it.

The president has sent conflicting signals about his intentions regarding the program, saying he would end it but urging Congress to come up with a legislative solution during the six-month wind-down period. But he has also told people he would revisit the issue after the six-month period if Congress did not act.

That would be a difficult task, since his own attorney general, Jeff Sessions, has declared DACA unconstitutional and an overreach of authority. It is not clear what mechanism Mr. Trump thinks he might have to put the program back in place through the executive branch.

At the White House earlier on Wednesday, Mr. Trump's anti-immigration national policy adviser, Stephen Miller, told people that the administration would never allow a version of the replacement legislation, known as the Dream Act, to pass.

Mr. Trump's zigzagging statements on the program, and his drift back toward preserving it, came after days of deeply negative news media coverage over his decision to end the program. Mr. Trump, who pays close attention to the headlines, told advisers he was bothered by the seemingly endless bad press over DACA.
>Not surprisingly, the immediate reaction overnight to reports of this deal was quite negative on the conservative side of the aisle. In addition to the comments from people such as Iowa Congressman Steve King, pundits and news sources that have so far been strongly pro-Trump were quite negative. Ann Coulter tweeted out things such as "Put a fork in Donald Trump, he's dead." and "At this point, who DOESN'T want Trump impeached?" While Laura Ingraham labeled the reported "the art of the steal," and sent out several other tweets critical of Trump. Breitbart News, meanwhile, headlined their report on the purported deal by labeling the President as "Amnesty Don."  This morning, Trump denied that a complete deal had been reached, but also didn't directly contradict the claims made by Schumer and Pelosi. Trump's own tweets, as well as his comments to the media as he was heading off to Florida to survey the damage from Hurricane Irma.
Here's how Trump put it on Twitter:
No deal was made last night on DACA. Massive border security would have to be agreed to in exchange for consent. Would be subject to vote.

— Donald J. Trump (@realDonaldTrump) September 14, 2017
The WALL, which is already under construction in the form of new renovation of old and existing fences and walls, will continue to be built.

— Donald J. Trump (@realDonaldTrump) September 14, 2017
Does anybody really want to throw out good, educated and accomplished young people who have jobs, some serving in the military? Really!…..

— Donald J. Trump (@realDonaldTrump) September 14, 2017
…They have been in our country for many years through no fault of their own – brought in by parents at young age. Plus BIG border security

— Donald J. Trump (@realDonaldTrump) September 14, 2017
And here's Trump's statement to reporters:
Trump, about to take off to Florida, on DACA: "We're working on a plan," Ryan/McConnell "very much on board." "The wall will come later." pic.twitter.com/CwPzeozU6C

— Tom Namako (@TomNamako) September 14, 2017
Finally, Schumer and Pelosi released a joint statement this morning saying that Trump's tweets this morning are not inconsistent with what was agreed to last night:
New Schumer/Pelosi statement on DACA negotiations/deal parameters: pic.twitter.com/iZsWwcaaJl

— Phil Mattingly (@Phil_Mattingly) September 14, 2017
As with always, the devil here will be in the details, but it certainly does seem as though there has been some kind of deal made that will include allowing most if not all of the people presently covered by the DACA program to stay in the country permanently and to eventually become either permanent residents or perhaps even citizens at some point down the road. As far as border security is concerned, it appears that the President is relying on reassurances about "fixing" portions of the existing border without insisting on the border wall that he promised his supporters and without following through on the promise that Mexico would pay for it. In this context, the idea that the border wall and the funding for it would come at some point later down the road seems like little more than a bone being thrown to Trump's die hard supporters, who will probably not be entirely happy with that end of the deal.
Politically, of course, this is a smart move on the part of the Administration. As I've noted recent polls have shown that most Americans, including even a plurality of Trump supporters, favor the idea of allowing DACA recipients to stay in the country, with many of them even accepting the idea that they could eventually become citizens. Additionally, support for the border wall is only strong among Trump supporters, who are a small part of the overall electorate, and nobody really expects that Mexico would pay for it.  While those people are left holding the bag, the fact that DACA beneficiaries will apparently be protected after all is, in the end, quite a positive development.