The Problem With The Trump White House is Donald Trump, Not Steve Bannon
The problem with the Trump White House is the man who sits behind the Resolute Desk.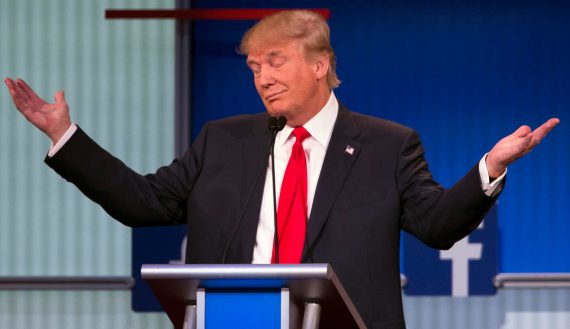 Justin Sink at Bloomberg pushes back against the idea that Stephen Bannon's departure is likely to lead to a calmer, less chaotic, White House:
In any other White House, Bannon's departure as chief strategist on Friday would serve as a reset for the administration following a disastrous week dominated by the president's combative insistence that "both sides" were to blame for the violence at a white nationalist rally in Charlottesville, Virginia.

It's the boldest stroke in Chief of Staff John Kelly's attempt to impose order on a White House divided into warring camps. And it would appear to give a boost to those within the White House who opposed Bannon's hard-line anti-trade instincts, military isolationism, and hostility to the federal bureaucracy.

Trump commented on Bannon's departure for the first time in a tweet early Saturday: "I want to thank Steve Bannon for his service. He came to the campaign during my run against Crooked Hillary Clinton – it was great! Thanks S."

But Bannon, 63, will now take his battle to the outside — where the president and his advisers will have no control over his message. Bannon has ample access to funding through his close relationships with conservative billionaire Bob Mercer and other major Republican donors.

Kurt Bardella, a Republican communications specialist who worked for Bannon at Breitbart but later denounced him, predicted the strategist would "feel liberated" by his departure.

"Now, he will be able to operate openly and freely to inflict as much damage as he possibly can on the 'globalists' that remain in the Trump Administration," Bardella said.

Speaking in an interview with Bloomberg shortly after his departure, Bannon vowed to do just that.

"If there's any confusion out there, let me clear it up: I'm leaving the White House and going to war for Trump against his opponents — on Capitol Hill, in the media, and in corporate America," said Bannon, who returned to the job he left to join Trump's campaign, executive chairman of the conservative website Breitbart News.

The same crisis that accelerated Bannon's ouster also underscores why the reset is unlikely to be more than symbolic: the man at the top.

To his own detriment, the president resisted an unequivocal condemnation of white supremacists violence in Charlottesville a week ago, a position cheered on by Bannon.

The episode was an authentic representation of Trump. The president has made clear he's naturally inclined to stake out politically incorrect positions and serially unwilling to apologize for missteps. His electoral victory despite a string of controversies that would have felled nearly any other politician has left Trump, 71, with the impression he's unlikely to pay any political cost for stoking outrage.

He's been unable, though, to replicate his surprise electoral success in Washington, where the lawmakers and establishment interests he enjoys alienating control important levers of power. There's little about Bannon's departure that will help pass an Obamacare repeal, a tax overhaul, or a $1 trillion infrastructure plan.

The strategist's exit won't repair relationships frayed by caustic attacks, a reflex on display again this week as Trump launched public tirades against corporate chief executives and Republican senators who dared to criticize him. Nor will Bannon's departure convince lawmakers to support the agenda of a president with historically low poll ratings.
This is another way of addressing the same point I made in a comment to James Joyner's post on Bannon's departure and the question of whether or not it represents the beginning of the marginalization of the far-right inside the White House. As I noted in that comment, Bannon leaving the White House does not change the fact that Donald Trump is still President, and it is Trump that is largely responsible for what we've seen unfold over the past 211 days. Donald Trump is the one who has consistently said outrageous things in public appearances and Tweets that through his Administration off track, for example. And it's clear that Trump's initial response to the Charlottesville violence last weekend and his comments on Tuesday represent what he truly believes about what happened rather than the more measured response he read from prepared remarks during his brief return to the White House on Monday.
Additionally, the idea that it was  Bannon who was largely responsible for Trump's tilt to the far-right on issues ranging from immigration to trade to cultural issues can be demonstrated to be false simply by looking at the history of Trump's campaign for the White House. Trump launched his campaign in June 2015 with a blatant appeal to anti-immigration sentiment, for example, when he used the occasion of that first campaign speech to blast Mexican immigrants as rapists and criminals, and it just went downhill from there. By December, he was calling for a ban on Muslims entering the country, a policy proposal that was among the first things he did upon entering office, albeit in a somewhat revised format. Steve Bannon didn't join the Trump campaign until a year ago this weekend, and by then Trump had already done other things such as attacking a Gold Star Family that spoke at the Democratic National Convention and attacking the Judge handling the cases against Trump University by alleging that his Mexican-American heritage biased him against Trump somehow. Bannon may have shared many of the same attitudes as Trump, and emphasized them during his time at Breitbart News, but he didn't plant those ideas in the President's head. Bannon also can't be held to be responsible for Trump's tone, attitude, and behavior as President since all of these are utterly consistent with the way the man has acted in public since the time he first became a public figure back in the 1980s.
The problems that plague the Trump Administration are, at their core, solely attributable to Trump himself. He's unlikely to change, and if his history both before and after he entered politics have shown us anything it is that nobody can "handle" Donald Trump or tell him what to do or how to act. His family can't do it, his friends can't do it, and it's unlikely that a group of advisers that are mostly new to him will be able to do it. For that reason, there's no reason to believe that anything is going to change inside the White House itself. This likely means more out of control tweets, more off the cuff remarks from a clearly unhinged President, and more chaos in the White House that prevents anyone who actually wants to accomplish anything from doing so. The man at the top is the problem, and that's not going to change until January 20, 2021 at the earliest.