Rex TIllerson Throws Trump Under The Bus Over Charlottesville Response
Donald Trump's Secretary of State is refusing to defend his response to the violence in Charlottesville.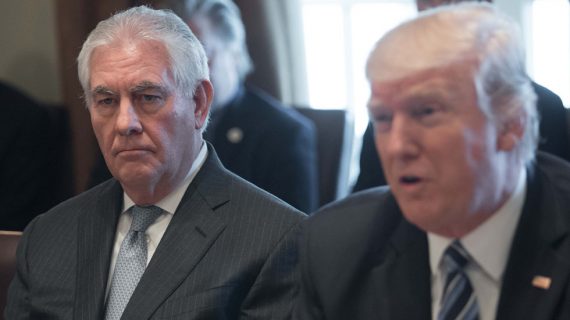 Secretary of State Rex Tillerson refused to endorse President Trump's comments about the events in Charlottesville, Virginia this morning, becoming the latest Cabinet member to distance himself from the President's divisive remarks:
Secretary of State Rex Tillerson seemingly distanced himself Sunday morning from President Donald Trump's widely criticized responses to a deadly white supremacist rally earlier this month in Virginia, telling "Fox News Sunday" that there should be no doubt about the U.S. government's commitment to long-held values but that "the president speaks for himself."

Tillerson was asked Sunday about the president's remarks in Phoenix last week, in which he defended his initial response to the white supremacist march in Charlottesville, Virginia, which included a condemnation of "hatred, bigotry and violence — on many sides." At a press conference days later, the president said there had been "very fine people" on both sides of the violent clashes between the white supremacists and the groups gathered to protest their presence.

The president's response to the Charlottesville rally prompted a rebuke from the United Nations Committee on the Elimination of Racial Discrimination, which condemned what it called the "failure at the highest political level" to "unequivocally reject and condemn" the hate groups. Tillerson said Sunday that the nation's commitment to combating discrimination should be without question.

"We express America's values from the State Department. We represent the American people, we represent America's values, our commitment to freedom, our commitment to equal treatment of people the world over and that message has never changed," Tillerson said. "I don't believe anyone doubts the American people's values or the commitment of the American government or the government's agencies to advancing those values and defending those values."

"And the president's values?" Fox anchor Chris Wallace followed up, to which the secretary of state replied: "The president speaks for himself, Chris."

"Are you separating yourself from that, sir?" Wallace asked.

"I've spoken — I've made my own comments as to our values as well in a speech I gave to the State Department this past week," Tillerson said.
Here's the video of Tillerson's comments:
Must-watch. Wallace asks Tillerson if Trump speaks for American values: "The President speaks for himself." (Note Wallace's reaction.) pic.twitter.com/fHEk6qjwPd

— Kyle Griffin (@kylegriffin1) August 27, 2017
Tillerson isn't the only Cabinet member to speak out in the wake of President Trump's divisive remarks following the violence in Charlottesville, which include both his initial comments and the statements he made at a press conference just a day after prepared remarks he made at the White House that were somewhat better. Late last week, Gary Cohn, the head of Trump's Council of Economic Advisers, responded to nearly a weeks worth of pressure from national Jewish organizations calling on him and other Jewish members of Trump's cabinet to take a stand against Trump's implicit endorsement of the neo-Nazi rhetoric of the marchers and organizers of the rally in Charlottesville where participants were videotaped chanting Nazi-like slogans such as "Blood and Soil!" and "Jews will not replace us!." Cohn finally responded last Friday with comments that clearly distanced himself from the President, and which indicate that he came close to resigning his position over the controversy:
Gary D. Cohn, the director of the White House Economic Council, wrote a resignation letter after President Trump blamed "both sides" in the deadly protest this month against a Charlottesville, Va., rally by white supremacists and neo-Nazis, according to three people familiar with the document.

Mr. Cohn ultimately changed his mind and decided in recent days to remain on as Mr. Trump's chief economic adviser, said one person familiar with his thinking.

But in a stunning critique of the president, Mr. Cohn told The Financial Times in an interview published on Friday that the Trump administration "can and must do better" to condemn hate groups and "do everything we can to heal the deep divisions that exist in our communities."

Mr. Cohn is an architect of a broad set of tax reforms that the White House hopes will deliver the first legislative victory of Mr. Trump's tumultuous administration. The president next week will travel to Springfield, Mo., in a push to sell the tax reform package.

But Mr. Cohn was anguished, according to a friend and two other people familiar with his thinking, by Mr. Trump's remarks after the Aug. 12 violence that resulted in the death of a 32-year-old woman who was protesting neo-Nazis and Ku Klux Klan demonstrators in Charlottesville.

On Aug. 15, Mr. Cohn stood nearby in the lobby of Trump Tower, where the president told reporters there also were "very fine people on both sides" of the Charlottesville rally. After Mr. Trump left, Mr. Cohn stood uncomfortably fielding questions about the president's statements, and he repeatedly declined to comment.

He debated for over a week with his wife and friends on whether to quit, according to the people familiar with his thinking. This week, Mr. Cohn decided to remain in his job, believing he could be more effective as a public servant inside the White House than out of it.

He is one of the few Jewish members in the administration who have publicly condemned Mr. Trump's remarks about Charlottesville, although he has quietly disagreed with the president on a number of policy matters.

As Mr. Trump stood by his equivocal comments on Charlottesville and business leaders left presidential advisory panels in protest, Mr. Cohn told The Financial Times, he felt "enormous pressure" to step down. Various friends, and Mr. Cohn's wife, were at one point among those who were urging him to resign, said several people familiar with their advice.

A senior administration official said the president was not surprised by Mr. Cohn's remarks to The Financial Times. Another official said the sentiments had been relayed clearly to Mr. Trump, and Mr. Cohn had said that if asked, he would say how he felt.

(…)

It is highly unusual for a senior member of any presidential administration to publicly discuss the possibility of stepping down. Geoff Garin, a veteran Democratic pollster who worked on Hillary Clinton's 2008 presidential campaign, said even though Mr. Cohn did not criticize Mr. Trump by name in the Financial Times interview, "the comments are still very tough and very blunt, including his comments about the push-and-pull whether to stay and whether to go."

"There's no effort to conceal the fact that what Trump said was wrong and troubling," Mr. Garin said. "And it's hard to think of very many precedents for somebody like that who is a high-ranking presidential adviser."

Mr. Cohn told The Financial Times that "as a Jewish American, I will not allow neo-Nazis ranting 'Jews will not replace us' to cause this Jew to leave his job."
So far there has been no response from the White House to Tillerson's remarks, but it's worth noting that the response to Cohn's remarks was not positive. While the article does quote a senior Administration official saying the President was "not surprised" by Cohn's remarks, other reports have said that Trump was privately furious with Cohn when his remarks became public shortly before the President left for Camp David for the weekend. Additionally, Roger Stone, who remains close to Trump even though he's not part of the White House staff, said via his Twitter account that Cohn should be "fired immediately for his public attack" on the President. The Washington Post reported, for example, that Trump could end up reconsidering his inclination to appoint Cohn as the next Chairman of the Federal Reserve Board when Janet Yellin's term comes to an end later this year. In the private world, Breitbart News, once again headed by former Presidential adviser Steve Bannon, attacked Cohn while simultaneously praising Secretary of the Treasury Steve Mnuchin, who refused to condemn Trump as has Elaine Chao, Trump's Transportation Secretary who is also the wife of Senate Majority Leader Mitch McConnell. In addition to Cohn and Tillerson, Trump also received something of a rebuke over his remarks from within the military. Only days after Trump's remarks, the Joint Chiefs of Staff issued public statements via their respective Twitter accounts saying that the U.S. military remains committed to standing against bigotry and hatred. Secretary of Defense James Mattis backed up his Chiefs in a public statement early last week.
One could, I suppose, criticize these officials for not resigning their positions in response to Trump's statement, and that's a perfectly legitimate position to take in this controversy. At the same time, though, it's worth noting that many of these people, especially Tillerson and Mattis, seem to have agreed to take on the jobs that they have for the primary purpose of serving their country, not as an endorsement of the President. Given that, they likely feel that they have a responsibility to stay around and do what they can for the good of the country notwithstanding the mercurial and often irrational person occupying the Oval Office at the moment. This seems to me to be especially important with regard to people like Mattis and Tillerson, who are largely recognized as voices of reason inside the Administration on some of the most important issues facing the nation and the world. Along with National Security Adviser H.R. McMaster, these two men are arguably the most important members of the Administration at a time when the United States is dealing with crisis points in Iraq, Syria, Ukraine, and North Korea. Were they to step aside, or be replaced by people who are far less trustworthy in these areas such as former United Nations Ambassador John Bolton, who was reportedly on Trump's short list for Secretary of State, the nation would be in serious danger of doing something incredibly stupid on some of the most important issues facing the world today, they would end up doing more harm than good. Of course, there's nothing stopping Trump from firing all of these people for their efforts to distance themselves from him, but he seems for now at least to recognize that his foreign policy team is as good as its ever going to be.
In any case, Tillerson deserves credit for his rebuke of the President. Now other members of the Cabinet need to speak up.