Have Conservatives Finally Had Enough Of Sarah Palin?
The Sarah Palin bloom seems to be off the rose.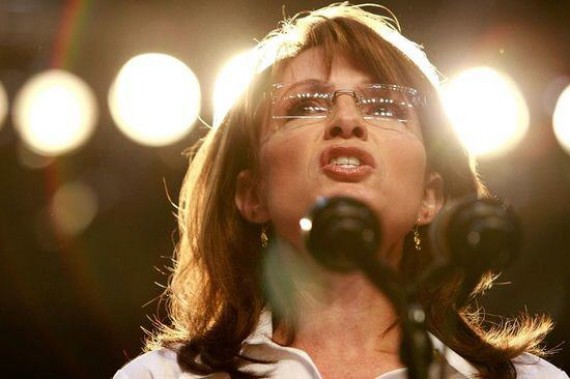 There are signs out there that the Sarah Palin magic has worn off with many conservatives as they turn their attention to the Presidential race and Palin continues to play her teasing game with the media and the GOP over whether or not she's throwing her hat into the Presidential race. I first noticed it on Saturday afternoon, after Palin's speech in Iowa, in this post at Ace of Spades:
[A]fter the encouragement of interest, and the cultivation of speculation about what that "major announcement" might be, it was a very standard-issue and not-particularly-important or novel stump speech.

Some might find this sort of coyness and games-playing "brilliant" or the like. I don't.

Some may claim she "played a trick on the media." Yes, the media. And everyone else too.

So who was actually getting his chain yanked there? The media was getting paid, which is all they care about.

Palin got lots of attention for a speech that turned out to be extremely bullet-point and frankly trivial.

I don't consider this an achievement. I just consider it manipulative, and I don't just laugh it off as playing a prank on the stupid media.

A lot of people traveled a very long way and sat out in the rain for something that was suggested just might be The Big Announcement. A lot of people watched on TV.

And what they saw was a no-brainer stump speech.

Who's being pranked here? The media in attendance were all paid to be there. Their travel arrangements were comped. They'll get back their vacation day. And it was either covering this or covering Jon Huntsman.

What about everyone else?
Not surprisingly Ace took substantial heat for this post, but he hasn't backed down, and has continued to speak bluntly about Palin on his Twitter feed since that post went public. And he's not alone. Consider. for example, this exchange between Laura Ingraham and Ann Coulter last night on Fox News Channel where Coulter states bluntly that Palin is unelectable, that many conservative pundits have been afraid to speak out against her because of the hate mail that her supporters will inevitably send, and calls Sarah Palin the GOP's Barack Obama ("She's become sort of the Obama of the tea party, she's just 'The One' to a certain segment of right-wingers."):

Take Coulter for what you will, but I don't think you can understate the significance of people talking like this on the very network that employs Palin to provide commentary (although it's worth noting that Bill O"Reilly, who Ingraham was subbing for, has been much less of a sycophant toward Palin than his fellow Fox hosts like Sarah Palin and Greta Van Susterin).
Then, this morning, Red State's Erick Erickson is out with a broadside against not just Palin's electoral teasing, but also the sycophantic fans who are as bad as the most rabid Ron Paul supporters in the vitriol they unload on people who dare to make the slightest criticism of their chosen candidate:
To not bow at the throne of Sarah you get disowned. You get attacked. You have people drum up stories attacking your credibility.

(…)

There are many, many good people who support Sarah Palin and feel like they owe it to her to support her given what she has been through — from her shoddy treatment at the hands of Team McCain to an unrelenting press. But these people who have sat and continue to sit patiently and quietly waiting for Sarah Palin to finally make up her mind are starting to get frustrated. And some of them are getting aggravated by and drowned out by The Palin Fan Cult. The cult is full of people with little prominence outside a twitter stream, a few nominal soapboxes imagined to be bigger they they are, and possessing a lot of bile and little grace inside an echo chamber of indecision 2012 dementia. About the only thing this cult lacks are thetans.

Sarah Palin is a great person. She's a great fighter. She draws in awesome attention and rallies a crowd. She has some terrific and loyal supporters I don't want to lump in with the loud voices largely now disconnected from political reality. Ron Paul is the same way. But at some point, Sarah Palin has to take some responsibility for her supporters as Ron Paul must for his. Palin's dragging out the tease on her decision has compounded the problem and we've reached a breaking point.

The comparisons to a late Reagan entry in 1980 and late Clinton entry in 1992 are frivolous and false comparisons. While both waited to make it official until November for Reagan and October for Clinton, it was abundantly clear to people even outside their most ardent supporters that they were running. Few outside Palin's most ardent fans think she is running and, at this point, a sizable majority no longer care.

As Ann Coulter said, "Fish or cut bait." Governor Palin has teased us long enough. Most of us are tired of it. She has harmed her own entry into the race and now, even if she got in, would only see a modest rise in polling.

(…)

I'm tired of the tease. But I'm even more tired of the angry cranks and Palin prophets who swear to know her every move and have shown neither ideological nor political moorings in anything other than their hopes and wishes poured into the vessel of their ambition named L. Ron Hubbard Sarah Palin. That's exactly what many lefties did with Barack Obama. Like Barack Obama, Sarah Palin is just a mortal politician, just a human of the same sinful flesh as the rest of us passing through this place on her way to eternity just like you and me.

We should not set Palin on a pedestal so high she shatters if she falls off, but that's what her most ardent fans have done. Thanks to Palin's own conduct, if she does shatter by either not running or running and losing the nomination, the Palin Fan Cult gives me and many others the strong impression they'd rather shatter all the other candidates than have anyone but Palin herself win.
As someone who has not held back their opinion of Sarah Palin for the past three years, I can certainly relate to what Erickson writes about here. Even the slightest criticism of Palin, or even citing a poll that shows that she is even less popular today than she was at the end of the 2008 Presidential campaign, puts one at the mercy of the Palinistas. I've been told I'm obsessed, that I'm an Obama support, that I hate Sarah Palin, conservatives, or, most bizarrely of all, women merely because I haven't falllen down and worshiped at the throne with them. What people like this didn't seem to realize, though, is that they were burning bridges even as they were defending their Chosen One. When you attack someone for even the slightest transgression, you tend to turn them off, not just to you, but to the person you're supporting. I said during the 2008 Republican primary season that Ron Paul's worst enemies were the same committed supporters who were supporting him. The same is true of Palin supporters. Not only has Palin pissed people off with her actions, but her supporters make the situation worse by viciously attacking anyone who dares criticize her.  While Palin has nobody but herself to blame for her problems,her supporters have done her no favors.
There's evidence for the idea that the right is getting over its Palin love-fest beyond what bloggers and pundits have to say, though. As I noted last week, nearly three-quarters of Republicans said in a recent poll that they don't want her to run for President. Largely this is most likely a reflection of the fact that Republicans have noticed that Palin continues to get handily beaten (a worse performance than Bachmann, Paul, Cain, and even Huntsman) by President Obama in head-to-head match-ups, and an indication that her sky-high unfavorable rating is made up of more than just a bunch of Democrats who don't like her.
The Palin magic is wearing off, it seems, and conservatives are waking up. My only question is., what took you so long?