Republican Establishment vs. Sarah Palin
Unnamed Republican leaders are lined up to ensure that anybody but the former VP nominee is the party's 2012 standard bearer.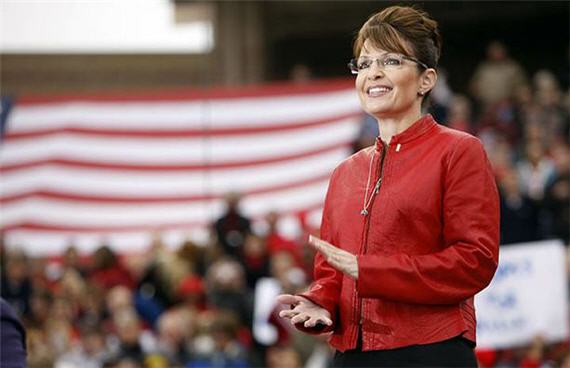 Mike Allen and Jim Vandehei of Politico report ("Next for GOP leaders: Stopping Sarah Palin") that unnamed Republican leaders are lined up to ensure that anybody but the former VP nominee is the party's 2012 standard bearer.
Interviews with advisers to the main 2012 presidential contenders and with other veteran Republican operatives make clear they see themselves on a common, if uncoordinated, mission of halting the momentum and credibility Palin gained with conservative activists by plunging so aggressively into this year's midterm campaigns.

[…]

"There is a determined, focused establishment effort … to find a candidate we can coalesce around who can beat Sarah Palin," said one prominent and longtime Washington Republican. "We believe she could get the nomination, but Barack Obama would crush her."  This sentiment was a nearly constant refrain in POLITICO interviews with top advisers to the candidates most frequently mentioned as running in 2012 and a diverse assortment of other top GOP officials.

[…]

The stop-Palin talks are by no means coordinated among the various campaigns. But top advisers for most of the 2012 hopefuls told us the candidates — as well as many establishment figures — are fixated on the topic, especially on how to keep her from running or how to deny her the nomination if she does run.

[…]

[N]onchalance has turned to alarm among party elites in 2010, as Palin repeatedly showed her clout among a key bloc of anti-establishment conservatives. Obviously relishing her role as a powerful force in GOP primaries, Palin made risky but decisive endorsements for Senate candidates such as Joe Miller in Alaska and Christine O'Donnell in Delaware, both of whom beat establishment favorites but in the process made those states less winnable for the GOP.

[…]

The establishment-vs.-activists narrative is hardly novel in presidential primaries. What's different this time is that the anti-establishment candidate — Palin — would enter with unmatched celebrity and media advantages, at a time when the establishment is weaker than it's been in many years.
Stories like this feed Palin's sense of being an aggrieved outsider.  This, despite having been the most recent vice presidential nominee.
It's likely the case that, if Palin decides to run — and I'm slowly coming around to the notion that she aims to do so, despite every move seemingly calculated to make her less plausible for the presidency — she'll not only be the frontrunner but the candidate everyone else is gunning for.   As it stands now, Mitt Romney is the only other candidate with demonstrated ability to raise enough money and build a national organization.   And he's not exactly without flaws as a contender.
Aside from getting behind a single, alternative candidate early and persuading everyone else to drop out of the race, I'm not sure what it is the Establishment can do.  The piece attributes to a "longtime Republican leader" the notion that "party elders hope to thwart Palin by strengthening the Republican National Committee."   But it's not at all clear what good that would do.  The RNC doesn't endorse, fund, or otherwise help primary candidates.
And the Republican nominating process, specifically designed to give a huge advantage to early frontrunners by awarding delegates on a winner-take-all basis, could have the perverse effect of nominating the candidate that a majority thinks would be a disaster.   She could easily get a plurality in Iowa, New Hampshire, and South Carolina — especially in a crowded field.
The Establishment's best hope, aside from Palin deciding she wants to be the next Oprah rather than the next Obama, is for another candidate with strong Tea Party appeal to run and split that voting bloc.  But who would that be?   Mike Huckabee would seem the obvious choice — he was technically the number two finisher (by virtue of staying in to collect delegates long after the race was over, unlike Romney) in 2008, and legitimately the number three finisher.   But does he have any juice left?  Or has Palin supplanted him as the outsider candidate?