Trump Won't Assert Executive Privilege Against Comey Testimony
The Trump Administration will not try to stop former F.B.I. Director James Comey from testifying before the Senate Intelligence Committee on Thursday.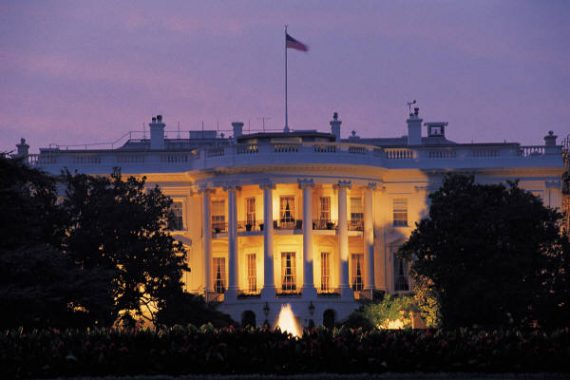 With former F.B.I. Director James Comey set to testify Thursday morning before the Senate Intelligence Committee, one of the questions overhanging the hearing was whether he would be able to testify at all. For the better part of last week, the White House was declining to say whether or not the President would seek to potentially halt Comey from testifying by asserting Executive Privilege with respect to any communications between the President and Comey during the time that Comey was serving as F.B.I. Director. Had he done so, there likely would have at least delayed Comey's testimony since it would have likely required a court battle over the issue, with Administration lawyers battling with Committee lawyers in what would have potentially been one of the most consequential debates about Executive Privilege since the Nixon Administration. As it turns out, though, there will be no such legal debate because the White House has announced that it will not be asserting Executive Privilege with respect to Comey's testimony:
WASHINGTON — White House officials said on Monday that President Trump would not invoke executive privilege to try to block James B. Comey, the F.B.I. director he fired, from testifying before Congress this week, clearing the way for a hearing that may be the most anticipated in Washington in months, if not years.

Mr. Comey is scheduled to appear before the Senate Intelligence Committee on Thursday for his first public discussion of the events that led to his dismissal last month in the midst of leading an investigation into associates of Mr. Trump's. Lawmakers are especially interested in reports that Mr. Trump sought to persuade Mr. Comey to shut down an investigation into the president's former national security adviser.

It was not clear that Mr. Trump would have succeeded in stopping Mr. Comey from testifying had he chosen to cite executive privilege. The Supreme Court has found that presidents enjoy a right to confidentiality in communications with their advisers, but it is not an absolute privilege and courts have overridden such claims in the past.

If Mr. Trump had tried to assert executive privilege and the Senate committee challenged him in court, legal experts said, Mr. Trump had a weak case because he has himself publicly discussed his private conversations with Mr. Comey.

"The president's power to assert executive privilege is well established," Sarah Huckabee Sanders, a White House spokeswoman, told reporters. "However, in order to facilitate a swift and thorough examination of the facts sought by the Senate Intelligence Committee, President Trump will not assert executive privilege regarding James Comey's scheduled testimony."

The president fired Mr. Comey on May 9 as the F.B.I. was looking into contacts between Russia and Mr. Trump's associates. While Mr. Trump and his aides initially said he had acted at the recommendation of the deputy attorney general because of the way Mr. Comey handled last year's investigation into Hillary Clinton's emails, Mr. Trump later said that he had already decided to fire the F.B.I. director regardless of any recommendations and that he had the Russia investigation in mind.

In the weeks since, associates of Mr. Comey have said the former director felt uncomfortable about efforts by Mr. Trump to compromise the bureau's traditional independence. Just days after Mr. Trump's inauguration, he invited the director to dinner and, according to people familiar with Mr. Comey's account, asked him repeatedly for his loyalty, which Mr. Comey declined to give. Mr. Trump has denied that he did so, but he said it would not have been wrong if he had.

A few weeks later, the day after Mr. Trump pushed out Michael T. Flynn, his national security adviser, who had provided misleading accounts of a phone call with Russia's ambassador, the president asked Mr. Comey to drop the investigation into Mr. Flynn, according to notes taken contemporaneously by Mr. Comey and read to a New York Times reporter. Mr. Comey refused.
The idea of Executive Privilege originates, somewhat ironically given the outcome of the case, from the Supreme Court's 1974 opinion in United States v. Nison. In that case, which was handed down just weeks before President Nixon resigned from office amid the gathering storm of Watergate, the Supreme Court ruled unanimously that the President must turn over the tapes he had recorded in the Oval Office regarding his conversations with advisers regarding the Watergate break-in, the subsequent investigation of that break-in, and the effort to cover-up evidence of links between that event and the White House and close advisers to the President. In doing so, though, the Court ruled that there is at least a limited privilege that exists that prevents a President or those close to him from having to reveal the contents of certain communications. In doing so, the Court recognized the need for the existence of such a privilege by citing the importance that there exist some level of confidence that confidential matters discussed by and between the President and top Executive Branch appointees will remain private. The Court ruled, however, that Executive Privilege is not an absolute privilege and that there are circumstances when it could be ignored if asserted if there was a larger public interest that required disclosure of the communications in question, such as the proper investigation and, if necessary prosecution, of a potentially criminal act on the part of the President or another official. Based on that criteria, of course, the Court ruled that Nixon could not withhold the tapes being requested, thus setting in motion a chain of events that revealed once and for all the extent of the President's involvement in illegal activities and the attempt to obstruct justice in the Watergate case. Since then, there have been a handful of instances in which a President has asserted Executive Privilege and, in fact, the doctrine has been invoked by nearly every President that has served since Nixon's resignation at one time or another.
The possibility that the Trump White House would seek to invoke Executive Privilege to stop Comey's anticipated testimony is one that has been discussed in detail over the past two weeks or so and it was clear from most of those discussions that any assertion of the privilege would have been legally perilous at best. The main reason for that, as CNN Legal Analyst Page Pate explained in a post over the weekend, is because it seems clear that the President waived the privilege when he spoke himself about the substance of his conversations with Comey:
In striking down a president's attempts to use executive privilege, courts have focused on the reason the privilege was being asserted — was it to protect sensitive information in the public interest, or an attempt to hide potential evidence of misconduct? No court has ever allowed a president to use executive privilege to cover his own possible wrongdoing.

Courts have also looked at whether the substance of the communications had already been publicly disclosed. The Fast and Furious case is a great example. The Obama administration had already made public disclosures about its deliberations relating to that operation, so there was no need to use the privilege to maintain executive branch secrets.

In this case, Trump's media interviews, his termination letter to Comey and his random tweets have already made his meetings with the ex-FBI chief a matter of public concern. Just like the travel ban litigation, it looks like Trump's mouth has again foreclosed a legal defense he may really need.

The fact the White House is even thinking about asserting executive privilege raises another important question — why would Trump want to stop Comey from testifying about their meetings? There is only one reason I can think of — Trump lied.

In his interview with NBC News' Lester Holt last month, Trump said that Comey had assured him "three times" he was not being investigated. If true, then I would think Trump would want to have Comey corroborate that in a public hearing. But is it true? Comey would not have told Trump he is not a potential target because he knows better than to disclose that kind of information.

Immediately after describing his version of discussions with Comey, Trump sent out a tweet warning Comey he "better hope there are no tapes" of their conversations. Why would Trump say that before Comey had a chance to respond to Trump's version of the meetings? Was it because Trump must have known his version was not the truth and wanted to launch a pre-emptive strike against Comey before Comey could respond.

That's the same approach the White House is using now to question Comey's credibility before his upcoming testimony. The White House is worried that Comey will have a very different version of those discussions and that he felt pressured by Trump to drop the pending investigation into former national security adviser Michael Flynn. If I were in the White House, I would be worried, too.

But being worried about potentially embarrassing testimony is not a sufficient basis to invoke executive privilege. If Trump tries to stop Comey from testifying about their discussions relating to the Flynn investigation, Comey should just ignore him and do it anyway. It's highly unlikely a court would prevent Comey, who is now a private citizen and no longer a government employee, from talking.
Eric Columbus, an attorney who served in the Justice Department and Department of Homeland Security under President Obama raises a different argument at Politico:
Executive privilege is a notorious Gordian knot that has yielded surprisingly few judicial decisions, because courts typically prefer that Congress and the president hash out such disputes themselves. Some have suggested the former FBI director's testimony is necessary for Congress to fulfill its oversight responsibilities; others say Trump waived any privilege by blabbing about his meetings with Comey.

While these theories may help untangle the knot, there's a way to slice it wide open: Comey can't be restrained from testifying before the Committee because he's now a private citizen who wants to talk.

Executive privilege is a shield against attempts by Congress and courts to pierce the executive branch's defenses to gain access to testimony or documents. It's rooted in the notion of separation of powers. As the Supreme Court noted when it held that President Richard Nixon could not refuse to turn over the Watergate tapes, executive privilege preserves "the supremacy of each branch within its own assigned area of constitutional duties." The doctrine rests on a recognition that the president and subordinate officials require some confidentiality in order to operate effectively. Due to the paucity of judicial decisions and absence of relevant constitutional text, the scope of such confidentiality is hotly disputed between Congress and any administration, especially under divided government. (As an official in President Barack Obama's administration, I experienced the great joy of squaring off with GOP congressional staff over numerous requests for documents and testimony.)

But once Comey left office and signaled a willingness to testify, this ceased to be about separation of powers. Congress isn't trying to pry loose information. Rather, an ex-employee with a story to tell wants to tell it to Congress.

(…)

A court would not enjoin Comey from testifying unless it could fathom a rationale that would also bar Comey from revealing the same information by writing a book, going on the Sunday shows, taking to Twitter or chatting at his local bagel shop. As a legal matter, all these venues are the same. And to impose such a gag order – a so-called "prior restraint" on speech – cannot be squared with First Amendment precedent.
Given these legal arguments, it's possible that the Administration chose not to challenge Comey's testimony so as to avoid setting up legal precedent that could undermine Executive Privilege in general going forward. Regardless of the reaon, though, this means that all of Washington, and much of the nation, will be on pins and needles ahead of Comey's testimony Thursday morning.