Mueller Subpoenas Trump Organization Regarding Russia Ties
Robert Mueller's investigation appears to enter a new phase, with a focus on the President's business dealings with Russia.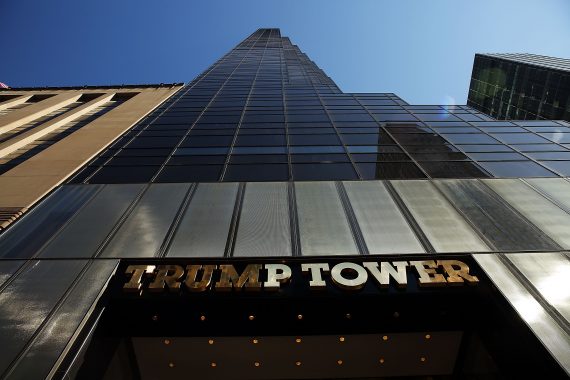 The New York Times is reporting that Special Counsel Robert Mueller has issued a subpoena to The Trump Organization seeking documents related to business dealings with Russia:
WASHINGTON — The special counsel, Robert S. Mueller III, has subpoenaed the Trump Organization to turn over documents, including some related to Russia, according to two people briefed on the matter. It is the first known instance of the special counsel demanding documents directly related to President Trump's businesses, bringing the investigation closer to the president.

The breadth of the subpoena was not clear, nor was it clear why Mr. Mueller issued it instead of simply asking for the documents from the company, an umbrella organization that oversees Mr. Trump's business ventures. In the subpoena, delivered in recent weeks, Mr. Mueller ordered the Trump Organization to hand over all documents related to Russia and other topics he is investigating, the people said.

The subpoena is the latest indication that the investigation, which Mr. Trump's lawyers once regularly assured him would be completed by now, will drag on for at least several more months. Word of the subpoena comes as Mr. Mueller appears to be broadening his investigation to examine the role foreign money may have played in funding Mr. Trump's political activities. In recent weeks, Mr. Mueller's investigators have questioned witnesses, including an adviser to the United Arab Emirates, about the flow of Emirati money into the United States.

Neither White House officials nor Alan S. Futerfas, a lawyer representing the Trump Organization, immediately responded to requests for comment. The Trump Organization has typically complied with requests from congressional investigators for documents for their own inquiries into Russian election interference, and there was no indication the company planned to fight Mr. Mueller about it.

The Trump Organization has said that it never had real estate holdings in Russia, but witnesses recently interviewed by Mr. Mueller have been asked about a possible real estate deal in Moscow. In 2015, a longtime business associate of Mr. Trump's emailed Mr. Trump's lawyer, Michael Cohen, at his Trump Organization account claiming he had ties to President Vladimir V. Putin of Russia and said that building a Trump Tower in Moscow would help Mr. Trump's presidential campaign.

Mr. Trump signed a nonbinding "letter of intent" for the project in 2015 and discussed it three times with Mr. Cohen.

Mr. Mueller could run afoul of a line the president has warned him not to cross. Though it is not clear how much of the subpoena is related to Mr. Trump's business beyond ties to Russia, Mr. Trump said in an interview with The New York Times in July that the special counsel would be crossing a "red line" if he looked into his family's finances beyond any relationship with Russia. The president declined to say how he would respond if he concluded that the special counsel had crossed that line.

A month before Mr. Trump spoke of his red line, the White House counsel, Donald F. McGahn II, threatened to quit after Mr. Trump asked him to have Mr. Mueller fired because the president believed he had conflict-of-interest issues that precluded him from running the special counsel investigation.

Mr. Mueller was appointed in May to investigate whether Mr. Trump's campaign colluded with the Russians to influence the 2016 presidential election and any other matters that may arise from the inquiry. He is also examining whether the president has tried to obstruct the investigation.
As noted, the exact subject matter of the subpoena is unclear, as is the period for which Mueller is requesting documents, and we are unlikely to learn what the parameters of the subpoena are unless The Trump Organization or the President himself seek to challenge it in court, although we may get some idea what the subpoena is requesting from subsequent reports. At the very least, though, it seems clear that Mueller's investigation has entered a different phase that goes somewhat beyond the issues of Russian interference in the election and is aimed more toward discovering what if any financial ties President Trump and his various business entities may have to Russia, Russian officials, or one of the many Russian oligarchs who make up the inner circle of Russian President Vladimir Putin, many of whom are believed to serve as frontmen for a Putin fortune that is estimated to make him one of the wealthiest men in the world.
This move is potentially significant due to the fact that President Trump has said repeatedly in the past that he had no ties to Russia except perhaps beyond the possibility that some Russian billionaires may have bought condominiums in one of Trump's properties in the United States or elsewhere around the world. To believe Trump, in fact, would be to believe that he had no interest in Russia at all as far as business was concerned and that he paid so little attention to the workings of his real estate holdings that he would be unaware if a Russian oligarch happened to invest in Trump owned or branded properties. This, of course, stands in stark contrast to the public image that Trump created of being a hands-on businessman who was well aware of what was happening at virtually every level of his vast empire of holdings. Notwithstanding that claim on Trump's part, it's been rumored and reported for years that Trump had been forced to rely on loans that were at least partly backed by Russian banks in the early 90s when his personal and business finances were particularly strained thanks to a string of business bankruptcies and other financial setbacks.
It was well-known, for example, that Deutsche Bank had become one of the few major banks that were willing to underwrite Trump's real estate deals as well as provide the financing he needed to reorganize his existing business and real estate ventures. Additionally, both Donald Trump Jr. and Eric Trump, both of whom were already serving in high-ranking positions in their father's business at this time, were quoted at the time as saying in an almost braggadocious manner that the real estate developer was getting a lot of money from Russian banking interests. Additionally, we know that Trump had an interest in building a tower in Moscow that dates back to the 1990s, that he openly pursued relationships with people close to Putin in an effort to get permission to hold the Miss Universe pageant there (which happened in 2013), and that he had at least signed a letter of intent to build in Moscow back in 2015 just months before he entered the race for President. Finally, several news outlets have reported that Trump has a long history with Russian banking interests, including banks owned by individuals known to be within the inner circle of Russian President Vladimir Putin, that raise serious questions about whether or not he has a conflict of interest regarding U.S. relations with Russia in general and Putin in particular. All of this is significant, of course, because the fact that Trump has publicly denied any ties to Russia could potentially make him vulnerable to outside influence if the opposite were true and Russian officials were to threaten, even obliquely, to reveal the truth.
Previously, President Trump has hinted that Mueller would be crossing a red line if he extended his investigation into the President's personal and business finances. This occurred more explicitly during a July 19th interview with Peter Baker, Maggie Haberman, and Michael Schmidt of The New York Times during which Trump acknowledged that an investigation into his personal or business finances, or any of his family member's finances could be considered a "red line" for him:
SCHMIDT: Last thing, if Mueller was looking at your finances and your family finances, unrelated to Russia — is that a red line?

HABERMAN: Would that be a breach of what his actual charge is?

TRUMP: I would say yeah. I would say yes. By the way, I would say, I don't — I don't — I mean, it's possible there's a condo or something, so, you know, I sell a lot of condo units, and somebody from Russia buys a condo, who knows? I don't make money from Russia. In fact, I put out a letter saying that I don't make — from one of the most highly respected law firms, accounting firms. I don't have buildings in Russia. They said I own buildings in Russia. I don't. They said I made money from Russia. I don't. It's not my thing. I don't, I don't do that. Over the years, I've looked at maybe doing a deal in Russia, but I never did one. Other than I held the Miss Universe pageant there eight, nine years [crosstalk].

SCHMIDT: But if he was outside that lane, would that mean he'd have to go?

[crosstalk]

HABERMAN: Would you consider——

TRUMP: No, I think that's a violation. Look, this is about Russia. So I think if he wants to go, my finances are extremely good, my company is an unbelievably successful company. And actually, when I do my filings, peoples say, "Man." People have no idea how successful this is. It's a great company. But I don't even think about the company anymore. I think about this. 'Cause one thing, when you do this, companies seem very trivial. O.K.? I really mean that. They seem very trivial. But I have no income from Russia. I don't do business with Russia. The gentleman that you mentioned, with his son, two nice people. But basically, they brought the Miss Universe pageant to Russia to open up, you know, one of their jobs. Perhaps the convention center where it was held. It was a nice evening, and I left. I left, you know, I left Moscow. It wasn't Moscow, it was outside of Moscow.

HABERMAN: Would you fire Mueller if he went outside of certain parameters of what his charge is? [crosstalk]

SCHMIDT: What would you do?

[crosstalk]

TRUMP: I can't, I can't answer that question because I don't think it's going to happen.
It's worth noting that this isn't the first time that Mueller has arguably crossed the "red line" Trump spoke about in this interview. Back in December, it was reported that the Special Counsel had subpoenaed records from Deutsche Bank regarding Trump's financial dealings. At that point, some wondered whether this would cause Trump to try to take some action against Mueller, including going so far as to try to remove him from office. Nothing happened in that regard, of course, and it's unclear what if anything will happen based on these latest reports. What is clear, though, is that Mueller is at least interested in Trump's business dealings with Russia dating back to long before he became even a candidate for President. Whether that leads to anything, or whether it will spur Trump to lash out against Mueller in some way, is something we'll have to wait and see.