Giuliani Tries To 'Clarify' His Statements After Trump Throws Him Under The Bus
Rudy Giuliani tried to clean up the mess he created for his client earlier this week. He failed miserably.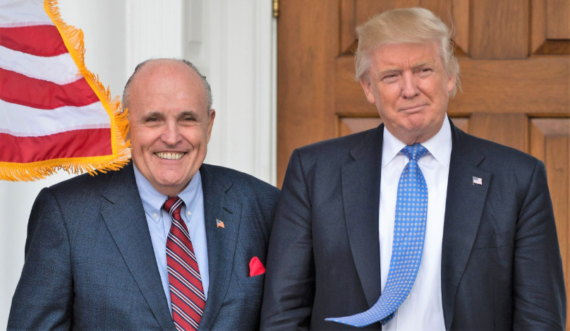 Rudy Giuliani is trying to "clarify" his remarks earlier this week regarding the President's knowledge of the payment made to Stormy Daniels in October 2016 on the eve of the Presidential election to buy her silence about her relationship with Trump dating back to when his wife was pregnant with their son. All he really did, though, was solidify what he said before and raise even further questions about the President's involvement in the effort of his longtime attorney and "fixer" Michael Cohen to silence Daniels on the eve of the election: (emphasis mine)
President Trump's new lawyer Rudolph W. Giuliani sought Friday to clean up a series of comments made during a whirlwind media tour meant to bolster the president's standing regarding a payment to a porn star but that instead created new problems for his client.

In a statement issued hours after Trump told reporters Giuliani was still getting up to speed on the facts, the former New York mayor said that a $130,000 payment made to adult film actress Stormy Daniels by longtime Trump lawyer Michael Cohen would have happened regardless of whether Trump was on the presidential ballot the following month.

"The payment was made to resolve a personal and false allegation in order to protect the President's family," Giuliani said in the statement. "It would have been done in any event, whether he was a candidate or not."

On Wednesday, Giuliani revealed that the president had reimbursed Cohen for the settlement Cohen paid in October 2016 to keep Daniels from disclosing details of a sexual encounter she alleged she had with Trump a decade earlier.

Giuliani has said that the details of the reimbursement showed that Trump paid back Cohen because it was a personal, not a campaign expense. But campaign finance law experts said Giuliani's remarks did not rule out violations of campaign finance laws, and some of his statements may have actually provided new evidence for investigators.

Appearing Thursday on the Fox News Channel, for instance, Giuliani asked viewers to imagine if Daniels had aired her allegations "on Oct. 15, 2016, in the middle of the last debate with Hillary Clinton."

"Cohen didn't even ask," Giuliani told viewers. "Cohen made it go away. He did his job."

In his statement, Giuliani also sought to make clear that he speaking in television interviews about his understanding of events in which Trump had been involved and not about what the president knew at the time. The distinction is important because if Giuliani publicly described a private conversation with the president, he might have inadvertently waived attorney-client privilege on that conversation, potentially opening the door for prosecutors to probe further into what was said.

One close Trump adviser said Giuliani had "waived the privilege big time" with his appearance on "Fox & Friends" and description of his conversations with his client, the president.

This adviser, who requested anonymnity to speak more candidly, said Giuliani's misstatement came because he relied on Trump's description of what happened, without independently researching the nature of the payments.

"Rudy followed the client's wishes without knowing all the facts," the person said.
Here's the full text of Giuliani's statement released earlier this afternoon:
This is intended to clarify the views I expressed over the past few days.

These are my views:

First:
There is no campaign violation. The payment was made to resolve a personal and false allegation in order to protect the President's family. It would have been done in any event, whether he was a candidate or not.

Second:
My references to timing were not describing my understanding of the President's knowledge, but instead, my understanding of these matters.

Third:
It is undisputed that the President's dismissal of former Director Comey – an inferior executive officer – was clearly within his Article II power. Recent revelations about former Director Comey further confirm the wisdom of the President's decision, which was plainly in the best interests of our nation.
Giuliani's statement came just hours after the President essentially threw his newest attorney under the bus, saying that he didn't have all the facts when he made the comments he did on Fox News Channel on Wednesday night and Thursday morning:
President Trump undercut his attorney Rudolph W. Giuliani on Friday, and said the former New York mayor will eventually get the facts right regarding a payment to a pornographic actress who said she had an affair with Mr. Trump.

"And virtually everything said has been said incorrectly, and it's been said wrong, or it's been covered wrong by the press," Mr. Trump said.

Mr. Giuliani, who joined Mr. Trump's legal team last month, "just started a day ago," Mr. Trump said, speaking to reporters on Friday as he left Washington to attend a National Rifle Association convention in Dallas.

"He is a great guy," Mr. Trump said. "He'll get his facts straight."

It was the first time the president addressed the inconsistent narrative about the payment made by his personal lawyer, Michael D. Cohen, to the actress, Stephanie Clifford, who goes by the stage name Stormy Daniels. Mr. Trump did not offer any details on Friday to clarify the confusion, but said, "It's actually very simple. But there has been a lot of misinformation."
Here's the video of the statements Trump made to the press as he was boarding Marine One earlier today, and before he boarded Air Force One:
Giuliani's attempted clarification does nothing to refute the statements he made on Fox News this week, nor do they change the potential impact that those statements could have on the ongoing criminal investigation of the transaction involving Daniels that became public in the wake of the search conducted on Cohen's home and office. In his initial comments, of course, Giuliani revealed for the first time that President Trump reimbursed Michael Cohen for the payment that he made to Daniels, allegedly in a series of payments of $35,000 each over an unspecified period of time. He also indicated that Trump was aware of the reason for the reimbursement he was making and stated specifically that he and Trump had discussed the matter and that Trump was the one who authorized him to make the statements that he did. Furthermore, in the wake of Giuliani's comments the White House, in both an official written statement and in the response from Press Secretary Sarah Huckabee Sanders at yesterday's press briefing, acknowledged what Giuliani had said and stated that he was speaking accurately. It was also reported that Trump and Giuliani planned the revelation of the President's knowledge of the Cohen payment to Daniels without consulting either Trump's attorney's or any members of the White House staff. Given all of this, the effort to walk back Giuliani's comments at this point is disingenuous and futile, especially since nothing he said today contradicts what he told Sean Hannity or the hosts on Fox & Friends. Finally, it is undisputed that what Giuliani said was completely at odds with what the President himself had said regarding his knowledge of the Cohen-Daniels transaction and what both his Administration and Michael Cohen had said about that same transaction. So, either Trump, the White House, and Cohen were lying or Giuliani is lying. Based on the available information, it seems to me to be fairly clear that
In a similar vein, Giuliani's clarification today does nothing to contradict what he said regarding the reasons that President Trump fired James Comey nearly one year ago. As you'll recall, Giuliani essentially confirmed that Trump had fired Comey due to the Russia investigation, and specifically due to the fact that Comey would not publicly state that Trump was not a target of that investigation. While Trump has recently tried to claim that his decision to fire Comey had nothing to do with a Russia investigation, that statement is contradicted by his own statements in the immediate aftermath of Comey's dismissal. As the days went on after that firing on May 9th of last year, it quickly became more and more apparent that Comey was fired because of the President's frustration with the Russia investigation, something that Trump himself seemed to confirm. Later, we learned that Trump had told the Russian Ambassador to the United States and the Russian Foreign Minister that he had fired Comey because of the Russia investigation just days after Comey's dismissal. Finally, by the end of the week that had begun with Comey's firing last year, Trump admitted that to Lester Holt of NBC News that he had fired Comey because of the Russia investigation. Giuliani's comments this week confirmed all this again, and his clarification today did nothing to contradict that statement.
The effort to walk back Giuliani's statements seems to be a clear recognition by the White House and by Trump's legal team that Giuliani did grave damage to the President's credibility with his statements, and that he may have inadvertently made his legal position more difficult as well. In both respects, it seems clear to me that it is an utter failure, and that the reality is that all he really did is to further confirm the validity of what he said initially. More importantly, it stands as confirmation of something that has become apparent over the course of the month that has passed since Michael Cohen came under the scope of a Federal investigation, namely the fact that Trump is far more concerned about the investigation into Cohen that's going on in New York City than he is about Robert Mueller and the Russia investigation. Arguably, he should be concerned about both, but the manner in which he has acted suggests that he's afraid of what could happen if Cohen flips in the same manner that men like Michael Flynn, George Papadopoulos, and Rick Gates have. Given the long relationship between the two, and the fact that Cohen likely knows everything there is to know about Trump's business and personal affairs, perhaps there's a good reason for that concern.