Stormy Daniels Sues Donald Trump For Defamation
Stormy Daniels is suing the President for defamation after he accused her of lying about a threat made to her seven years ago.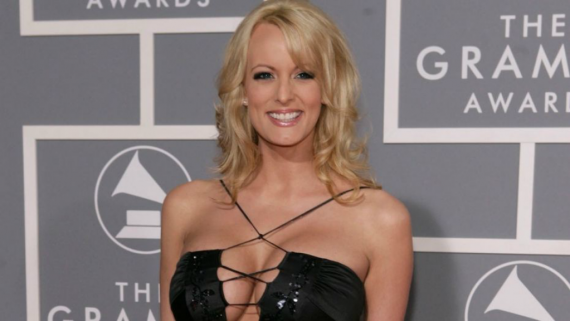 Adult film star Stormy Daniels has filed a defamation lawsuit against President Trump after he alleged on Twitter that the composite sketch her attorney released of a man who allegedly threatened her several years ago about going public about her relationship with the President was a lie:
Porn star Stormy Daniels is expanding her legal assault on President Donald Trump, filing a new lawsuit over his use of Twitter to undermine her claim that an unidentified man threatened her in a bid to keep her quiet about her "intimate relationship" with Trump about a decade ago.

Daniels' suit, filed in U.S. District Court in Manhattan on Monday afternoon, alleges defamation by Trump in an April 19 tweet that suggested she fabricated her story about being approached in a Las Vegas parking lot in 2011 by a man who told her to "Leave Trump alone. Forget the story."

According to Daniels, whose real name is Stephanie Clifford, the unknown man referred to her child, saying, "That's a beautiful little girl. It'd be a shame if something happened to her mom."

Daniels recently prepared and released a sketch of the man who she said approached her, but Trump's tweet ridiculed the sketch and appeared to dispute that the entire episode ever occurred.

"A sketch years later about a nonexistent man. A total con job, playing the Fake News Media for Fools (but they know it!)" Trump wrote.

The new suit, previewed by Daniels' attorney Michael Avenatti last Friday, claims Trump undercut the adult film actress' reputation by suggesting the story was fabricated.

"Mr. Trump's statement falsely attacks the veracity of Ms. Clifford's account of the threatening incident that took place in 2011. It also operates to accuse Ms. Clifford of committing a crime under New York law, as well as the law of numerous other states, in that it effectively states that Ms. Clifford falsely accused an individual of committing a crime against her when no such crime occurred," the complaint says. "Mr. Trump's statement is false and defamatory."

The suit notes that Trump's tweet was linked to another user's message suggesting that the sketch is of Daniels' ex-husband.

Daniels claims she had a sexual encounter with Trump in 2006 and thereafter exchanged calls and messages with him. When stories about the alleged episode began to emerge in the 2016 campaign, Trump denied her account. A White House spokesman reiterated the denial last month.

Avenatti suggested on Twitter on Monday that Trump knew about the alleged threat and had some role in it.

"He is well aware of what transpired and his complicity. We fully intend on bringing it to light," the lawyer said
The roots of this story lie in a claim that Michael Avenatti, who is representing Daniels in connection with the legal matters arising out of the October 2016 agreement under which Daniels received $130,000 in exchange for her silence regarding her relationship with the President, that Daniels was threatened with physical harm in the past to remain quiet about her relationship with Trump. Daniels provided some of the details surrounding that threat in her interview with Anderson Cooper on 60 Minutes in late March and, earlier this month, made public a composite sketch of the man she asserts threatened her in a parking lot in Los Angeles some seven years ago. Trump responded to this shortly there after by essentially calling Daniels a liar in a Tweet:
A sketch years later about a nonexistent man. A total con job, playing the Fake News Media for Fools (but they know it)! https://t.co/9Is7mHBFda

— Donald J. Trump (@realDonaldTrump) April 18, 2018
This isn't the only lawsuit that Daniels has filed against Trump, of course. In early March, Daniels filed suit in California state court seeking to invalidate the October 2016 agreement on the ground that there was never a valid agreement since, among other reasons, Trump had never signed it himself. Trump's longtime attorney Michael Cohen is also a Defendant in this action and, in response to the Complaint, both Defendants filed paperwork to remove the case to Federal Court, asserting that Daniels is on the hook for up to $20,000,000 in damages for violations of the agreement, and seeking to have the matter sent to arbitration pursuant to the terms of the agreement. The most recent development in this case, of course, is the fact that it has been put on hold for ninety days based on the fact that Cohen is apparently the subject of a criminal investigation in New York City and expects to be indicted in the next ninety days. Cohen's attorneys have also stated that their client would invoke his Fifth Amendment rights in connection with any questions that he may be asked in the civil case regarding the agreement since it is apparently part of the New York investigation.
This also isn't the only defamation case that the President is facing. Last year, Summer Zervos, a former contestant on The Apprentice filed a lawsuit against Trump alleging that he had defamed her when he stated that she was lying in October 2016 when she came forward as one of the women claiming that she had been sexually harassed by Trump when she was on the reality show. Trump responded by attempting to get the lawsuit dismissed on a number of grounds, including the fact that he is the President of the United States. However, the state trial court Judge presiding over that case allowed the case to go forward.
If Trump tries a similar blocking maneuver in the Daniels case, it seems likely that the outcome will be the same thanks to a Supreme Court decision in the case that ultimately led to President Bill Clinton's impeachment. In Clinton v. Jones, a decision handed down by the Supreme Court in 1997, a largely unanimous Court ruled that a Federal Court civil case brought against former President Bill Clinton by Paula Jones for events that occurred while he was Governor of Arkansas and she was a state employee could proceed forward notwithstanding the fact that the Defendant is the sitting President of the United States. Jones, of course, had filed a lawsuit alleging that Clinton had sexually harassed her in an incident dating back to 1991, claiming that Clinton had her summoned and proceeded to proposition her and engage in other behavior of a sexual nature.
In its ruling, the Supreme Court ruled that the fact that Clinton was President of the United States does not, on its own, grant him any kind of immunity from civil lawsuits for conduct that occurred prior to the time he became President, nor does it require a court hearing such a case to put the case on hold until after the President has left office. To the extent any such immunity existed, it could be found in a concurrence filed by Associate Justice Stephen Breyer in which he stated that there could be some circumstances where a President could seek to delay a civil lawsuit from going forward if it could be shown that responding to and participating in the lawsuit could somehow be shown to interfere with official Presidential duties. Breyer was careful to note, though, that such circumstances would seem to be quite limited and that, in any case, they did not exist with the underlying lawsuit in Clinton v. Jones. Thus, the lawsuit went forward, which of course led directly to a deposition in which Clinton lied under oath about his relationship with Monica Lewinsky, which led directly to a crisis that consumed much of the last two years of Clinton's Presidency.
Given the Jones precedent, it may well be that Trump's attorneys decide against trying to block the lawsuit altogether given that there really doesn't appear to be a good faith argument that the precedent should be ignored or that there is some exception to the ruling that would apply in Trump's case. If that happens, then this case could move forward at a more rapid case than any of the other cases filed against Trump. Part of this is due to the fact that Avenatti has shown himself to be a fairly aggressive litigator and seems especially eager to get a chance to depose Trump in connection with his client's claims against the President. In that case, things could get very interesting very quickly.
Here's the Complaint:
Clifford v. Trump by Doug Mataconis on Scribd