Michael Cohen To Plead The Fifth
Michael Cohen will invoke his rights under the Fifth Amendment in response to any questions asked in discovery in the civil suit filed against him by Stormy Daniels. That's really the only option he has.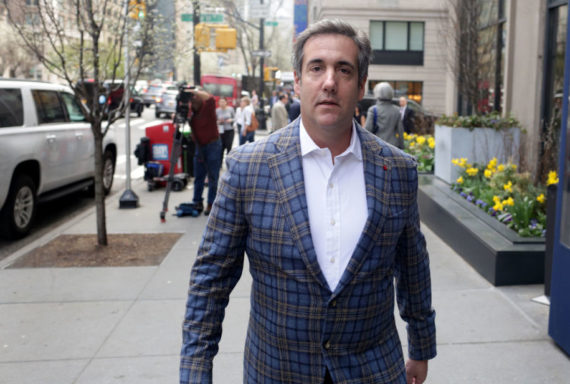 Michael Cohen is telling the Federal Judge presiding over the civil lawsuit filed by adult film star Stormy Daniels seeking to invalidate the October 2016 agreement under which she was paid to remain silent about her relationship with President Trump that he intends to invoke his rights under the Fifth Amendment due to ongoing criminal matters:
Michael D. Cohen, President Trump's longtime personal lawyer, will invoke his Fifth Amendment right in a lawsuit filed against the president by Stephanie Clifford, the pornographic film star better known as Stormy Daniels.

Mr. Cohen's decision, disclosed Wednesday in a court filing in California, where the suit was filed, came a day before a federal judge in Manhattan was set to hold a hearing regarding materials seized from Mr. Cohen during an F.B.I. raid earlier this month.

Mr. Cohen cited the Manhattan investigation in his filing on Wednesday, saying that, if called as a witness in Ms. Clifford's lawsuit, "I will assert my 5th Amendment rights in connection with all proceedings in this case due to the ongoing criminal investigation by the F.B.I. and U.S. Attorney for the Southern District of New York."

Ms. Clifford was paid $130,000 to keep quiet about claims that she had an affair with Mr. Trump. She sued last month to get out of the nondisclosure agreement she signed in October 2016, alleging that it was void because Mr. Trump had never signed it.

Citing the Fifth Amendment in the Clifford case allows Mr. Cohen to avoid being deposed and revealing sensitive information in the more important criminal investigation. That investigation — which prosecutors say has been going on for months — became public in dramatic fashion on April 9, when agents from the New York office of the Federal Bureau of Investigation raided Mr. Cohen's office, apartment and a room at the Loews Regency Hotel he had been using. The inquiry is said to be focusing on hush-money payments that Mr. Cohen made to — or helped arrange for — Ms. Clifford and Karen McDougal, a former Playboy model who has also said she had an affair with Mr. Trump.

For days now, prosecutors from the United States attorney's office in Manhattan have been sparring with Mr. Cohen's lawyers — and with lawyers for Mr. Trump — for the right to review the records first, a step that will shape the contours of how the government presses its investigation into whether Mr. Cohen tried to suppress negative news coverage of the president in the run-up to the 2016 election.

Lawyers for Mr. Cohen suggested on Wednesday that they were already taking steps to gird themselves for battle. In new court papers, they said that they were setting up "war rooms" to review the seized materials, testing and vetting "systems" to process them, and marshaling what seems to be a small legal army of "operations and technology personnel, paralegals, discovery experts, associates and senior reviewing partners."
This, of course, is not entirely unsurprising news given the context of the situation that Cohen finds himself in at this point. It's only been a few weeks since his office, home, and hotel room were the subject of searches by F.B.I. agents acting pursuant to a warrant that, based on reports, was seeking a wide-ranging scope of documents that encompasses not only Cohen's involvement in the payoffs to Daniels and Playboy model Karen McDougal but also a number of other issues. Reported to be among those are his involvement in the purchase and sale of New York City Taxi Medallions, something that has been at the center of ongoing criminal probes at both the Federal and State level in New York for some time now. Additionally, it's been reported that agents also gained access to documents related to other legal and business matters that Cohen may have been involved in for the man who has been his principal client for the past decade or more, who just happens to be the President of the United States. His lawyers in the Daniels litigation have reportedly told the Judge presiding in that case that they expect that their client will be indicted by the U.S. Attorney for the Southern District of New York at some point within the next 90 days.
In that context, it would be absolutely foolish for Cohen to testify on the record, whether it's in a deposition, in response to written Interrogatories during discovery (which under the applicable rules a respondent is required to sign and swear before a Notary are accurate), or at a hearing in the Daniels civil case, either before charges are filed or after they are filed and before they are resolved. If he does, then anything he says in those contexts could be used against him by investigators, could be used against him at a trial or could be used to impeach his testimony if he were to testify or tell investigators something that was somehow contradictory to what he testified to in the previous matter. Furthermore, it would be legal malpractice for his attorneys, whether it be those representing him in the criminal matters in New York or those representing him in the civil matter in California, to not advise him to exercise his rights under the Fifth Amendment in order to protect his rights.
All of this is somewhat ironic, of course, because of what Cohen's boss has said about pleading the Fifth Amendment in the past:
During the presidential election, he repeatedly slammed former staffers for Democratic presidential nominee Hillary Clinton who took the Fifth during a congressional probe into her use of a private email server.

Computer specialist Bryan Pagliano, the former State Department employee who had helped set up Clinton's private email server, asserted the Fifth more than 130 times in June to avoid answering deposition questions from lawyers with the conservative legal advocacy group Judicial Watch. Two computer experts contracted to handle Clinton's email server took the Fifth months later — and two Clinton lawyers who spoke to FBI investigators got immunity for turning over laptops.

Trump was not impressed.

"The mob takes the Fifth," he said at an Iowa campaign rally in September. "If you're innocent, why are you taking the Fifth Amendment?"

He weighed in numerous times during the campaign, generally sounding disgusted and full of disdain.

"She lied to Congress under oath, and her staff has taken the Fifth Amendment and got immunity deals," he said at an October rally in Reno.

"It's worse than Watergate; it's a bigger deal than Watergate," he said at another rally that month in Loveland, Colo.
Here's the video of Trump making these comments on the campaign trail:
TRUMP in September 2016: "The mob takes the Fifth. If you're innocent, why are you taking the Fifth Amendment?" pic.twitter.com/xuta4kGVuz

— Kyle Griffin (@kylegriffin1) April 25, 2018
As the linked article notes in an unquoted portion, Trump's past position was ironic and indeed hypocritical at the time since he himself has made use of the Fifth Amendment privilege to avoid answering questions in civil proceedings. The most notable occasion came in 1990 during the course of his divorce from his first wife Ivana Trump. During a deposition in that case, Trump invoked his Fifth Amendment rights to avoid answering 97 separate questions, most of which concerned his relationship with other women as well as some financial matters. There are also reports that Trump has taken advantage of the privilege during similar depositions in lawsuits involving his business and financial affairs. The hypocrisy in this is, of course, self-evident.
Trump's comments during the campaign are, of course, utter nonsense. As I have said in the past, seeking the protection of the Fifth Amendment right against self-incrimination cannot be interpreted as an admission of guilt by a Court, and it should not be interpreted in that manner by members of the general public. The Supreme Court also spoke to the issue in a 1956 case called Slochower v . Board of Higher Education of New York City:
At the outset, we must condemn the practice of imputing a sinister meaning to the exercise of a person's constitutional right under the Fifth Amendment. The right of an accused person to refuse to testify, which had been in England merely a rule of evidence, was so important to our forefathers that they raised it to the dignity of a constitutional enactment, and it has been recognized as "one of the most valuable prerogatives of the citizen." Brown v. Walker, 161 U.S. 591, 610. We have reaffirmed our faith in this principle recently in Quinn v. United States, 349 U.S. 155. In Ullmann v. United States, 350 U.S. 422, decided last month, we scored the assumption that those who claim this privilege are either criminals or perjurers. The privilege against self-incrimination would be reduced to a hollow mockery if its exercise could be taken as equivalent either to a confession of guilt or a conclusive presumption of perjury. As we pointed out in Ullmann, a witness may have a reasonable fear of prosecution and yet be innocent of any wrongdoing. The privilege serves to protect the innocent who otherwise migh be ensnared by ambiguous circumstances. See Griswold, The Fifth Amendment Today (1955).
The Fifth Amendment privilege is among the most important in the Constitution, and it is one that is available to people who are asked to testify in public and who believe that their testimony could be used as evidence against them in an ongoing or subsequent investigation.
The more interesting question that Cohen's representation to the Judge in the civil case raises, of course, is what impact all of this could have on the civil case. Cohen's decision to invoke the Fifth Amendment essentially foreclose Daniels and her attorney from seeking to obtain discovery from him even if it is just in the context of a hearing on the validity of the arbitration clause in the agreement. Without that testimony, it's hard to see how the case can go forward until the issues surrounding Cohen's criminal culpability or lack thereof are resolved. This could mean that Cohen's civil lawyers will seek to have the Los Angeles proceedings stayed until the New York matters are resolved, something that could take a considerable amount of time. Daniels and her attorney will no doubt object to any request that Cohen's attorneys might make in that regard, but the fact that Cohen intends to invoke the Fifth Amendment in this case effectively makes it much harder for the Judge to resolve even the limited legal issues dealing with the arbitration clause. As of yet, though, Cohen's attorneys have not made any such move so it's a bit premature to be speculating on that issue.
At the very least, though, we know that Cohen will be doing what his lawyers have advised him to do. For his own protection, that's really the only option he has at this point.
Here's the pleading filed by Cohen's attorney in the Los Angeles case:
Clifford v. Trump Et Al by Doug Mataconis on Scribd