Woman Fired After Flipping The Bird To Trump's Motorcade Sues Former Employer
A woman who was fired after a photograph of her giving the middle finger to President Trump's motorcade went viral is suing her former employer. She doesn't have much of a case.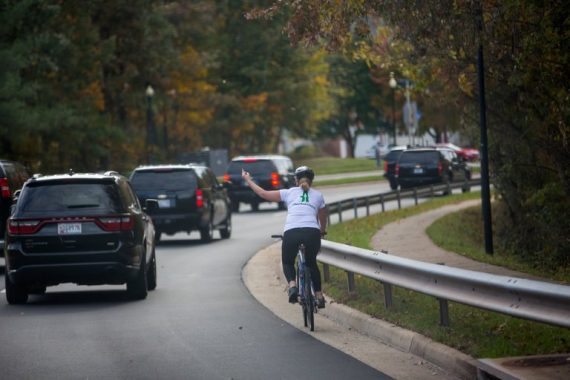 A woman who was fired by her employer after being photographed giving President Trump's motorcade the finger is suing her former employer:
A Virginia woman who lost her job with a government contractor after she was photographed extending her middle finger at President Trump's motorcade last year has sued her former employer for wrongful termination.

Juli Briskman directed the gesture toward a string of black sport utility vehicles that zoomed by her on her bicycle on Oct. 28, as Mr. Trump's motorcade was leaving Trump National Golf Course in Sterling, Va. Reporters and photographers in a car behind her captured the moment, which quickly spread online and became a source of many jokes on late-night television.

But Ms. Briskman's employer, Akima L.L.C., did not find it funny.

When she returned to work the following week, she said, company executives told her she needed to resign. Ms. Briskman, 50, had violated the company's social media policy on obscenity by sharing the image on Facebook and Twitter, they told her, according to the lawsuit filed on Wednesday in Fairfax County Circuit Court in Virginia.

The executives also feared blowback from the Trump administration, Ms. Briskman said the executives told her.

"I was fired from my job because my employer feared unconstitutional retaliation," Ms. Briskman said Thursday afternoon. "But on a larger scale, I feel that our democracy is being threatened."

Her lawyers assert that Ms. Briskman's gesture was "core political speech" protected by Virginia law and the Constitution. She is seeking $2,692 for two weeks of severance she said she was promised but never received, as well as compensation for legal fees.

"Criticism of our leaders should be encouraged," Ms. Briskman said Thursday on Twitter.

Akima, which has government contracts in areas that include network operations, cybersecurity and national security, did not respond to a request for comment.

(…)

In an interview in November, Ms. Briskman said she threw her left hand in the air in a spur-of-the-moment gesture to express her displeasure with Mr. Trump. She said she did not know how many people saw it, other than a Secret Service agent in a vehicle who she believed glanced over at her.

But many people did end up seeing it. After the photo was shared widely online that weekend, Ms. Briskman said she posted it on Facebook and Twitter. Neither account identified her as an Akima employee, where she was a marketing analyst.

She decided it would be a good idea to alert a human resources official at Akima about the photo on Monday, when she returned to work. She also told her boss later that night when Jimmy Fallon discussed the photo on "The Tonight Show."

The next day, according to her lawsuit, company executives called her into a meeting. A vice president of the company told her that the photo had become a "social media tattoo" on Akima's reputation, and she was told she was out of a job.
A press release from Briskman's attorneys goes into more detail about her claims:
Ms. Briskman disclosed the incident to her bosses at Akima after the image went viral. They forced her to resign, claiming that Ms. Briskman's posting of a photograph of the incident on her Facebook page—which nowhere mentioned her association with Akima—violated Akima's social media policy.

But earlier in 2017, a Senior Director of Operations at Akima injected "You're a fucking Libtard asshole" into a Facebook discussion about Black Lives Matter. And even though the Senior Director's Facebook profile identified himself as an Akima employee, he was allowed to delete the offensive comment and keep his job.

Ms. Briskman's suit states that it violates Virginia employment law for a government contractor to fire an employee out of fear of unlawful government retaliation. Ms. Briskman's suit uses the contrast between her treatment and the Senior Director's treatment to establish that she was forced to resign because of concerns about upsetting the federal government- not the supposed obscenity of the middle finger. It then underscores the suit's critical importance by explaining why permitting business to fire employees out of fear of unlawful government retaliation imperils the freedom of speech and ultimately American democracy by forcing employees of government contractors to make an impossible choice: their livelihood or their freedom of speech.

"I filed this lawsuit against my former employer today because I believe that Americans should not be forced to choose between their principles and their paychecks. Working for a company that does business with the federal government should provide you with greater opportunities, but it should never limit your ability to criticize that government in your private time. I never imagined that my 'one-finger  salute' to the Presidential motorcade and its occupant would cost me my job. The actions of my company were swift and unexpected. It is un-American," Ms. Briskman observed, "to let the government use your own tax dollars to buy your off-duty obedience."

The suit filed by her attorneys Maria Simon and Rebecca Geller of The Geller Law Group in Fairfax, VA and Protect Democracy, a nonpartisan nonprofit dedicated to preventing our democracy from declining into a more authoritarian form of government, argues that Akima violated Virginia employment law by firing Ms. Briskman.

"Juli's expression of disapproval of the President is fundamental political speech protected by both the United States Constitution and Virginia state law," explains her attorney Maria Simon. Ms. Simon argues that "Akima's actions—forcing Juli to resign out of fear of unlawful retaliation by the government—violated the basic tenets of Virginia employment law. Ms. Briskman chose in her private time and in her capacity as a private citizen to express her disapproval of President Trump by extending her middle finger." Maria Simon's law partner Rebecca Geller notes that "Although many will disagree with Ms. Briskman's message and her means of expressing it, there can be no doubt that such speech is at the very core of the First Amendment and the Virginia Constitution."

Cameron Kistler from Protect Democracy explained why Ms. Briskman's case was so important. "Firing an employee because you're afraid of unlawful retaliation by the government is called 'autocratic capture,' and we need to be concerned about it in the United States," Kistler observed. "Particularly in countries like Turkey, Russia, Egypt, Hungary, and Thailand, we see the private sector facilitating the silencing of dissent because the ability to do business is seen as being dependent on being favorable to the regime. There's no reason to believe that it cannot happen here as well, and we should be particularly worried about autocratic capture in Virginia where so many businesses rely on government contracts."
Based solely on my review of Briskman's Complaint, it seems apparent to me that she has an uphill legal battle ahead of her. Admittedly, while I am quite familiar with Virginia law generally I am not an expert in employment law and have not handled in this area in the past. That being said, the law in Virginia is clear enough that I believe my assessment of the legal merits of the claims here is largely correct.
Generally speaking, Virginia is what is referred to as an "at will" employment state, which means that an employer is free to either decline to hire or to hire an employee for any reason at any time. The only exceptions to this general rule are in cases where there is a written employment agreement between the parties that sets forth the terms of employment and the grounds on which the parties can terminate the agreement. Since Briskman's Complaint does not make reference to any such contract, we can assume that it does not exist and that she was hired in much the same way that most other employees are in the Commonwealth and around the country. What this means is that her employer was generally free to fire her for any reason it wished, unless the reason she was fired violated some exception to the law. There are, however, very few exceptions to this rule, and none of them appear to apply to Briskman's case.
The first group of exceptions comes under Federal law, while the second fall under certain exceptions in Virginia law meant to protect employees. Regardless of whether or not the employment law in a given state is an "at-will" state or not, employers may not fire someone for discriminatory reasons forbidden by Federal civil rights laws, which include on the basis of age, race, sex, religion, national origin or handicap. Briskman's claim obviously does not apply to this category of exceptions, and she does not allege that she was fired because she belonged to one of these classifications protected by Federal civil rights laws. Additionally, there are some exceptions to the at-will rule contained in the Virginia Code, including provisions stating that an employee cannot be fired due to absences caused by injuries sustained on the job and that they cannot be fired in retaliation for reporting safety and health violations they may become aware of while on the job. There is a provision in the law that offers employees some protections with regard to their social media accounts, but this section of the law appears on its face to only bar employees from requiring employees to provide access to those accounts to their employer. Since Briskman revealed the social media post in question to her employer of her own free will, something she admits in her Complaint, it does not appear that it applies at all in this case. Beyond these or any of the other protections listed in the Code, though, the law does not place any restrictions on an employer's ability to terminate someone's employment at any time for any reason.
In her Complaint, which I've embedded below, Briskman makes this single allegation with respect to why her termination was unlawful:
43. Plaintiff exercised her right to freely speak and publish her sentiments regarding President Trump and his administration while on a bike ride during her personal time.

44. Her Facebook and Twitter accounts, at the time of her forced resignation, did not identify her in any way as an employee of the Defendant.

45. Defendant forced Plaintiff to resign for the stated reason that the photograph of her would have an adverse effect on its ability to obtain government contracts.

46. Forcing Plaintiff to resign out of fear of unlawful retaliation by the government for constitutionally protecteds speech violates Virginia public policy. Both the United States Constitution and the Virginia Constitution express strong public policies that Virginians may speak on topics of public interest without fear of suffering the effects of governmental retaliation for political speech.
As a preliminary matter, that this is not a First Amendment issue since that provision of the Constitution only applies to action by the government. The same is true of the relevant provision in Virginia's Constitution. While Briskman's employer is a government contractor, it is not the government itself and there is no good argument that its status as a government contractor makes it an agent of the state or otherwise brings it under the purview of the Constitutional protections for speech that the Federal and state Constitutions provide. Briskman's claims her might have more weight if it were the case that her employer fired her after having been directly pressured by a government official, or if they had done so because they were threatened with having a government contract withdrawn, terminate, or lost because of their employment of Briskman. That is not the case here, though, and the fact that they terminated her because they feared possible repercussions for their business does not seem to me to be sufficient to make her termination lawful. Additionally, the fact that Briskman's social media accounts didn't identify her as an employee of the company doesn't appear to be relevant in any respect. Briskman chose to come forward and tell her employer what happened of her own free will, and they made the decision to fire her in response to that. While that does seem to make the employer out to be unfair on some moral level, it doesn't seem to me to be illegal.
Unless this case is settled, it will be interesting to see how this case goes. My initial assessment based solely on the Complaint, though, is that Briskman's case is not very strong at all.
Photo via The New York Times
Here's a copy of the Complaint:
Briskman v. Akima Complaint by Doug Mataconis on Scribd