Donald Trump Makes It Official, Mike Pence Is His Running Mate
The least likely choice ascends to the Number Two position on the Republican ticket.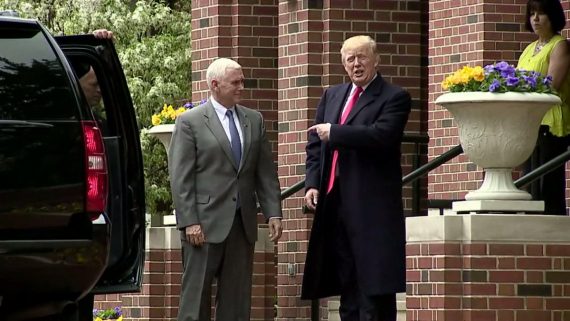 After delaying the announcement that had been planned in the wake of the truck attack in Nice, Donald Trump formally announced late this morning that he had selected Indiana Governor Mike Pence as his running mate:
Donald J. Trump named Gov. Mike Pence of Indiana as his running mate on Friday, adding to the Republican ticket a traditional conservative who boasts strong credentials with the Christian right, and bringing an end to a vice presidential selection process that seemed at risk of spinning out of control.

Mr. Trump announced the choice shortly before 11 a.m., the time at which he had planned to unveil his selection at an event in Manhattan.

But instead of a showy rollout in a Midtown hotel, Mr. Trump named Mr. Pence as his running mate on Twitter, after abruptly canceling their joint event in the aftermath of the attack in Nice, France, on Thursday evening.

By choosing Mr. Pence as his partner, Mr. Trump has opted both to bow to political convention and also to gamble on a comparatively untested choice. Mr. Pence cuts a far more generic political profile than Mr. Trump; he is viewed by Republicans in Washington and Indiana as a sturdy and predictable politician.

At the same time, Mr. Pence has a record of hard-line views on cultural issues that Mr. Trump has tended to downplay in the presidential race. In Mr. Pence, Mr. Trump now has a running mate who has advocated for defunding Planned Parenthood and restricting abortion rights, and who signed a religious freedom law that critics said would lead to discrimination against gays and lesbians.

Mr. Trump and Mr. Pence, who have no personal friendship that predates the campaign, are expected to appear together in public on Saturday. The Trump campaign previously committed to a joint interview on the CBS show "60 Minutes."

Mr. Trump had previously said he considered the circumstances on Friday inopportune for rolling out a major political decision, before reversing course and naming Mr. Pence as his running mate on social media.

Even on Thursday evening, however, with images of bloodshed playing across national television, Mr. Trump did not pause his own political schedule: He addressed a fund-raising event in California and gave multiple television interviews, calling in one for a formal declaration of war by Congress against the Islamic State.

Paul Manafort, Mr. Trump's campaign chairman, said on Fox News on Friday morning that the presumptive Republican nominee had responded emotionally to the violence in France in deciding to delay a formal event with his running mate.

Yet with Mr. Pence as the favored candidate, Mr. Trump could not afford a long delay in making his decision public. The Indiana governorship is on the ballot in November, and state law required Mr. Pence to file paperwork by noon on Friday in order to withdraw from the race and be replaced on the ballot by another Republican.

Without a public affirmation of his partnership with Mr. Trump, Mr. Pence could have been placed in an uncomfortable position – forced either to end his bid for re-election without an irreversible commitment from Mr. Trump, or to abandon his quest for the vice presidency due to an accident of scheduling.0

Mr. Trump appeared to hesitate over his decision throughout the week, flying to Indiana for an extended visit with Mr. Pence, and then summoning several other potential running mates to meet with him in Indianapolis after his private aircraft broke down.

Advisers to Mr. Trump indicated to Republicans in Washington on Wednesday night that they planned to make an announcement with Mr. Pence, but on Thursday both Mr. Trump and his press officers stressed that he could still change his mind. Mr. Trump said Thursday evening on Fox that he had not made a "final, final decision."

With his bid for national office, Mr. Pence is expected to become the first Indiana governor to pull his name from the ballot and be replaced by another candidate, who will be selected by the Indiana Republican Party.
The Washington Post's Dan Balz calls the selection of Pence a conventional choice by an unconventional candidate:
Donald Trump did something uncharacteristic in selecting Indiana Gov. Mike Pence as his vice presidential running mate. He has chosen the safe course over flashier but more risky alternatives. The question is whether the decision is an aberration or represents an important change in his candidacy going forward.

For weeks, Trump has been in a tug of war between his own instincts and the advice of some of his advisers, inside and outside his campaign. Those advisers have urged him to tone it down, to deal with questions about his temperament by acting and sounding more presidential than the candidate who churned through the primaries by doing the opposite.

He has prided himself on being unconventional and unpredictable, and against much advice for many months, has always reverted to form. He's thumbed his nose at those who have tried to turn him into something he hasn't wanted to be. From where he sits, he can say that he beat all the expert strategists and the professional politicians. Why change for the general election?

But by choosing Pence over former House speaker Newt Gingrich and New Jersey Gov. Chris Christie, he has embraced the thinking of those who have recommended boring over flamboyant, less risk taking and more reassurance.

On the eve of a national convention that will help to define the kind of campaign he intends to run for the duration of the general election against Hillary Clinton, he's picked as his running mate someone who fits the very definition of a conventional choice. That will make many people in the party happy, but will it make Trump happy in the end?

Pence is hardly a natural fit with the Republican nominee-in-waiting. Their personalities are not obviously compatible — a freewheeling, unpredictable, often bombastic New Yorker versus a deeply religious, button-downed, conservative Midwesterner. It seemed clear throughout the transparently opaque selection process — at least what could be observed at a distance — that it took some effort to develop a relationship

The two men are just as incompatible on issues. They disagree on the Trans Pacific Partnership (Trump opposed, Pence in favor); reforming Social Security (Pence in favor, Trump generally opposed); and Trump's proposal to ban Muslims temporarily from entering the country (Pence spoke out against it). Pence has been a vigorous opponent of Planned Parenthood; Trump has defended the group's work in behalf of women's health, though not on abortion.

This isn't something terribly unique. On matters where their views differ, Pence will obviously defer to Trump. A presidential nominee's ideas always prevail over those of a running mate when the two disagree. Their differences will cause some immediate heartburn and a fair amount of negative coverage in the coming days. But they aren't likely to be a lasting issue in the campaign unless one or the other turns them into a lasting story — which isn't out of the question given Trump's past history.

Of a list that included Christie and Gingrich, Pence is viewed inside the Republican Party as the safest choice, though not universally as the best choice. All three have some flaws and weaknesses, just as is the case with every vice presidential shortlist. But at a time when Trump needs to show he cares about uniting his party, Pence brings more than the others.

(…)

What makes Pence in the eyes of many Republicans the best choice among the three is the degree to which his selection could strengthen Trump's shaky relationship with the party's conservative base, buy a healthy measure of peace at next week's national convention and thus allow Trump to claim by week's end that the party is leaving Cleveland more united than it was in the weeks before.

Pence has executive experiencew as a governor and the kind of Washington experience Trump has said he wants. He has ties to the party establishment, having been a member of the House leadership. He will also reassure donors who have had qualms about the presumptive nominee.

He helps more than Christie or Gingrich in reassuring religious and social conservatives who are backing Trump but nonetheless have doubts about a man who once said he was strongly supportive of abortion rights and who has been friendly toward the LGBT community. Pence knows the ins and outs of the groups and the leaders of that movement and can translate Trump to them.

There are few people in the party who have demonstrated more rhetorical skill at rousing the base at events than Pence. Some Republicans who applauded his selection said they have confidence he will be a skilled and tough debater in the lone vice-presidential debate this fall and comfortable on the attack against Clinton.
Perhaps appropriately enough, the official announcement came via Twitter at around the same time that the delayed press conference would have been helped, and just an hour before the deadline for Pence to get out of the race:
I am pleased to announce that I have chosen Governor Mike Pence as my Vice Presidential running mate. News conference tomorrow at 11:00 A.M.

— Donald J. Trump (@realDonaldTrump) July 15, 2016
For much of the past week, it seemed as though Trump was more inclined to pick either Newt Gingrich or Chris Christie for the number two slot than Pence. In part, this was apparently because he has a much closer personal relationship with either of these men than he does with Pence, who he apparently hadn't spent much time with prior to the past two weeks while he was going through the vetting and discussion process that led up to today's announcement. It's also undeniable that both Gingrich and Christie are admittedly much more compatible with Trump's personality than the typically soft-spoken Midwestern Governor is. Indeed, according to CNN's Dana Bash, as late as yesterday evening, by which point news about the selection of Pence had leaked to the media and Pence himself had flown to New York City from Indianapolis on a chartered jet, Trump was reportedly asking top aides if there was any way he could change his mind. If true, there may have been more to the delay of this morning's press conference than deference to the victims of the attack in Nice and that Trump was,  at least for the moment, having second thoughts about picking someone he knows so little about
In the end, this selection is likely to have about as much of an impact on the outcome of the Presidential election as most running mate selections have had over the course of American political history, meaning it won't have much of an impact at all. As  I've said in the past, there is  little evidence from American history that picking a particular nominee has had much of an impact on the outcome of election either way, even in the extreme cases where a Presidential nominee has made an exceptionally good or exceptionally bad selection. In 1988, for example, Massachusetts Governor Michael Dukakis selected 0Texas Senator Lloyd Bentsen as his running mate. Bentsen was highly regarded by politicians on both sides of the aisle and arguably could have been a good candidate for President in his own right, and there was little question that he was someone the nation could consider ready to take over should something happen to the President.  That same year, to the surprise of many, George H.W. Bush selected Dan Quayle, the 42 year old junior Senator from Indiana, as his running. To say that the selection was puzzling is an understatement, and Quayle did not exactly impress many people during his roll out on the national stage. Despite the contrast in the qualifications and perceptions about their respective running mates, picking Bentsen didn't help Dukakis significantly and picking Dan Quayle didn't seem to hurt George Bush, who won the Presidency in a landslide, albeit one that wasn't quite as overwhelming as President Reagan's wins in 1980 and 1984 and which didn't deliver control of either house of Congress. Similarly, John McCain's selection of Sarah Palin likely didn't have much of an impact on the outcome of the 2008 election, which Republicans were unlikely to win in any case and Mitt Romney selecting Paul Ryan didn't help him capture Midwestern states that have been out of the Republican orbit since the 1992 election.
One suspects that the Pence selection will have a similar lack of impact this time around, simply because there is no real evidence that voters place much weight on the selection of a running mate when deciding who to vote for, or that such a selection has much of an impact on which candidate an undecided voter decides to support in a General Election. To some degree, I suppose that picking Pence will reassure some marginal Republican votes, but the actual number of people that this consists of is likely to be so low that it will hardly matter. Nonetheless, because it is the first major decision that a prospective President makes that could have an impact on his or her Administration, this is a selection that is seemingly always destined to get more attention than it probably deserves.