Who Wants Michael Bloomberg To Run For President? Practically Nobody
As Michael Bloomberg flirts with the idea of running for President, a poll finds very little enthusiasm for the idea.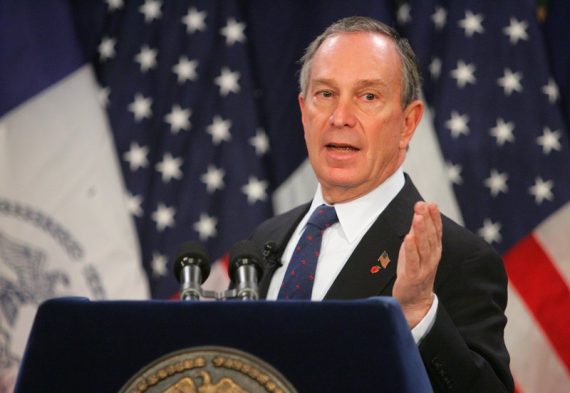 With news continuing to circulate that former New York Mayor Michael Bloomberg is seriously considering a run for the White House, a new survey shows that he seems to appeal only to a very specific demographic:
It's not clear that a Bloomberg bid would get much traction. Those initial reports in the Times swarmed around in late January, shortly before Siena College was surveying New Yorkers on their feelings about the two parties' nominations. Hillary Clinton leads in the state by a fairly large margin, powered by strong support from black New Yorkers.

But the pollsters also asked people who they'd love to see enter the race, if anybody. Even with the Bloomberg rumors floating out there, 48 percent of the state said they were comfortable with the field as it stands, and another 12 percent offered no opinion. When people did offer names, Bloomberg's was the most common — cited by 17 percent of Republicans and 14 percent of Democrats. That's about as many Democrats as said Joe Biden.

But that informal write-in ballot varied widely depending on who was being asked. When we first looked at Bloomberg's confirmation on Monday, we noted that his campaign seemed to appeal mostly to the wealthy New Yorkers with whom he surrounds himself. And, sure enough: Residents of New York City and its suburbs were more likely to throw out Bloomberg's name — as were much wealthier residents of the city. Black New Yorkers, who loudly criticized Bloomberg's police practices during his tenure, were much more unlikely to suggest that they wished he'd run. The group mentioning him the most was Jewish New Yorkers, one out of four of him mentioned his name.

In other words, the people who want Michael Bloomberg to run the most are wealthier, white, Jewish New York City residents: People just like Michael Bloomberg.

A Quinnipiac University poll, also conducted a survey prior to Bloomberg's comments that offered a national match-up of Bloomberg-Sanders-Trump or Bloomberg-Sanders-Ted Cruz. Bloomberg fared poorly in both, earning 15 percent of the vote — and with half the country not knowing him well enough to have an opinion. Among those who know him best, according to Siena, only a small number would like to see him mount that bid.
Obviously, a well-funded Bloomberg campaign across the country would arguably make his name better known to Americans and possibly increase his potential vote share, at least in the short term. Throughout American history, it's been far more common for independent bids for the Presidency to fizzle out, or become non-factors in the outcome in the race as far as the final outcome is concerned. For every Ross Perot, Strom Thurmond, or George Wallace, there are a dozen John Anderson's. Even in cases where third party candidates have managed to win Electoral Votes, such as the Dixiecrats in 1948 and Wallace's American Independent Party in 1968, there's little evidence that the third party candidate had any real impact on the outcome of the race. Of all the instances where third, or fourth, parties, had a real impact on the race the number of times it really matter can arguably counted on one hand, namely the Election of 1824, the Election of 1860, and the Election of 1912, when Teddy Rooselvelt's Bull Moose Party sufficiently split the Republican vote to deny William Howard Taft a second term and make Woodrow Wilson only he second Democrat elected President since the end of the Civil War. As things stand right now, there's no reason to believe that a Bloomberg candidacy would be anything other than a vanity campaign that turns out to have an impact more like that of John Anderson than any of the third-party campaign
As I have said before, the only people who seem to think that the nation is pining for a Bloomberg run for the White House are people who live within the New York-Washington Acela Corridor and find something appealing about Bloomberg's technocratic approach to government. Unlike the kind of third party runs listed above, there certainly doesn't seem to be any passion that would drive a Bloomberg candidacy, and certainly no grassroots movement calling for him to throw his hat in the ring. Compare that to the enthusiasm we see in the Republican and Democratic parties for Donald Trump and Bernie Sanders, both of whom have surprised the political elites and have a unique ability to fill large arenas with enthusiastic supporters relatively easily. Indeed, either candidate could probably mount a very effective third-party bid with sufficient resources, although it wouldn't be easy even for them. There's no indication of any such passion or yearning for Michael Bloomberg except, perhaps, on the Op-Ed Page of The New York Times. That may be enough to get some news coverage, but it's not enough to mount an effective campaign.