Mike Bloomberg Is Running For President.
After flirting with the idea many times over the past decade and a half, Mike Bloomberg is officially running for President.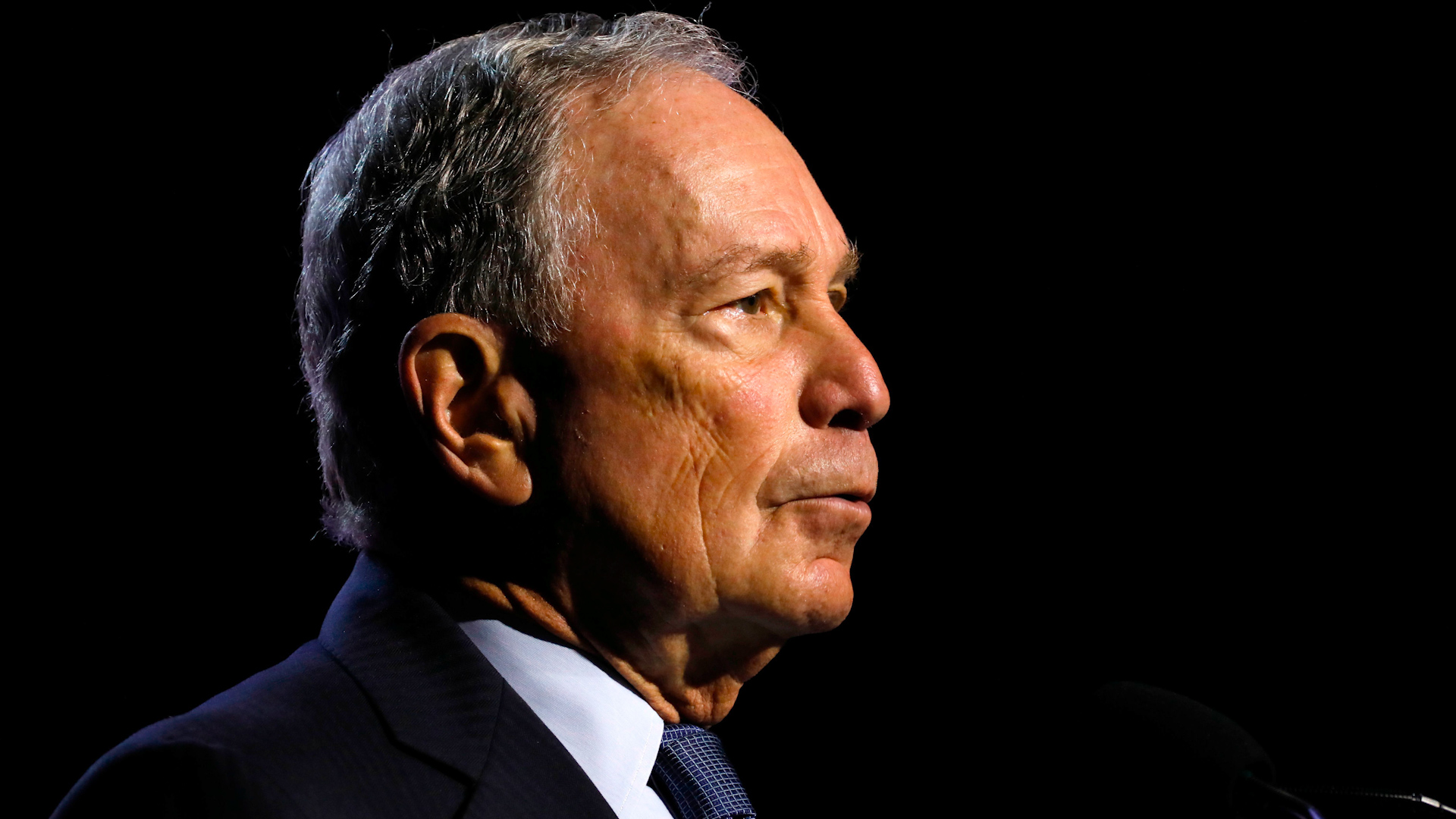 Even though he's gotten his name on the ballot in Alabama and other Super Tuesday primary states and filed the Federal Election Commission paperwork necessary to create a campaign, former New York City Mayor Mike Bloomberg has yet to formally enter the race itself. That left some to suggest that he may ultimately decide against running as he has in the past. All that speculation came to an end this morning, though, with NBC News reporting that Bloomberg has officially entered the race for President:
MANCHESTER, N.H. — Former New York City Mayor Michael Bloomberg officially entered the 2020 race Sunday, ending several weeks of will-he-or-won't-he speculation about a late entry into the already-crowded Democratic primary.

Bloomberg's entry was preceded by news of a massive television ad buy — $31 million, according to Advertising Analytics, who told NBC News it was the single largest single week expenditure they'd ever tracked. A $30 million buy in the final weeks of the 2012 race for then-President Barack Obama held the previous record.

The ad promotes Bloomberg's record as mayor and then promises "to rebuild the country and restore faith in the dream that defines us: where the wealthy will pay more in taxes and the middle class get their fair share; everyone without health insurance can get it and everyone who likes theirs, keep it; where jobs won't just help you get by but get ahead. And on all those things, Mike Bloomberg intends to make good."

It's Bloomberg's deep pockets and willingness to spend that could help him make up the difference of getting in several months after most of the already-established Democratic field. But his strategy to win is a risky one: skipping the early four nominating contests and instead running what longtime Bloomberg aide Howard Wolfson called a "broad-based, national campaign."

He'll also come up against a field stacked with strong competition, some with similar messaging to his own — like former Vice President Joe Biden, who has also hinged his candidacy on his ability to beat President Donald Trump next November — and progressive Senators Elizabeth Warren and Bernie Sanders, who are running on platforms of more structural change. And they've all been running for months, building out organizing apparatuses as they go.

Still, Bloomberg Communications Director Jason Schecter maintains it's not too late, citing polls that show Democratic voters have yet to firmly make up their mind on who to back in the field. Of Bloomberg, Schecter told NBC plainly: Bloomberg "has the skills to fix what is broken" and was motivated to run by concerns about "the possibility that we could lose next November" to Trump. "We can't afford another four years of this," he concluded.
=As with several other candidates this year, Bloomberg launched his campaign with an announcement on Twitter and other social media platforms:
And here's the full ad that will be running across the country starting tomorrow and through Thanksgiving week at least:
There's more coverage of Bloomberg's entry into the race from The New York Times, The Washington Post, CNN, Politico and other media outlets. Meanwhile, Politico reported on Bloomberg's historic media ad buy last night before it was clear when he might enter the race and at least one of Bloomberg's potential opponents for the Democratic nomination is speaking out against this ad buy:
Democratic presidential hopeful Sen. Bernie Sanders (I-Vt.) tore into former New York City Mayor Michael Bloomberg on Friday over news of Bloomberg's $31.5 million ad buy as he mulls his own White House bid.

"I'm disgusted by the idea that Michael Bloomberg or any other billionaire thinks they can circumvent the political process and spend tens of millions of dollars to buy our elections. It's just the latest example of a rigged political system that we are going to change when we're in the White House," Sanders said in a statement.

"If you can't build grassroots support for your candidacy, you have no business running for president. The American people are sick and tired of the power of billionaires, and I suspect they won't react well to someone trying to buy an election."

The broadside came after Bloomberg, who is worth roughly $50 billion, threw down over $31 million for a weeklong ad blitz that will be featured in 98 local markets as well as some national cable channels. The purchase is the largest of any candidate ever in a single week of political advertising.

The minute-long ads will start airing Monday and run through Dec. 2.
Sanders, a longtime progressive, has centered his campaign around the influence of the "top 1 percent," referring to the power millionaires and billionaires hold in the country's politics.

Sanders's rebuke hints that Bloomberg's immense wealth and ability to dig through a bottomless war chest to blanket the airwaves with ads could emerge as a top line of attack for other liberal candidates in the primary field.
This isn't the first time that Bloomberg has considered a run for the nation's highest office. As James Joyner noted in a post all the way back in 2006, there was speculation thirteen years ago that Bloomberg, who was then still serving as Mayor of New York City, might run in the upcoming 2008 race as an independent. No such run took place, of course, but the rumors continued well into 2007, at which time James Joyner correctly noted that an independent bid at that time would have likely helped Democrats in the 2008 election. before finally fizzling out. Four years later, as the 2012 elections drew closer and again while he was still serving as Mayor, the rumors of a Bloomberg Presidential run, either as an Independent or as a Republican, returned. As I noted at the time, while Bloomberg was denying at the time that he was running he certainly was sounding at the time like someone who was at least thinking about it, Because of this, pundits continued to speculate about what kind of impact a Bloomberg run, apparently as an Independent, might look like in 2012. Again, Bloomberg passed up an opportunity to run in that election. Four years later, there was again speculation about an independent Bloomberg bid, especially in as it became more and more apparent that Donald Trump was going to win the Republican nomination. While polls at the time showed little public enthusiasm for a Bloomberg run, it was later reported that the now-former Mayor had come closer to actually getting into the race than he had in the past but that he ultimately concluded that his presence in a race between Trump and Hillary Clinton would help Trump.
As 2020 got closer, the speculation about Bloomberg running for the Democratic nomination in 2020 returned. In March, Bloomberg ruled out the idea of running for President as a Democrat as had been speculated for many months prior to that. Notwithstanding that, it was reported in October that Bloomberg was reconsidering that idea in light of the rise in the polls of potential nominees such as Senator Elizabeth Warren, who Bloomberg has made clear he does not believe would be electable. Earlier this month, it was reported that Bloomberg was taking what many took to be the first concrete step toward running when he filed to get on the ballot in Alabama, a move he followed shortly thereafter with filings in Arkansas and other states, although not in any of the four states that will hold primaries and caucuses in February. This apparently points to the interesting, and risky, strategy of betting that Bloomberg can make himself relevant in the races that follow these first four contests even with one f the latest entries into the Presidential race since Bill Clinton entered the race for the 1992 Democratic nomination in October 1991. That, of course, was a far different race than this one, though.
As the race stands today, it's hard to see what path Bloomberg has to become a viable candidate, never mind the Democratic nominee. Yes, he has a lot of money and he's apparently willing to spend whatever is necessary on this campaign, but that doesn't mean he'll become a contender. Tom Steyer has also spent a great deal of his own fortune on ads aimed at Trump but all he's managed to do is get himself into the low single digits in the polls nationally and in some early states such as Iowa. There's no reason the believe that Stever will ever rise above that level.
Although he isn't a progressive like Steyer, it's hard not to make the same argument about Bloomberg. While he's far closer to the center-left lane where most Democratts are, there doesn't seem to be anything about him as a candidate that causes him to stand out in a way that other center-left candidates like Joe Biden, Amy Klobuchar, and Pete Buttigieg don't already. Additionally, Bloomberg's history as Mayor of New York makes it unclear how successful he's going to be in attracting support from African-Americans and other minority groups. The former Mayor took a step in reaching out to that community last week when he renounced the "stop and frisk" police strategy that had marked his tenure as Mayor. Whether that will help to heal the damage those policies did to his relationship with minorities remains to be seen, but will be a huge factor in deciding how successful this unique campaign will be.
In any case, we'll see where this goes I suppose.