Michael Bloomberg Came Really Close To Running For President, But Decided Not To
Michael Bloomberg announced today that he's not running for President, but he came awfully close to getting into the race.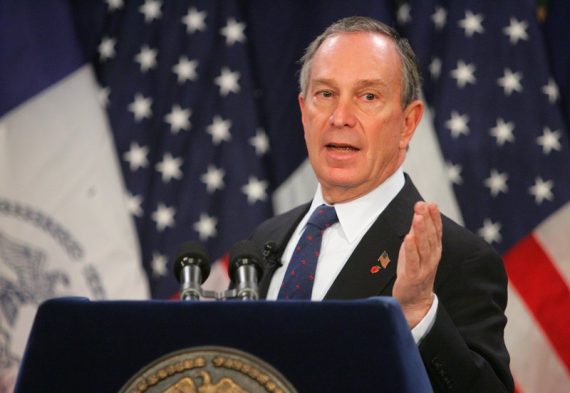 Former New York City Mayor Michael Bloomberg, who was once again the focus of attention as a potential third-party candidate for President earlier this year, announced today that he was not running for President:
Michael R. Bloomberg, who for months quietly laid the groundwork to run for president as an independent, will not enter the 2016 campaign, he said Monday, citing his fear that a three-way race could lead to the election of a candidate who would imperil the security and stability of the United States: Donald J. Trump.

In a forceful condemnation of his fellow New Yorker, Mr. Bloomberg said Mr. Trump has run "the most divisive and demagogic presidential campaign I can remember, preying on people's prejudices and fears." He said he was alarmed by Mr. Trump's threats to bar Muslim immigrants from entering the country and to initiate trade wars against China and Japan, and he was disturbed by Mr. Trump's "feigning ignorance of David Duke," the white supremacist leader whose support Mr. Trump initially refused to disavow.

These moves would divide us at home and compromise our moral leadership around the world," Mr. Bloomberg said in a column published Monday afternoon on Bloomberg View, his opinion site. "The end result would be to embolden our enemies, threaten the security of our allies, and put our own men and women in uniform at greater risk."

The decision by Mr. Bloomberg, the former New York mayor who served three terms, ends months of intensive preparation for a candidacy. Convinced that a restive electorate was crying out for nonpartisan, technocratic government, he instructed his closest aides to set up the machinery for a long-shot billion-dollar campaign that would have subjected his image to a scorching political test.

They covertly assembled network of several dozen strategists and staff members, conducted polling in 22 states, drafted a website, produced television ads and set up campaign offices in two states — Texas and North Carolina — where the process of gathering petitions to put Mr. Bloomberg's name on the ballot would have begun in days.

Mr. Bloomberg held extensive talks with Michael G. Mullen, the retired admiral and former chairman of the Joint Chiefs of Staff, about forming an independent ticket. Lawyers for Mr. Bloomberg had completed the process of vetting Mr. Mullen, and all that remained was for Mr. Bloomberg to ask formally that Mr. Mullen serve as his running mate.

Plainly torn between his aspiration to serve as president and a mountain of data showing that the path for an independent campaign aimed at the political center was slim and narrowing, Mr. Bloomberg, 74, ultimately abandoned what would probably have been his last chance to run for the White House.

Had both Mr. Trump and Senator Bernie Sanders of Vermont appeared headed toward victory in the Republican and Democratic presidential primaries, Mr. Bloomberg was determined to run, according to his advisers, several of whom insisted on anonymity to speak candidly about confidential discussions.

But Mr. Bloomberg balked at the prospect of a race against Mr. Trump and Hillary Clinton, who has established a dominant lead over Mr. Sanders on the Democratic side. In his column, Mr. Bloomberg said he could not in good conscience enter a race that could lead to a deadlock in the Electoral College — and to the election of Mr. Trump, or perhaps Senator Ted Cruz of Texas.

Mr. Bloomberg's decision brings a new measure of clarity to a presidential race that has come sharply into focus in recent weeks, and reflects both Mrs. Clinton's tightening grip on the Democratic contest and the growing alarm among mainstream political and business leaders about Mr. Trump's populist insurgency.

Mr. Trump is widely seen as a weak general election candidate, and surveys conducted for Mr. Bloomberg bolstered that perception. Mr. Bloomberg's veteran pollster, Douglas E. Schoen, gauged his prospects in polls in February and March, testing Mr. Bloomberg as a candidate nationally and in 22 crucial states.

At the outset, about two-fifths of the country had no familiarity with Mr. Bloomberg, who may be best known nationally for his support of expanded gun control legislation. But Mr. Schoen's February polling found that after voters heard mostly favorable descriptions of Mr. Bloomberg, Mr. Trump and Mr. Sanders, Mr. Bloomberg collected 35 percent of the vote and a solid lead in the Electoral College.

In a race against Mr. Trump and Mrs. Clinton, however, Mr. Bloomberg faced far tougher odds.

The most favorable result for Mr. Bloomberg would probably have been a stalemate in the Electoral College, with no candidate capable of taking the 270 votes required.

Under those conditions, the House of Representatives, where Republicans hold a majority, would choose the president.

A second poll, taken by Mr. Schoen from Feb. 28 to March 1, found that Mr. Trump was bleeding support with general election voters after a flailing debate performance and a disastrous interview in which he failed to disavow Mr. Duke's support.

Still, the poll found Mr. Bloomberg could overtake Mr. Trump and fall short of eclipsing Mrs. Clinton.

Mr. Bloomberg acknowledged that cold math in his column. "I believe I could win a number of diverse states," he wrote, "but not enough to win the 270 Electoral College votes necessary to win the presidency."
This isn't the first time that Bloomberg has flirted with the idea of running for the White House, of course. There was similar speculation about him entering the race a an independent in 2012 as well, speculation that made news in 2010 and again in 2011. The difference between that speculation and this time around is that it appears that Bloomberg was far closer to actually entering the race this time around, and far more serious about the idea of actually doing so than he had been in the past. The fact that he had apparently already decided on a potential running mate, for example, indicates that Bloomberg was further down the road of jumping into the race than many observers suspected, for example, and it also appear that formal planning for the campaign had gotten to the point where all Bloomberg needed to do was give the word and the campaign would have been launched. At the link, The New York Times includes copies of documents apparently prepared by political advisers hired by Bloomberg to map out an independent candidacy against both a background where the respective Republican and Democratic nominees were Donald Trump and Bernie Sanders as well as one where the nominees were Trump and Hillary Clinton. The documents indicate projections for states where Bloomberg might have been able to campaign to the most effect, as well as projections for expected outcomes, assuming of course that he would have been able to gain ballot access in those states. The planning even got to the extent of putting together a rough cut of what the initial Bloomberg For President media campaign would have looked like:
As I noted when the latest round of speculation about a Bloomberg Presidential run first made news in January, the entire logic of a Bloomberg campaign seemed baffling regardless of who the Republican and Democratic nominees ended up being. Contrary to the assertions of some political pundits, it's never struck me that there is the kind of desire for an independent candidate that Bloomberg would have represented among the American public that would have led to such a campaign becoming a major political force. This conclusion was seemingly confirmed by polling in February that found very little interest in a Bloomberg getting into the race outside of New York City itself. Perhaps a well-executed media campaign could have changed that, but I'm skeptical. We've already got one nearly 70-year-old billionaire from New York in the race for President, I'm not ure that anyone was all that eager for another one. That being said, it would have been interesting to see what the campaign plan that Bloomberg's people had laid out would have looked like and what impact it might have had on the race as a whole. It couldn't have been any worse than what Donald Trump has done after all.
If nothing else, this is the end of Bloomberg's flirtation with the Presidency. At the age of 74, he would have been the oldest person to run for President in modern history, and it's unlikely he'll try to flirt with this idea again in four years regardless of what the political landscape looks like. I'm sure the pundits who travel the Acela Corridor are crying in the bar car tonight.